Whew yesterday was quite the whirlwind of a rainy Halloween. I ran some errands in the am. Including a trip to Target, which involved purchasing this little vest for Olive.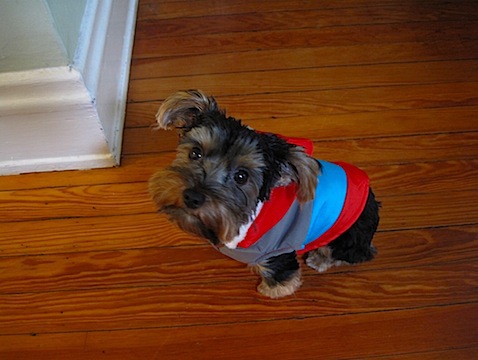 At first she was highly unamused and ran around like a crazy women trying to get it off. Then she settled down and started to embrace the vest. I think she likes it now. 🙂
I also hit up the gym and did what I could (30 minutes on the elliptical) even though my legs were aching – thanks to the Gina! I'll explain- after work on Friday I ended up doing The Fitnessista's leg workout and my legs are still sore. If you're in need some some leg pain- check it out. Here's what I ended up doing (I made a couple small changes.)
| | | |
| --- | --- | --- |
| Walking Lunges w/ weights | 7 lbs each | 3 sets of 10 on each side |
| Stability ball hamstring curl | Body weight | 3 sets of 12 |
| Single leg calf raises | Body weight | 3 sets of 12 on each side |
| Weight Step Ups | 15 lbs each | 3 sets of 12 on each side |
| Cable leg abductors | Level 1 | 3 sets of 10 on each side |
I was starving when I returned home so I made something quick- a leftover slice of Isaac's Archer Farms Spinach and Goat Cheese pizza and a fall salad.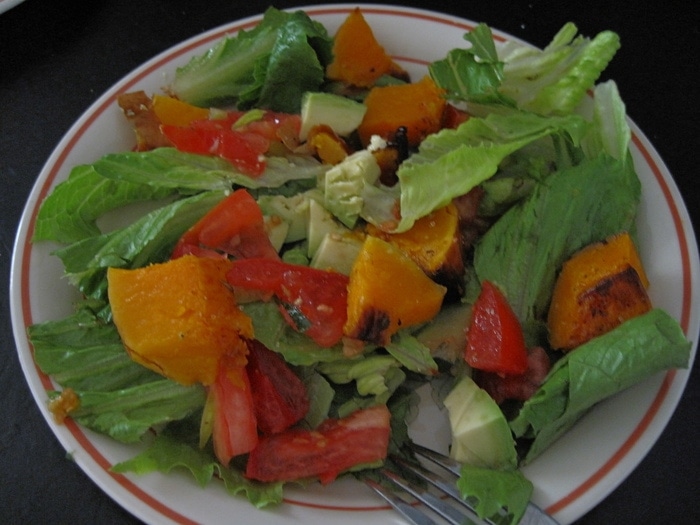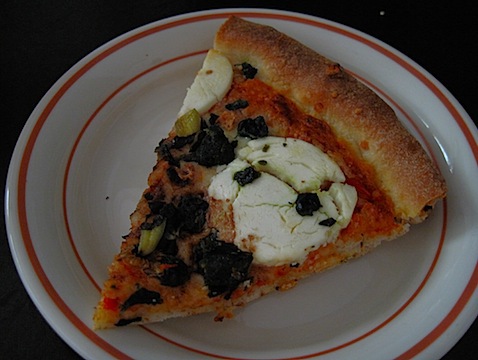 Delicious and filling!
In spirit of the holiday I baked some Pumpkin Oatmeal Cookies to take the Halloween party we were attending.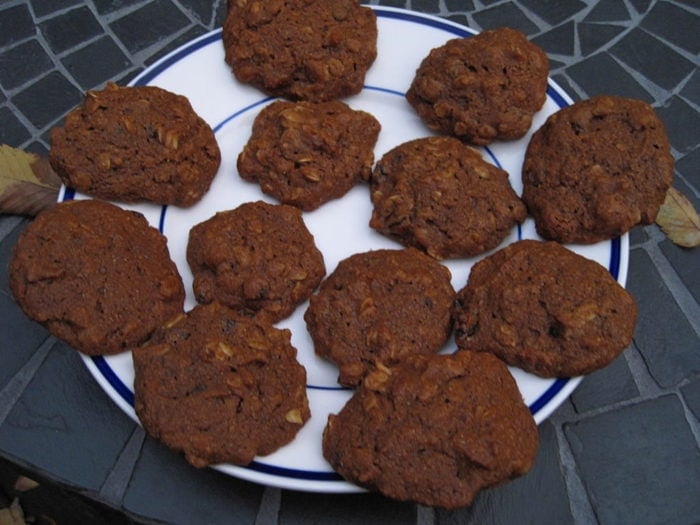 Vegan Pumpkin Oatmeal Cookies (from PPK)
Ingredients
2 cups flour
1 1/3 cups rolled oats
1 teaspoon baking soda
3/4 teaspoon salt
1 tsp cinnamon
1/2 teaspoon nutmeg
1 2/3 cups sugar
2/3 cup canola oil
2 tablespoons molasses
1 cup canned pumpkin, or cooked pureed pumpkin
1 teaspoon vanilla
1/2 cup raisins
Directions
Preheat oven to 350. Have ready 2 greased baking sheets.
Mix together flour, oats, baking soda, salt and spices.
In a separate bowl, mix together sugar, oil, molasses, pumpkin and vanilla until very well combined. Add dry ingredients to wet in 3 batches, folding to combine. Fold in raisins.
Drop by tablespoons onto greased cookie sheets. They don't spread very much so they can be placed only an inch apart. Flatten the tops of the cookies with a fork or with your fingers, to press into cookie shape. Bake for 16 minutes at 350. If you are using two sheets of cookies on 2 levels of your oven, rotate the sheets halfway through for even baking. You'll have enough batter for 4 trays.
Remove from oven and get cookies onto a wire rack to cool. These taste best when they've had some time to cool and set.
The cookies turned out so well. Everyone loved them!
I dehydrated some persimmons in an attempt to make my own Just Persimmons. Not to toot my own horn, but they turned out fabulously.
Per a friends recommendation I also dehydrated some unpeeled orange slices.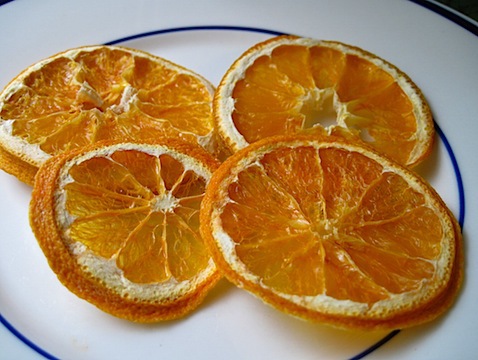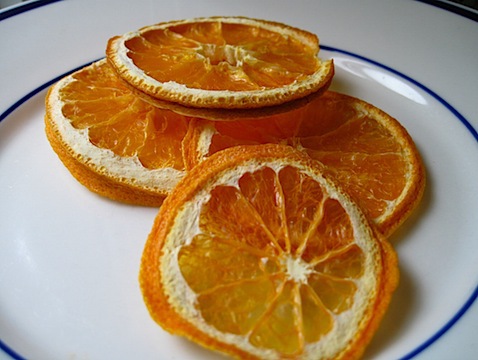 After spending the day in the kitchen we got dressed up and headed to the Halloween party. Upon arriving we were greeted with pumpkin pudding cups. I'm not sure the exact ingredients. I know they had pumpkin, cool whip, pudding, and a walnut topping. The important part is that they were tasty and festive.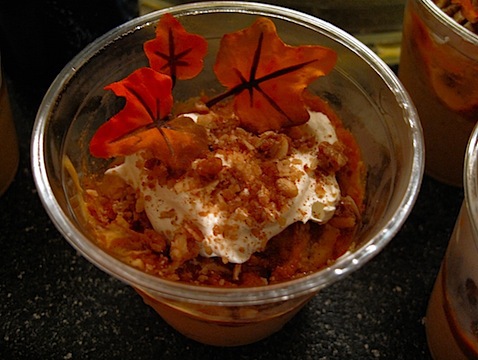 We were also greeted with White Russians made with mocha Kahlua.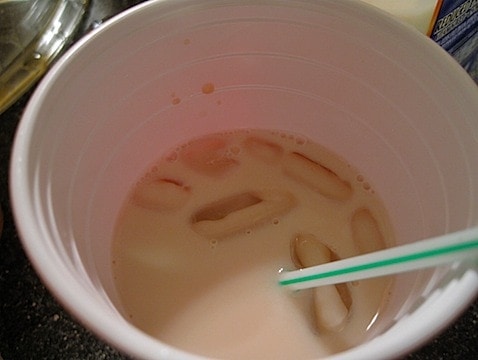 Great way to get the party started. I ended up drinking the white russian, two glasses of wine and then a vodka red bull. It was halloween, drinks were bring made for me, and Isaac was DD… I decided just to roll with it.
Oh, and just in case you are curious- I dressed up as a cheerleader. The costume came together at the last minute, per the usual. I was chatting with a co-worker about what to be for halloween and she mentioned that she had an old cheer leading uniform that I could borrow. I was all over the idea because free halloween costumes are where it's at. (Have you been to the halloween costume store lately? Those things are NOT CHEAP!)
I had pompoms to complete the look, but I ended up putting those down somewhere before this photo.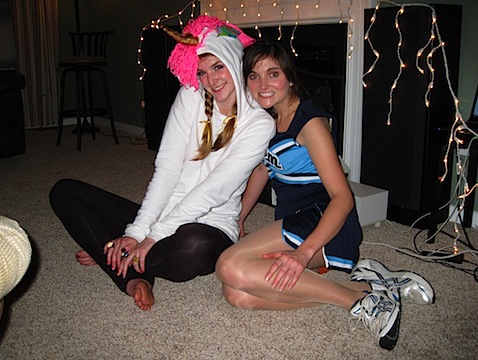 My friend was a unicorn. You can't see it in the picture but she had colorful peace signs on both cheeks. She was super cute!
I've been recuperating this morning/afternoon and enjoying the extra hour! I hope everyone had a fabulous Halloween weekend. I honestly can't believe it's already November 1. This year has flew by!
– Brittany
This post WAS much more detailed but when I hit publish earlier it deleted over half the post and it wasn't saved. I had to go back in to rewrite it and add the photos again.UGH, I'm so annoyed right now!!!