We're home from New York, defrosting from the freezing temps and detoxing from all the coffee and sweets we consumed…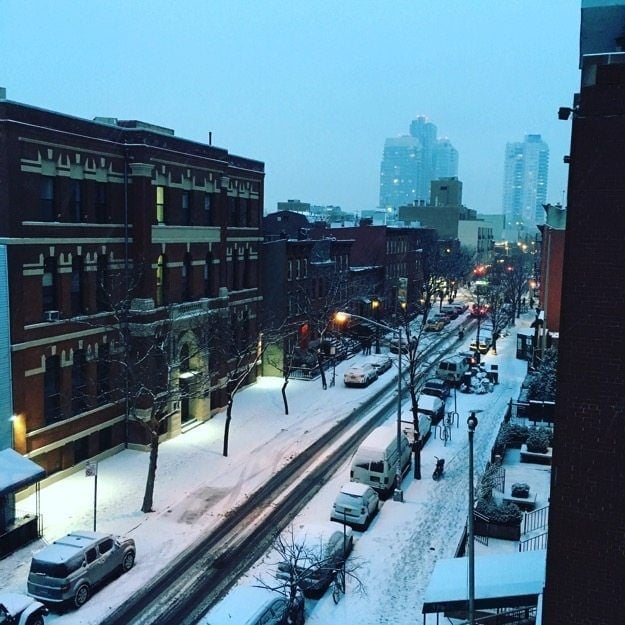 Much thanks goes to our host, Tav and his lovely lady, Jenny. Because of them we had an AMAZING, snowy, love-filled weekend. It was the best!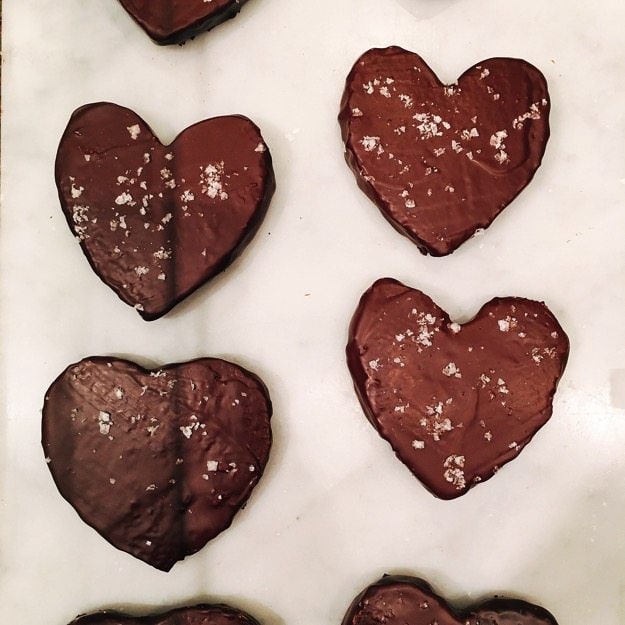 We arrived late on Friday night but still in time for a New York dinner (aka dinner at 9PM). We ate at Cafe Mogador, a cozy little Moroccan/Mediterranean spot in Williamsburg that we visited and loved last time we stayed in Brooklyn. The food is really flavorful and comforting. After dinner we grabbed cocktails at Hotel Delmano before heading home to crash. I had the Letters from Mexico made with tequila, a habanero shrub and house-made jam — the perfect night cap.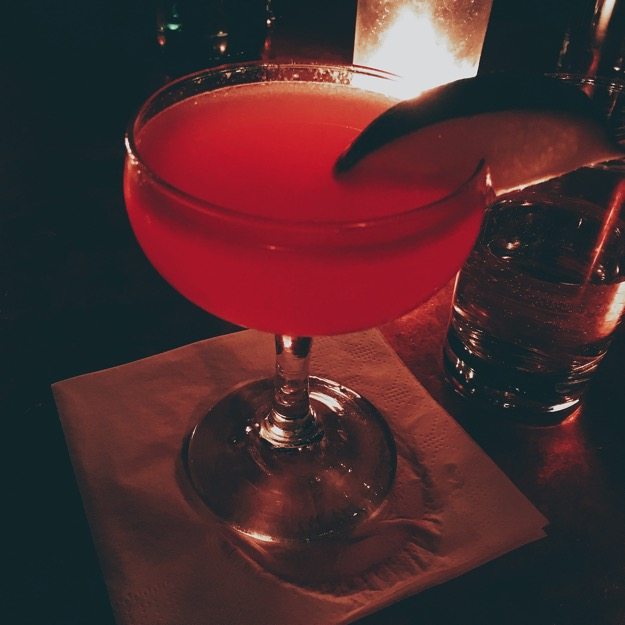 Saturday morning Jenny and I booked it into the city for a class at Fhitting Room with two of my favorite blogging buddies: Ashley and Theodora, both of whom love Fhitting Room and highly recommended it.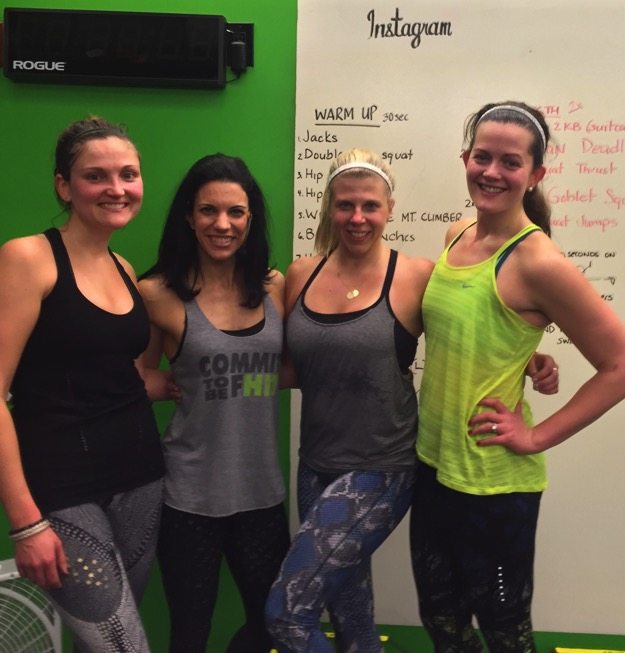 I can see why. It's an awesome high intensity workout with cardio and strength intervals. We got our butts kicked by Dara (in the photo above) and then swung by The Juice Shop to refuel and catch up. #internetfriendsday 🙂
For lunch we ended up at by CHLOE, a vegan spot owned by Chloe Coscarelli, that I've been wanting to visit since hearing amazing things from my gal pal Alexis. By CHLOE did not disappoint. Everyone in our group, including the guys, loved this place. Between the four of us we tried a ton of stuff — the guac burger, pesto meatball sub, Greek salad, spicy Thai salad, air-fried sweet potato fries, mac n' cheese, the cinnamon espresso cookie, the chocolate chip cookie, regular coffee, cold brew coffee AND the hot chocolate. Everything was so good, I ended up dragging the whole crew back the next day for another meal.
If you're ever in New York I highly recommend checking it out. Definitely splurge on the cinnamon espresso cookie. It's huge, thin and super crispy! Oh and you gotta get the hot chocolate too — it has peanut butter in it(!!) and it's sooo rich and delicious.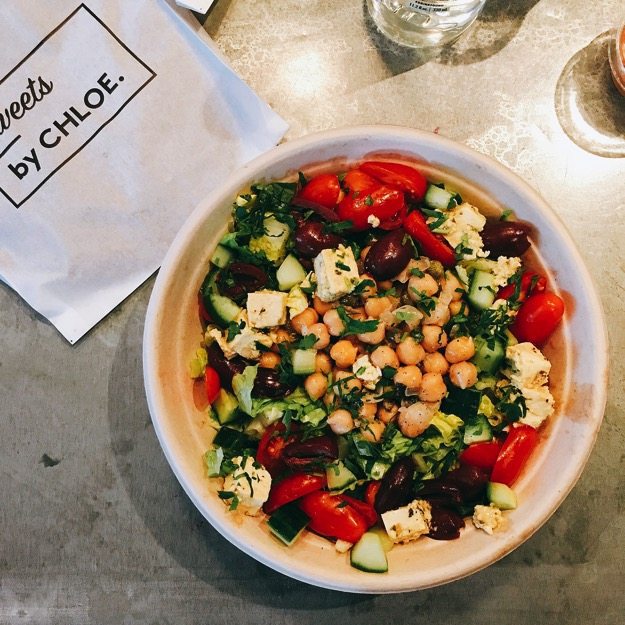 We spent the afternoon at the American Museum of Natural History, which is huge and really fun to wander through.
Since we knew restaurants would be crazy on Sunday night for Valentine's Day, we did my birthday dinner on Saturday night at Seamore's, a seafood spot with a changing menu based on the fresh catch of the day. We started with the ponzu poke and the curry mussels. The poke was so good and although I'm not usually a huge fan of mussels, I loved them and wanted to swim in the spicy coconut milk curry broth.
For dinner, Isaac and I both got the Reel Deal, a choose your own adventure entree where you pick your seafood of choice from the fresh catch list and whatever sauce you want. It comes served over the three daily sides. I had the whiting with the harissa cashew sauce and it was delish.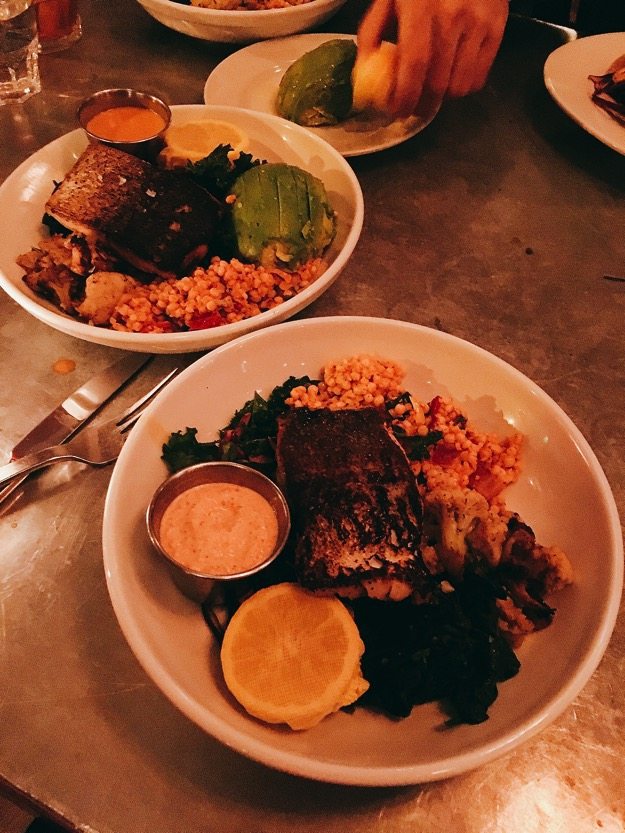 Apparently the restaurant was out of ice cream so they brought me a blood orange with a candle to blow out. It was really cute and actually kind of perfect because we were really full from dinner.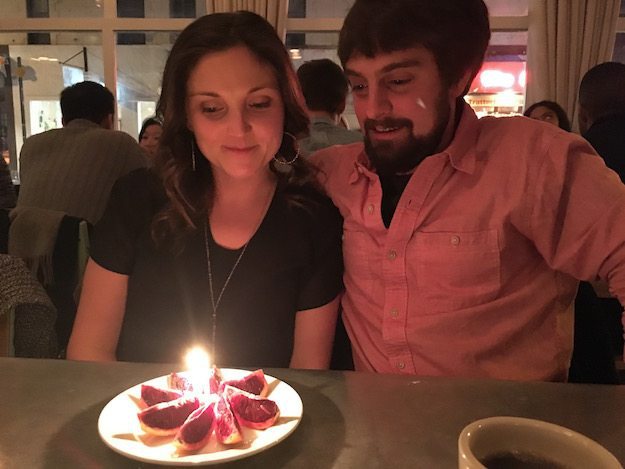 After dinner we grabbed coffee and macaroons from Ladurée and then called it a night. We had plans of going out for drinks, but with full bellies and the freezing temps everyone just wanted to go home and snuggle. #gettingold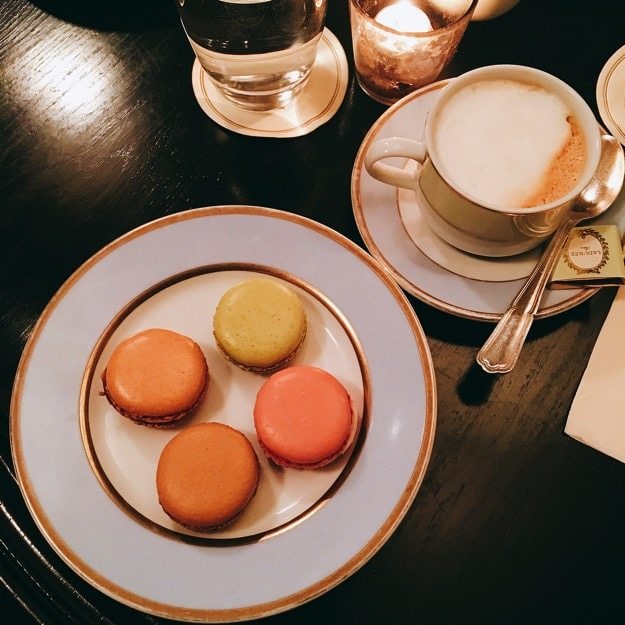 Sunday morning Isaac and I woke up early and had a little birthday coffee date at Blue Bottle.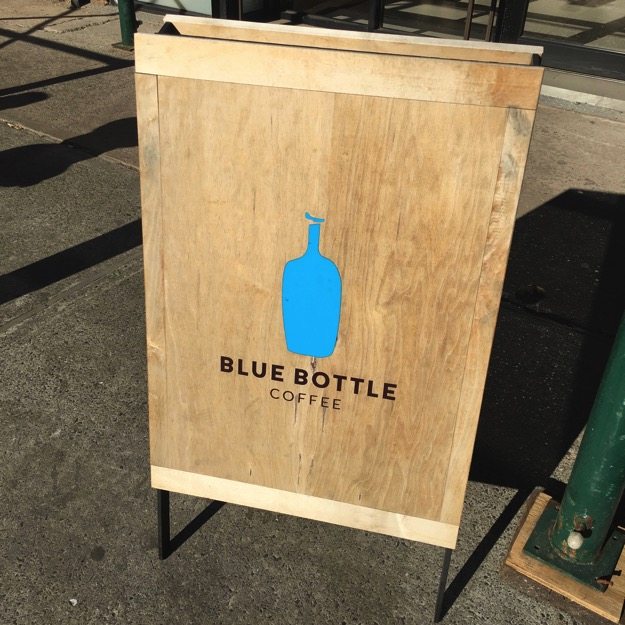 Almond milk latte and a grain bowl with seasonal fruit and pistachio dukkah for me and a cortado for Isaac.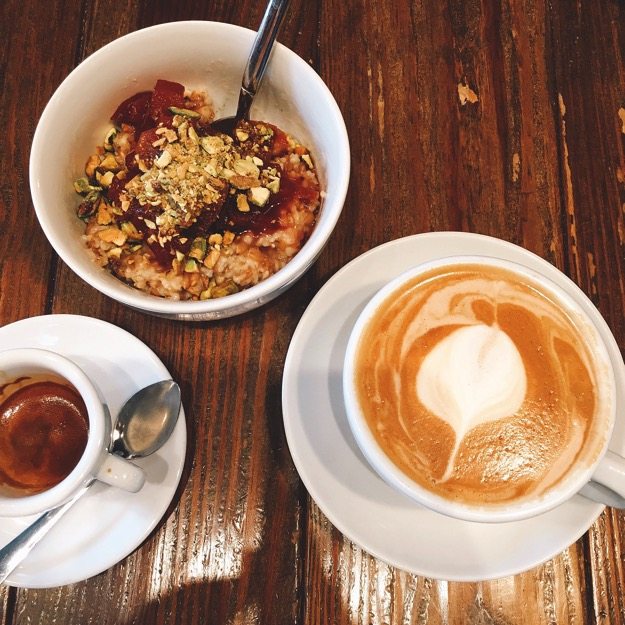 We liked the coffee here so much we ended up buying a bag of Giant Steps beans to bring home. The viscous, fudgy and substainal description sold us. I'm actually drinking a cup right now and it's perfection. I feel like I should go ahead and order another bag. 🙂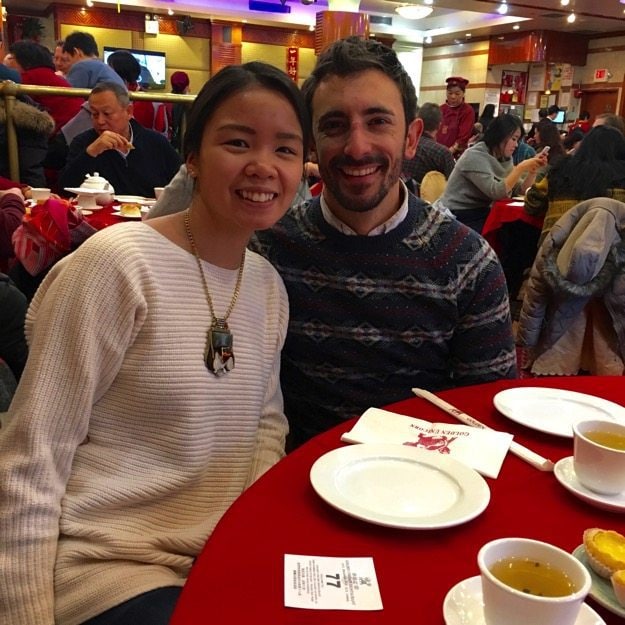 Post coffee we met up with Tav and Jenny and headed to Chinatown for dim sum at Golden Unicorn. Neither Isaac nor I had ever had dim sum before so it was a fun experience. My favorite part was the endless hot tea and the steamed shrimp dumplings with chives.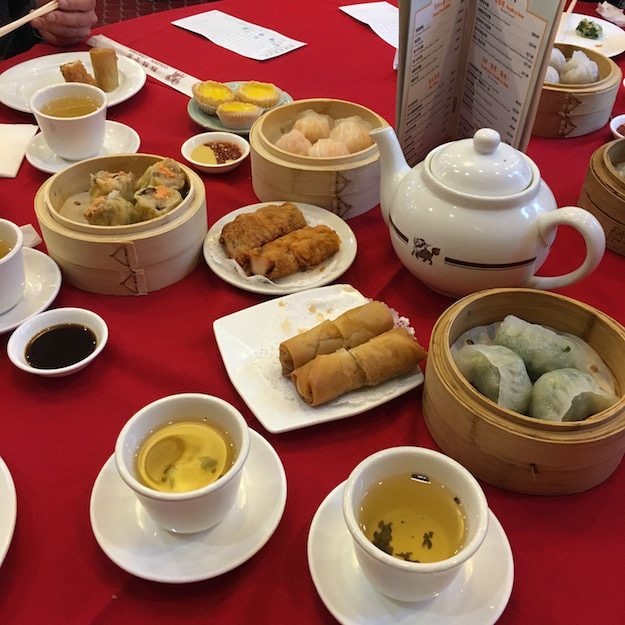 After dim sum we walked past the Chinese New Year parade and tried to do some shopping on Broadway, but it was way too cold so we ended up getting coffee at Stumptown. None of us really needed more caffeine, but something to warm us up sounded good. Plus, we had to try Stumptown after hearing rave reviews.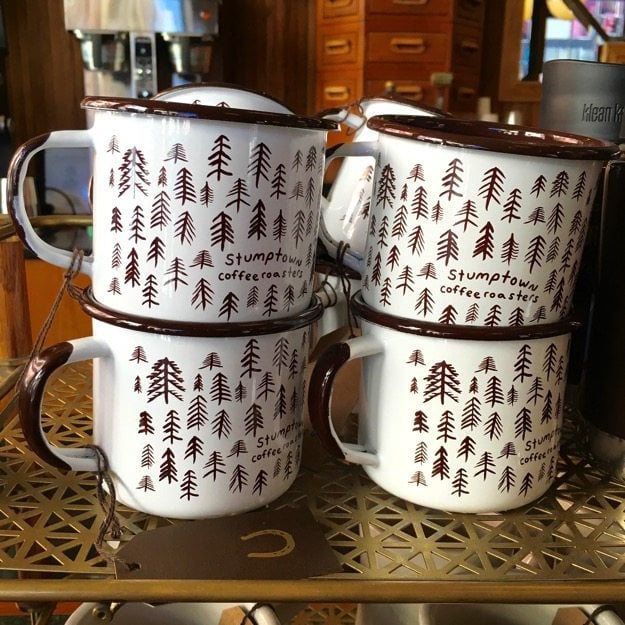 Post coffee we headed to Fat Cat to play some foos ball and shuffle board. It was actually really fun and way better than walking around in 1° weather. That night I ended grabbing a salad and sweet potato fries at by CHLOE for dinner and eating it while every else ate sandwiches at Kat'z Deli. If you've been to Kat'z you'll know that they serve huge corned beef and pastrami sandwiches so I got some pretty weird looks while eating my vegan salad in there.
That night Isaac and I went to TØRST, a beer bar in Brooklyn that Isaac loves! Isaac had beer. I had cider and was really impressed by the Nine Pin ginger cider. Yum!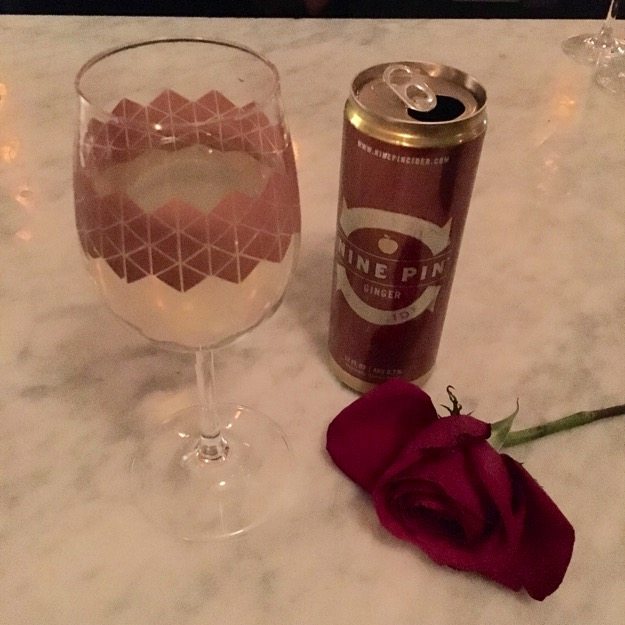 Monday morning I woke up early for a hot yoga class at Yoga to the People. We grabbed brunch at The Egg Shop and then headed back to Williamsburg to explore.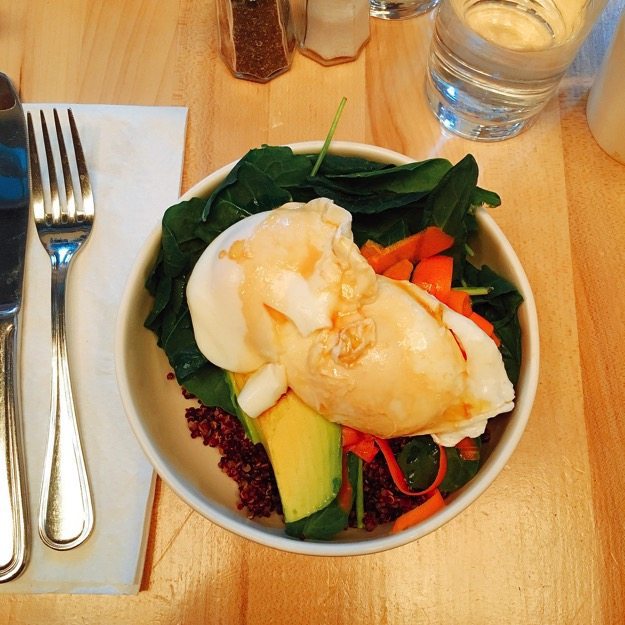 I had the Spandex bowl… it was good, but if I'm being honest I had a hard time enjoying it because we were sitting next to the door and it was so freaking cold. <— Should have asked for a table in the far corner or went to the Butcher's Daughter instead, which was right across the street. I actually snuck in after eating brunch and ordered a kale salad to go because I wanted to try it.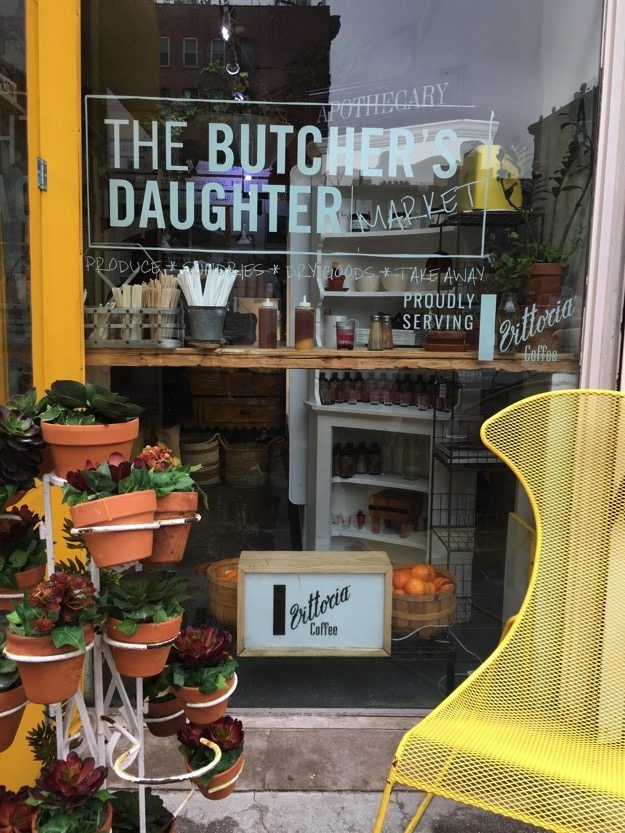 By this time it had started snowing so we wandered around Williamsburg in the snow, shopped a little and then did a chocolate tour at Mast Brothers.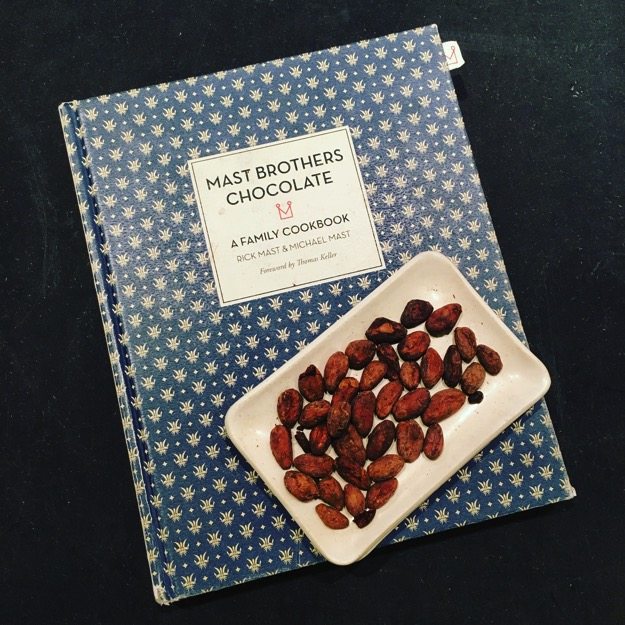 It was so cool to learn how the cacao beans are turned into chocolate, but the best part of the tour was definitely the chocolate tasting at the end. Mast makes some really cool flavors like sheep's milk, goat's milk, almond butter and maple. I brought a bunch of the mini bars to bring home.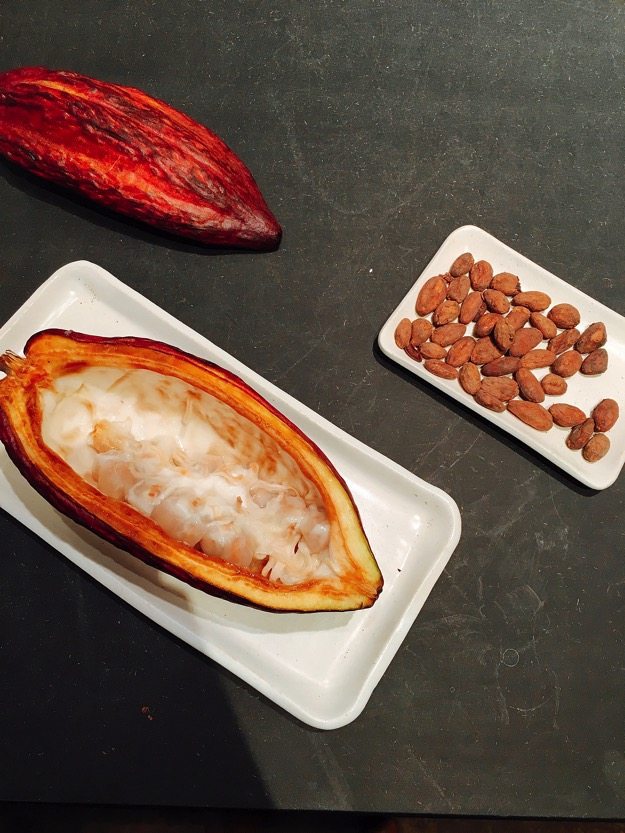 So there you have it… a whirlwind tour of New York on the coldest weekend ever. As you can tell we had an awesome time — lots of fun adventures with good friends… powered by tons of coffee, sweet treats and HEAPS of good food. I can't think of a better way to have spent my birthday weekend. <3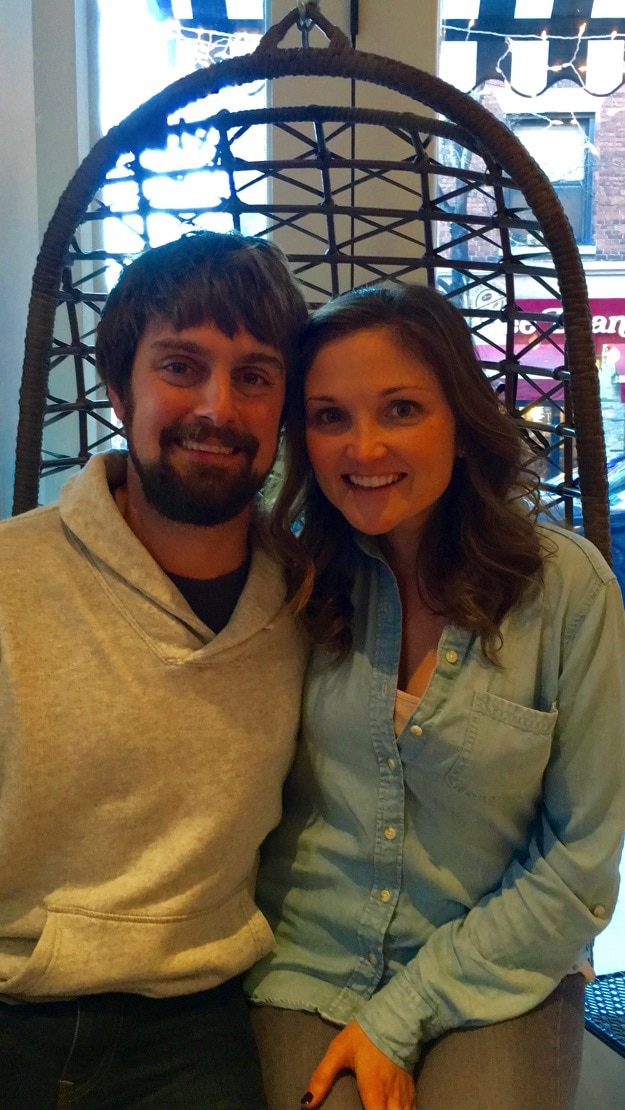 Here's to 31!