I'm not the biggest fan of New Year's resolutions. I certainly think that they can work for some people, as the start of a new year can be a good time to refocus your goals and look back on the things you've accomplished over the past year, but I don't see the need to wait until January 1 to make changes. If there's something I want to change, I like to start making strides toward changing it right away rather than waiting for a specific and arbitrary date to get started.
That said I do have a few goals for 2011 and I plan to get started on them right away. The inspiration board I made a few months ago shows my vision…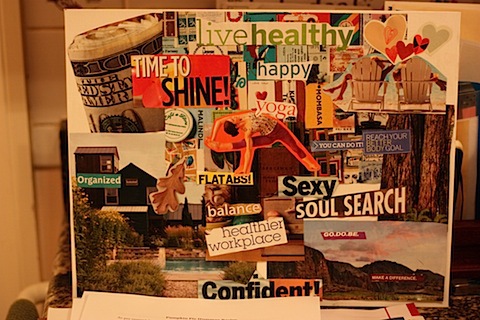 I have several goals in all aspects of my life but since this blog is focused on health living, here are my health goals for 2011. Some of these goals I've been working on for a few months and plan to continue them in 2011 and some are brand new. With all of them, I wanted to make a deadline or time to reassess because sometimes goals can slip away if you aren't tracking and evaluating your progress.
Stretch: I've never been one to take much time to stretch. Physical therapy has taught me that stretching is important to keep my body in alignment and that I need to make daily stretching a priority, especially when sitting at a desk all day. (Everyday goal.)
Get in better shape: I'm at a healthy weight for my body but I want to feel better in my clothes (see number 5) and see more muscle definition. To do this I'll focus on strength training and interval training. I recently purchased the Core Fusion Collection and I also joined in a Blogger Charity Contest (Go Team HEAB). I plan in incorporate those DVDs and the program provided by Lindsey. This will keep my body guessing and keep me motivated. (I plan to reassess this goal in 6 weeks.)
Eat less sugar: Since the holidays I've been craving sweet foods and wanting dessert after lunch and dinner. Overall, I'd like to cut back on my consumption of sugar and I think that will help decrease the cravings. To keep track of this, I plan to start keeping a food journal again, either written or digital. (I want to try to do this for the month of January and see how my body responds.)
Love myself and banish negative body comments: I will focus on loving my body, feeling good in my skin and appreciating what my body allows me to do each and every day. Confidence is key!! (Everyday goal.)
Fit in my new (and old) jeans: Over the past few months, all my jeans have been feeling tight and there are even a few pairs that I've just been avoiding all together because I knew they would be too snug to wear comfortably right now. Then last month I won a pair of Seven for All Mankind jeans on Twitter so I ordered the size that I normally wear. Well… I can get them on, but they don't really zip and they definitely don't button. I've wanted a pair of Seven jeans for over 5 years and now that I have them I can't wear them. :/  Needless to say, "Project Fit into my Jeans" needs to start ASAP. I want to get back to eating real foods, drinking enough water, eating less sugar (#3), and focusing on exercise to get in better shape (#2). (I plan to reevaluate this goal in 6 weeks).
Overall I'm very excited for the year ahead – all of my goals (both health and personal) are fully obtainable. All I need to do is put my mind to it!
I'm sure many of you have set goals for yourself as well so here's a few quotes to keep us all motivated.
"Success is not final, failure is not fatal: it is the courage to continue that counts." -Winston Chruchill

"Goals are not only absolutely necesary to motivate us. They are essential to really keep us alive." -Robert H. Schuller
"Man is a goal seeking animal. His life only has meaning if he is reaching out and striving for his goals." – Aristotle
What's your favorite motivational quote?