Welcome to a Tuesday that feels more like a Monday. Hooray! How about a giveaway to celebrate?
If you've been reading EBF for a while you'll know that I love chia seeds. They're tiny, but pack quite a nutritional punch and since they're practically flavorless, you can add them to just about any food or beverage. That said, they're not an easy food to eat on their own as a snack, which is why I love Health Warrior Chia Bars.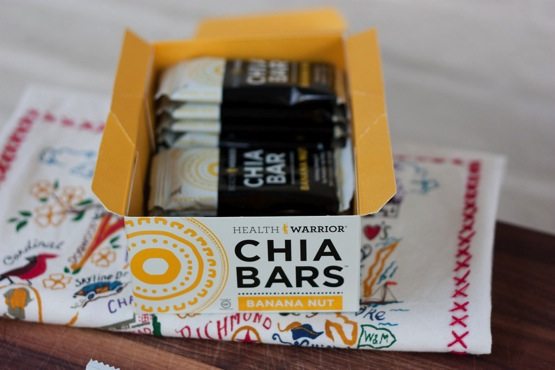 I've written about Health Warrior before. They're a local chia seed company that makes chia seed bars. They started out with three bar flavors: Coconut, Acai Barry and Chocolate Peanut Butter. Coconut has always been my favorite but this year they introduced three new flavors: Apple Cinnamon, Banana Nut and Coffee! The company recently contacted me about reviewing the new flavors and hosting a giveaway, which I gladly accepted. I've been a fan of the company for over a year now and the new flavors sounded delicious — it was a no brainer. 🙂
I'm a huge banana nut bread lover so I was most excited to try the Banana Nut flavor. As expected, it's delicious and quickly becoming my new favorite. I also really like the Apple Cinnamon, which has little dried apple pieces and a robust cinnamon flavor. The coffee is tasty too and perfect for a little pre-workout energy boost.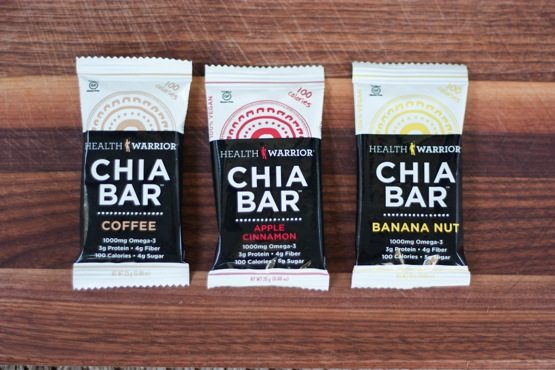 Chia Bars a.k.a. The Perfect Snack
These bars are awesome for many reasons — not only do they taste good, but I like being able to take chia seeds on-the-go in bar form. I've been bringing them everywhere with me this summer. They're so easy to just toss in my purse and they're the perfect snack with only 100 calories per bar (Coconut is the only flavor with 110 calories) and just five or less grams of sugar.  The ingredient lists are short (with chia seeds being the primary ingredient) and each bar provides 1000mg Omega 3, four grams of dietary fiber and three grams of plant-based protein. Not too shabby! They're also 100% natural, vegan, dairy-free, gluten-free and soy-free.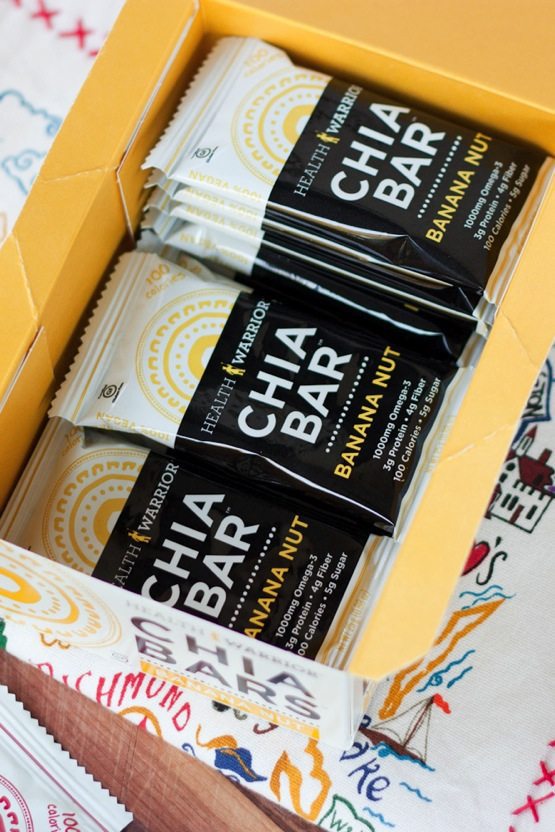 I LOVE the new branding as well — modern, bright and fun!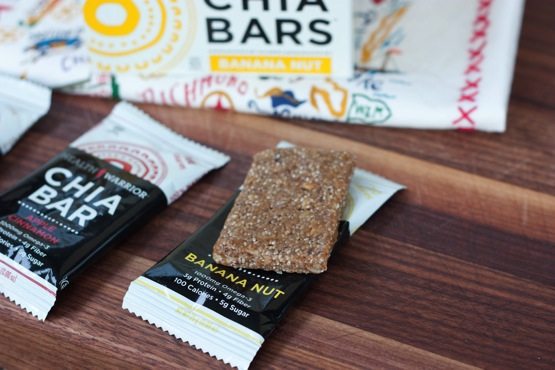 Health Warrior Chia Bar Giveaway
The best part, I have a giveaway for you: Three EBF readers will receive an assortment of new and original Chia Bar flavors (three of each – 18 bars total)! Here's how to enter (it's possible to have 5 entries if you do all of the below):
Leave a comment on this post with which of the new Chia Bar flavors you're most excited to try
Follow EBF and Health Warrior on Twitter (leave another comment letting me know you've done so)
Follow EBF and Health Warrior on Instagram (leave another comment letting me know you've done so)
Follow EBF and Health Warrior on Facebook (leave another comment letting me know you've done so)
Share the giveaway via Pinterest, Twitter, Instagram or Facebook – tagging both Eating Bird Food and Health Warrior in the post. I'll have post on all my social media mediums so you can simply share, retweet or re-pin or re-gram my posts if you'd like (leave another comment letting me know you've done so)
You have until Friday, September 6 to enter. I'll announce the winners soon thereafter.
UPDATE – The giveaway is now closed. The winners are Ellie, Rebecca and Brittany.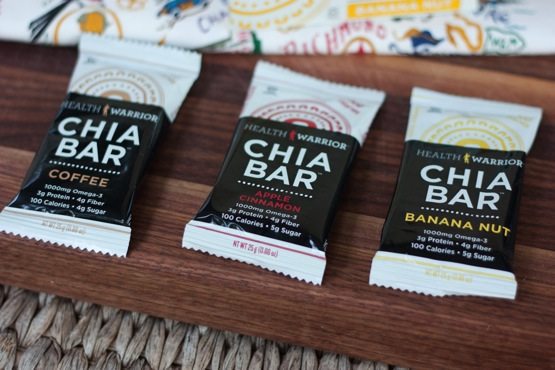 Where can you find the new Health Warrior Chia Bars? I know they're available online, at most Whole Foods and through Relay Foods.