I've recently come across some new things I simply love so I thought I'd put a little post together to highlight them…
1. Aerie F.I.T. Seamless Tank:
Over the weekend I found this tank at aerie, the intimates sub-brand of American Eagle. I tried it on and bought it immediately!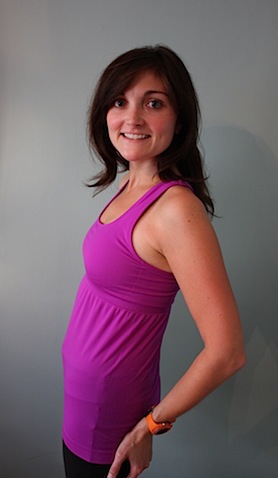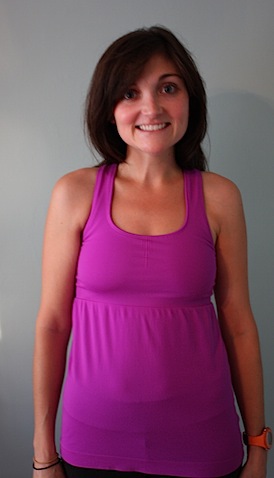 New workout gear is a great motivator for me, but sometimes it's hard to find flattering options that don't cost an arm and a leg. This top fits the bill! It's made of quality (lovely colored) fabric, has a supportive built-in bra and a slimming fit. <– Gotta love that!
2. CCNO Bars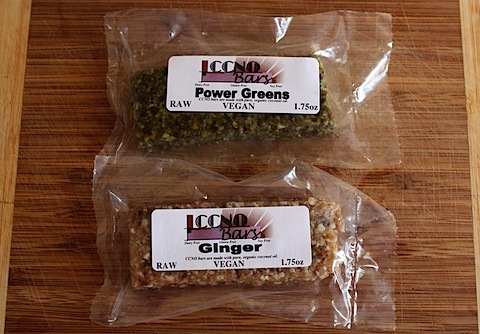 This was another weekend find!! I ran into the Corann, the owner of CCNO bars at Whole Foods this weekend where he was giving out samples of all their flavors.
The bars are raw, vegan, wheat free, dairy free and soy free. Rich in Omega's 3 and 6, each bar contains 1 teaspoon of organic coconut oil. Plus, they're made right here in VA! One bite of the Ginger, their best selling bar, and I was hooked. I had a hard time choosing, but bought both the Power Greens and Ginger flavor! The Power Greens was consumed yesterday as a mid-afternoon snack. Although unnecessary, I kept the bar in the fridge during the day so the texture was cool and firm – perfect for a hot summer day.
3. Stonyfield Organic After Dark Chocolate Frozen Yogurt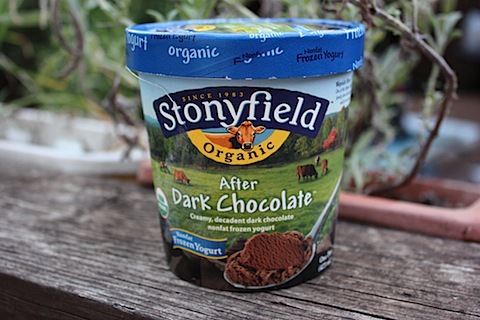 How did I miss the fact that Stonyfield has frozen yogurt? I'm not really sure, but I AM SURE that the After Dark Chocolate flavor is delicious. Isaac brought me home this like pint on Monday evening as a surprise and I hate to admit it, but it's almost gone. Luckily it's good for me. 🙂 It contains the live active cultures found in regular yogurt, the ingredient list is pretty short, and nutrition facts are on point – only 100 calories for 1/2 cup serving, no fat, and 4 grams of protein!
Highly recommend trying out the Stonyfield fro yo – I'm already excited to try some of the other flavors!
4. Sushi Bowls created by following this recipe from 101 Cookbooks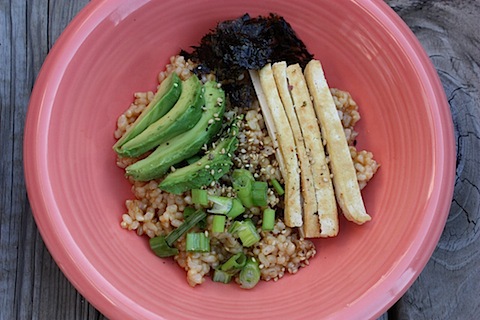 Seriously, this sushi bowl might be better than regular sushi!?! Isaac described it as tasting like a fresh and healthy version of orange chicken (the rice has orange juice and zest).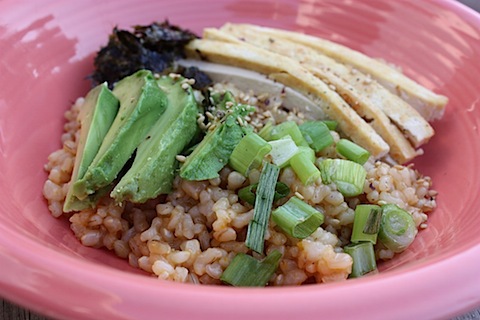 I described it as "Yum!"
Dangit, now I've made myself hungry.
It's off to work for me, but get excited because I have a special friend coming over tonight to cook. Pictures will most definitely be taken. 😉
Happy Wednesday.
PS Check out this article about Food Blogging in RVA. <– I'm quoted in it!!