I keep mentioning my trip to LA but haven't really given you guys the full details, so here it goes:
A few weeks ago I got exciting news — I was invited to visit the Nature Made headquarters in Los Angeles to learn about their new product, VitaMelts, tour the packaging facility, and be on camera for a video! I was beyond excited as I've always trusted the Nature Made brand and absolutely love their vitamins (especially the adult gummies). I had actually already tried one flavor of the VitaMelts (the Vitamin D was included in our swag bag at FitBloggin' 12) and knew I liked them so the opportunity was perfect.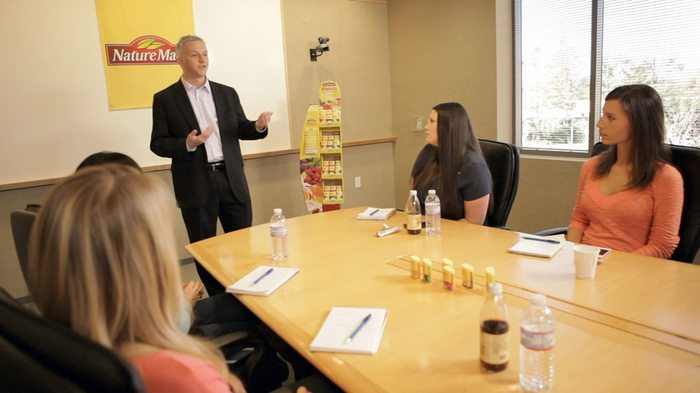 Last Wednesday I flew across the country to Los Angeles, CA. After a full day of traveling I crashed pretty hard and then woke up bright an early on Thursday morning, ready to meet up with the other bloggers that were chosen for the opportunity as well. We all had breakfast at the hotel and then headed on our way to Nature Made's corporate office in Northridge, CA. Throughout the morning we met with experts from Nature Made including Erin Gehan, VP of Marketing, John Welk, Director of Consumer Insights (speaking in the photo above) and Dr. Louis Ndife, Director of Scientific Affairs (in the photo below).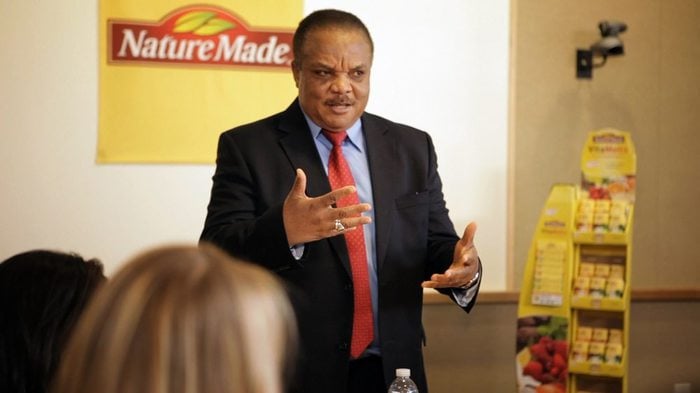 They explained how the Nature Made brand came to be and gave details about how the VitaMelts line was invented. A couple fun facts I learned:
Nature Made is owned by Pharmavite, the same company that owns Soy Joy.
Nature Made is the number one brand of vitamins, minerals, herbs and supplements in the nation. <– Pretty cool!
They have a very strong commitment to high standards.
The company offers more than 120 products, and is dedicated to making the process of taking vitamins an even better experience, which is why the developed VitaMelts.
After lunch we headed from Northridge over to Valencia for a tour of the packaging facility and labs. While touring the facility we had the pleasure of wearing sweet "plant appropriate" gear.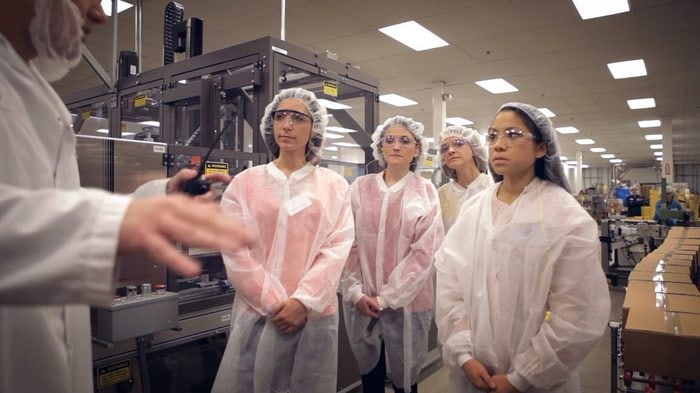 Loving our solemn lunch lady look here. I promise we were having fun!
During the tour we saw how the vitamins were stored, the process of putting them into the containers, labeling the bottles and placing them in boxes for shipment all across the world. The whole process was streamlined with machinery but not entirely automated. There were many tasks that required human interaction and there were Nature Made employees at each step of the process making sure the machines were working properly.
After walking through the packaging center, we headed over to the prototype labs to learn from Jones Chan, the Director of Research and Development.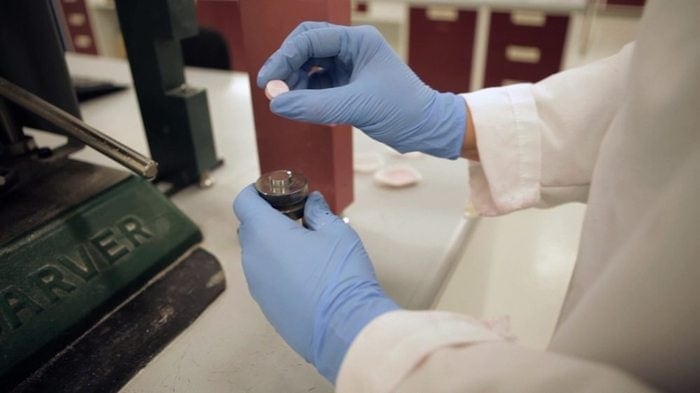 This was actually a prototype for a new vitamin they're working on for the VitaMelts line!
We had a ton of questions for Jones about how they came up with the flavors for the VitaMelts and who did the taste testing. It was fun to learn that the staff at Nature Made actually does the initial taste tests. Jones shared that there were several days where he was taste testing the Relax and Sleep VitaMelts prototypes at work and realized that might not be such a good idea. At least we know they work. 🙂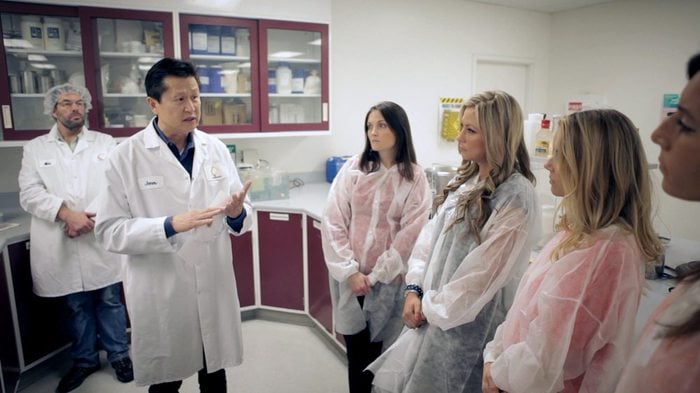 We also learned a little more about how Nature Made tests each vitamin's bioavailability and shelf life. There were a bunch of big, fancy machines (some that cost more than a luxurious home) to help with these processes. It was pretty crazy!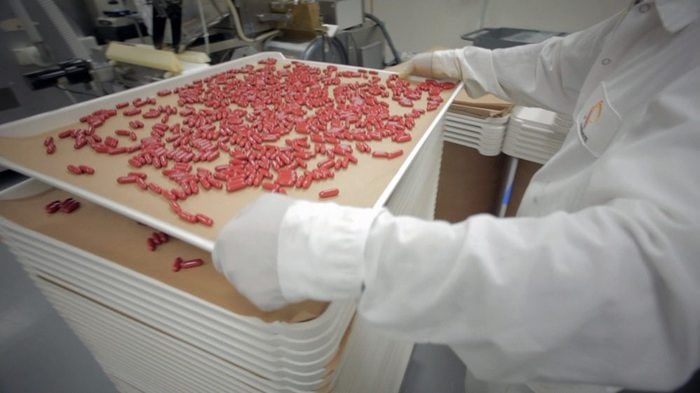 After a full day of learning all about vitamins, all the bloggers that attended were named Nature Made Ambassadors. The next day we traveled to a studio in Los Angeles for a video shoot. We did group chats on camera about healthy living and vitamins and then had some one-on-one camera action as well.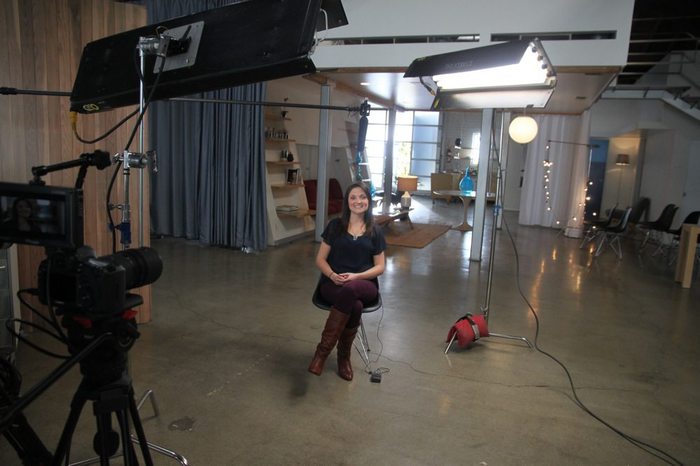 Behind the scenes.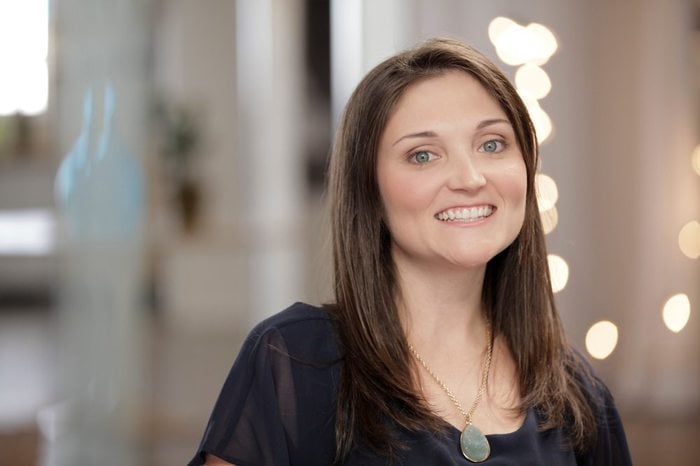 I was soooo nervous for this part — it's crazy how a tiny little camera can make your heart race a mile a minute! In the end it all worked out because the film crew was awesome and didn't make me feel bad for messing up a million times. Although I will say that production crews do not like it when you walk in on a scene unexpected looking for the bathroom. Definitely gotta remember that for next time!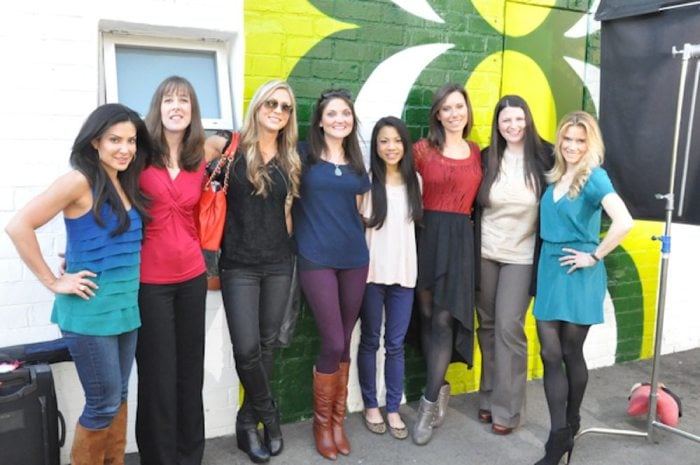 Here's one group shot with eight of the ten Nature Made Ambassadors: Bianca, Diane, Sarah, me, Allie, Amber, Kristin, and Kristin. <– Yup, the two Kristins were side by side. We were just missing Tina and Sheila because they were being filmed.
So you must be wondering… what are these VitaMelts I keep mentioning?

From the company:
Nature Made® VitaMelts™ are a new "one of a kind", enjoyable way to take your vitamins because they melt in your mouth and taste great. Discover how new Nature Made® VitaMelts™ can transform your vitamin taking experience by making it enjoyable. Visit us on Facebook to get a coupon.
The line current consists of six different vitamins, each in a different flavor:
Zinc – Honey Lemon
Vitamin D3 – Creamy Vanilla
Immune Support (Vitamin C) – Juicy Orange
Relax (L-Theanine) – Green Tea Mint
Energy (Vitamin B-12) – Mixed Berry
Sleep (Melatonin) – Chocolate Mint
The VitaMelts line was invented in order to make the mundane process of taking vitamins more exciting, and hopefully in turn, help more people get the vitamins they are missing in their diet. They are tiny (the packaging fits in your purse or pocket),  they melt in your mouth so you don't need to have water on hand nor do you have to worry about swallowing a big pill (or horse pills, as I call them) and they taste good!
The VitaMelts launched last fall so you should be able to find them at any retailer that sells Nature Made vitamins. My favorites are the B-12, Vitamin C and Vitamin D3.
Disclosure: Compensation was provided by Nature Made via Glam Media. The opinions expressed herein are those of the author and are not indicative of the opinions or positions of Nature Made.