Hey friends. I'm glad that many of you enjoyed the Ravenous review!
A couple weeks ago I wrote a post about starting a series on natural beauty products. Soon thereafter I realized, I might not be the best judge of whether products are TRULY natural. That being said, I still want to share some of the natural products I've been loving as of late.
Here's a glimpse into our shower…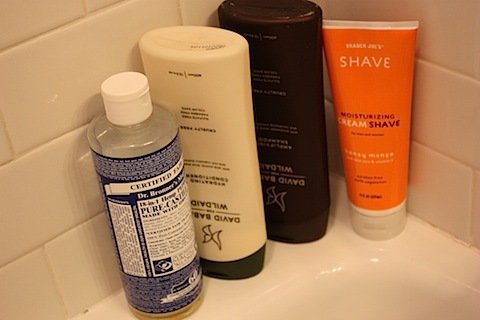 Dr. Bronner's Magic Pure Castile Soap (Peppermint) – I've been using this since college. One of my roommates used it and I tried it once and was hooked. It's organic, natural and has a super short (and natural) ingredient list. It's a thin liquid, but it still gets foamy, which I like. I've tried several of the different scents like lavender, tea tree, rose and almond but I'm partial to the peppermint. It has a nice cooling effect- perfect for waking you up in the morning.
Completely Biodegradable and Vegetable-Based
Made with Certified Fair Trade and Organic Oils
Multi-Purpose: 18-in-1 Uses
No Synthetic Foaming Agents, Thickeners or Preservatives
100% Post-Consumer Recycled (PCR) Cylinder Bottles and Paper Labels
Ingredients: Water, Saponified Organic Coconut, Organic Palm and Organic Olive Oils (w/Retained Glycerin), Organic Hemp Oil, Organic Jojoba Oil, Essential Oils, Citric Acid, Vitamin E
The best part is that Target now sells Dr. Bronner's. Even the mini bottles for traveling!!
David Babaii for Wildaid – Hydrating Conditioner and Amplifying Shampoo – I'm all about volumizing shampoos so when I found this brand at Ulta I decided to try it out. Overall, I really like the shampoo and conditioner. Both products are vegan, not tested on animals and sulfate, paraben and petroleum and sodium lauryl sulfate (SLS) free. Although the Amplifying shampoo has a strong, almost manly smell, I grew to like it and I adore the coconut scent of hydrating conditioner. It also makes my hair super soft. Lastly, 10% of the proceeds goes to help governments and communities of the world to stop the illegal trade of wildlife. And Kate Hudson is a sponsor, which makes me happy because she's my favorite actress! Almost Famous and How to Lose a Guy in 10 Days marathon anyone?
Trader Joe's Honey Mango Moisturizing Shave Cream (For Men and Women) – My friend introduced me to this shaving cream a few months ago and I absolutely love it. It's cream based so it doesn't foam, but it spreads well and soothes skin to create a super smooth shave. I have sensitive skin and it hasn't irritated me at all. I like the soft mango scent as well. The best part – it's less than $5 at TJ's!
Includes Aloe Vera and Vitamin E
Paraben Free
100% Vegetarian
If you don't have a TJ's nearby your house you should probably move closer to one can try Alba's Moisturizing Cream Shave in Mango Vanilla. It seems pretty similar. 😉
Okay, I think that's enough bathroom shots for the day.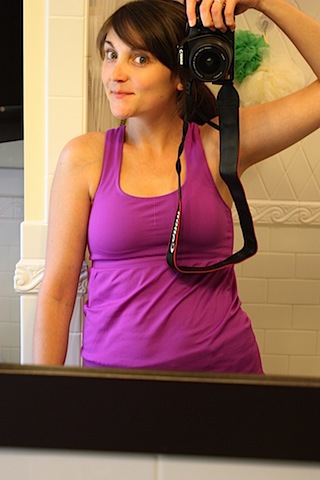 For reference, here's a list of the natural beauty products/companies that were left from readers in the comment section on my initial post. I haven't had a chance to check them all out yet, but I thought this little list might be helpful for those looking to move to more natural products:
What natural products do you have in your shower?
Let me know if this post was helpful and if so, I'll do more in the future. Have a great day and if you have a minute, check out the EBF Blogger Spotlight over on Blogilates.