My second visit to Pizza Fusion occurred this weekend when Isaac's mom and I were on a search for a restaurant that was open past 7 PM on New Year's Day.
On my last visit I ordered the Farmer's Market Signature Pizza on multi-grain crust with soy cheese. Despite being topped with a multitude of veggies the pizza was bland, even with the addition of an ample amount of garlic salt and crushed red pepper. So this time I decided to stick with the signature pizza but pick something a little more flavorful.
I ordered the personal sized Greek: Kalamata olives, sliced roma tomatoes, tomato sauce, feta cheese, mozzarella, provolone, parmesan and parsley.
And Ellen ordered the personal sized Spinach & Artichoke: Sautéed spinach, roasted artichoke hearts, roasted garlic, tomato sauce, mozzarella, provolone and parmesan.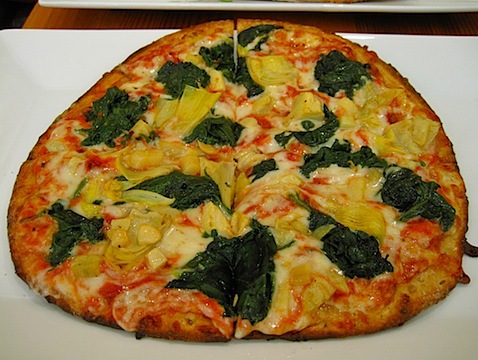 We both spilt our pizzas in half and shared, that way we could have some of each. Turns out these were both great picks. Unlike the soy cheese Farmer's Market pizza I had previously, both of these were super flavorful and delicious. I loved the thin multi-grain crusts and ample veggie toppings. I polished off all 4 of my pieces! Turns out I was super impressed with the pizza this time around so I will definitely be going back to Pizza Fusion, especially since they gave me a coupon for 10% next time I go.
The rest of my eats this weekend included the following:
TJ's High Fiber Fruit and Nut Medley cereal with unsweetened vanilla almond milk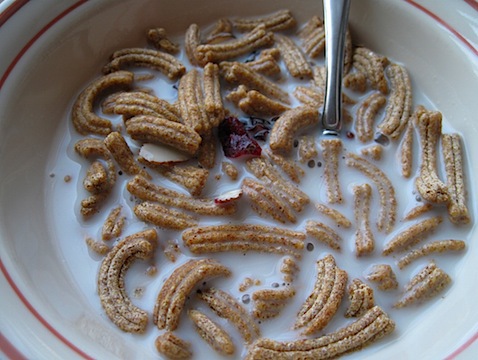 Homemade raw kale salad.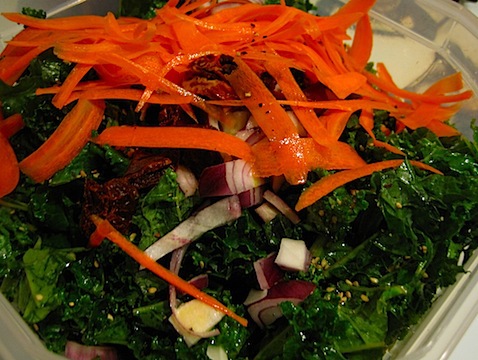 I'm still perfecting the recipe, but I'll be sure to post it once I do!
A baked sweet potato with cottage cheese and ketchup.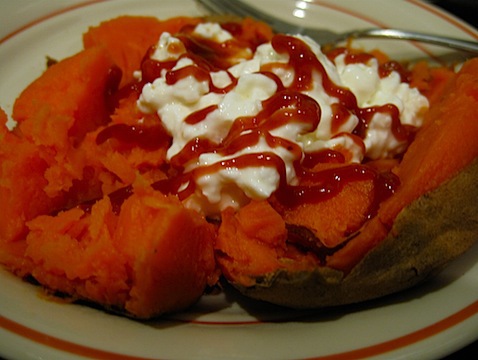 I know you're probably thinking this looks disgusting, but don't knock it until you try it. It's seriously really good- just ask Jenn, from Eating Bender. She's actually the one that gave me the idea in the first place. 🙂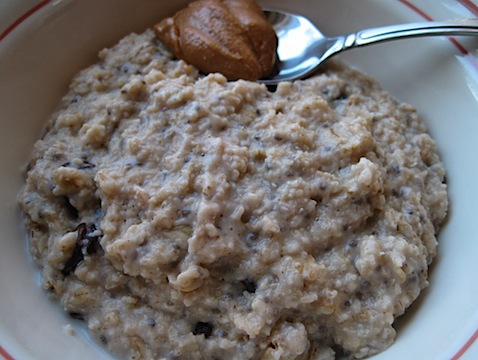 This bowl was the perfect breakfast for a cold morning. I had been missing my chia oats!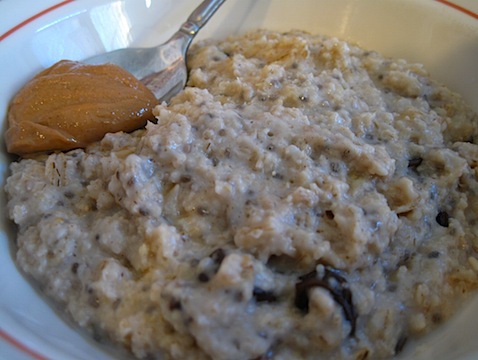 On a creative note, I finished the mystery knitting project this weekend. Lots of you guessed that it was scarf, which was smart thinking because many people take on the scarf for their first knitting experience, but Tasha, The Clean Eating Mama, and Deva, Varacious Vorilee, had the closest guess with arm warmers and mittens.
What I actually made was fingerless mittens!!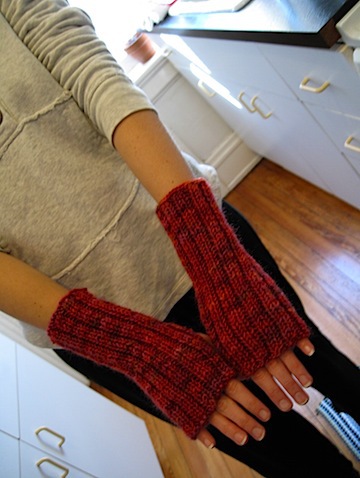 The fingerless part is what makes them so easy, but I like the look! I am also stoked that I was able to complete these while we're still dealing with cold weather. I can't wait to wear them. Too bad I haven't left the house since yesterday's gym visit! It's just so cold out- this morning weather.com said it's 25° out, but feels like 7°. However, I do need to go to the grocery store later today so I'm glad I have these little mittens to keep me warm. 😉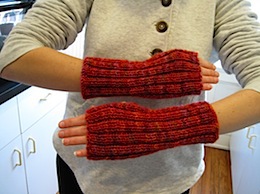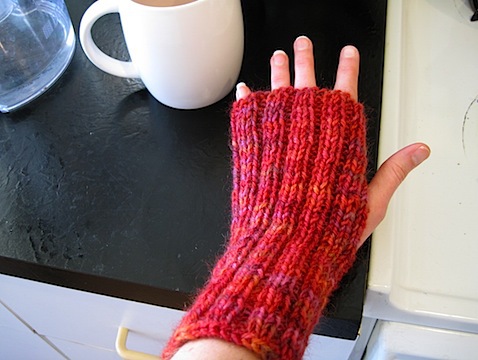 On a side note, a couple people left comments suggesting that I should do some knitting videos. I would love to, but honestly I'm probably not the best person to give lessons- this was my first project and I had a bit of help from experienced knitters (like Isaac's mom)! Also, there are a ton of great knitting articles and videos already out there that are way better than mine would be.
If you're interested in learning, here's a couple links to help you get started:
Learn to Knit- Knitting for Beginners
How to Knit for Beginners: Video Series
Check out the links above or just search knitting for beginners and you'll find plenty of sources. Best of luck with your knitting adventures. I'm sure I'll do some other projects in the near future so I'll be sure to let you all in on those.
Today is the last day of my holiday break from work. It's been a nice LONG break, however it still sad to know it's over! Back to the grind tomorrow.
– Brittany