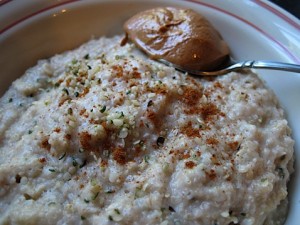 1/4 cup oat bran
1/4 cup old fashioned oats
1/2 cup unsweetened vanilla almond milk
1/2 cup water
1/2 of a ripe banana (sliced)
A couple sprinkles (or shakes) of cinnamon
Put the oat bran, oatmeal, almond milk, water, banana, and cinnamon into a small/medium pot and cook by stove top on medium – high for about 5 minutes. I like to stay near the pot to stir a few times and to make sure the oats don't start sticking. Once the oats have absorbed the liquid and are at the consistency you like, turn off the heat. At this point I sometimes stir in some extras like chia seeds, ground flax seed, protein powder or wheatberries. So you can either add some items or simply transfer the oats into a bowl and top with your favorite toppings. The oats in the picture above are sprinkled with cinnamon and hemp seeds and served with a spoonful of better n' pb.