I left off my last post suggesting that I would be back soon with an update on my second opinion doctor's visit and the plan of action, so here I am.
I figure it makes sense to start at the beginning:
Some of you may know I have scoliosis because I have mentioned it once or twice on the blog, but many of you probably don't know. To be honest, I didn't talk about it much before my leg started tingling because it was never really an issue (pain wise) until last year.
I was checked just like everyone else in middle school, but my curvature went unnoticed until I was 16 and went to my older sister, lifted up my shirt and asked her what exercises I could do to get rid of a pesky love handle. <–Yes, I had just one love handle. She is an RN and as soon as I lifted up my shirt she noticed by hips were misaligned and knew I needed to see the doctor. After several sets of X-rays the doctors suggested that I did indeed have a moderate case of scoliosis with an S curve (a 30° right thoracic curve and a 40° lumbar) but because the curves weren't over 50° or causing me any pain, surgery wasn't recommended nor covered by our insurance. Bracing wasn't recommended either because at that point I had hit puberty and "stopped growing." The doctors also suggested that I should be able to do everything normal teenagers did – sports, running, swimming.. the whole 9 yards and that I had no more chance than anyone else to have back pain as I aged. They said that there was only a slight chance that the scoliosis might be worse as I aged but that wasn't likely since I had stopped growing. This reassured my parents and I went about my life as normal.
Most of that might have been the doctor's best judgment. At the time, however, they didn't tell me that one side of my back was going to compensate for the curvature while the muscles were going to build up causing extreme tightness. Further, it was never mentioned that I should get X-rays every year or so to keep an eye on the curves to make sure they weren't progressing. I never knew anyone who had scoliosis nor did I do any research online (WebMD wasn't big back then), so the only advice I had was that of the doctor.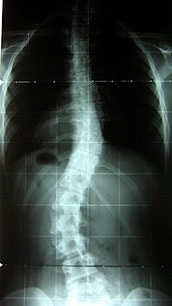 This is an X-ray from the back of a person with an S curve about the same size of mine, although this isn't my actual X-ray. (Image source) You can see the mis-alignment of my shoulders and the fact that I always stand with my weight on my left leg.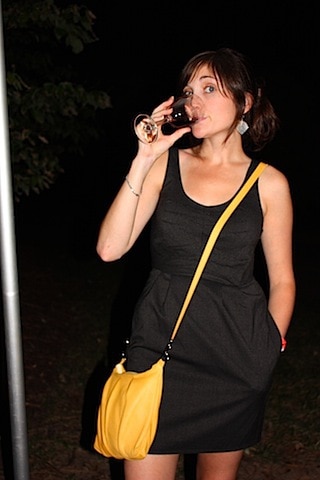 Although most people tell me they never notice my scoliosis until I tell them about it, I've pretty much always had slight body image issues because of it. But that's a whole other story for a different day.
8 years later (2 years ago) I thought my body was looking a bit different (more mis-aligned) so I decided to find an adult spine doctor and get updated X-rays. He compared my old X-rays with the new ones and said it looked like the curves were the same degree so there was no need to worry, especially because I wasn't experiencing any pain. I left the appointment feeling great!
I went back to that same doctor when my leg started tingling in July where I was prescribed physical therapy, which I've been doing regularly since last fall. My PT thought the tight muscles on my left side were probably causing nerve impingement leading to the tingling but it didn't subside with the PT so I tried to schedule a follow up appointment with my doc. As it turns out the group he worked with no longer accepted my insurance. :/
I researched online for adult scoliosis/spine doctors and found the doctor I saw 2 weeks ago. I went in for the appointment and explained my leg tingling issue, for which he prescribed an MRI. He then requested new X-rays of my spine and as soon as he compared those to the ones from when I was 16 he said spinal fusion surgery was necessary. This all happened in a matter of 10 minutes and soon after I was leaving the office with a packet of paper work to schedule surgery. It was an emotional day, to say the least.
So, last week I got the MRI and scheduled an appointment with a different doctor to get a second opinion. My MRI results came back normal – there is no disc damage, which means the tingling is most likely coming from muscular issues, just as my PT had predicted all along. The new doctor was fabulous. He looked at all my past X-rays and explained that the other doctor was correct – I was a good candidate for the spinal fusion surgery. I have a progressing curve, I'm young, not overweight, flexible, etc. but suggested it also makes sense to exhaust all other options before deciding to fuse 8 discs in my thoracic spine when I'm not in extreme pain. Basically, if we could see into the future and know that my curves wouldn't progress any further or cause me pain then surgery would not be necessary. However, we can't foresee those issues and now is the opportune time to have spinal surgery, not when I'm older.
If it were a simple surgery or if the curvature was severe and causing health issues it would be a no-brainer but I have to decide what's right for me and my body. It's an intense surgery with 3-4 days in the hospital, 2 months of wearing a brace and a ton of physical therapy adding up to about 9 months of recovery. The real kicker is that with spinal fusion, often times people experience painful side effects or further progression of the curves.
To sum it all up, my new doctor didn't have a definitive answer and I have a lot of thinking to do. He said I should come back in 6 months to get updated X-rays and try some non-surgical methods to help with the muscle imbalances. I started researching and reaching out to others who have scoliosis and found that many people recommend yoga and pilates. I've done both but with no specific focus on it being therapeutic for my back. So, throughout the next 6 months I am going to really focus on doing things that loosen up the muscles on the lower left side of my back and working to decrease the progression of my thoracic curve. I honestly have a feeling that yoga can really help me if I put my mind to it. I'm excited to embark on this journey to healing.
So far, I've ordered this book, which has a full chapter dedicated to scoliosis and was recommended from a friend.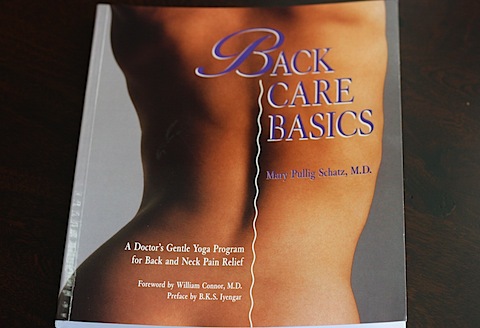 And this DVD.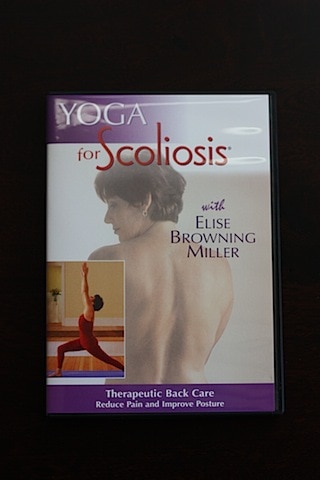 I've done the Yoga for Scoliosis DVD 2 days in a row this week and so far it's been awesome. The video is based on Iyengar Yoga and everyone in the video has a different type of scoliosis. There are modifications for each posture and you're instructed to follow the person who has the curve most similar to yours. It's slower than most yoga classes I've taken but I can tell it's working the areas I need to work. I'm honestly loving it so far!
I've also read the chapter on scoliosis in Back Care Basics but haven't started doing the poses yet. Most should probably be done with a partner for the first couple times to make sure I'm aligning myself properly.
At this point I plan to keep up with my physical therapy and really focus on healing yoga for the next 6 months. I'll be doing most of the yoga on my own but I'd like to try out a few local studios as well. I'm actually already signed up for a Yoga for Scoliosis workshop that's happening at the end of this month.
I'm definitely open to other methods of healing but yoga is really calling to me right now so I'm just going to go with it…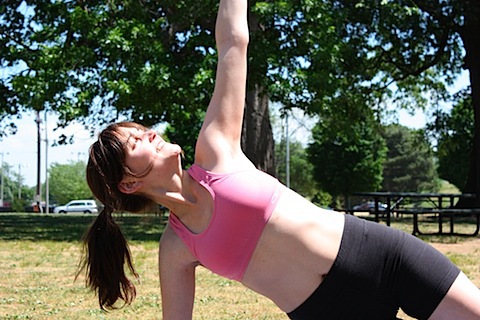 Who knows, maybe I'll even try Naked Yoga, I hear that's great for scoliosis. 😉 Even in difficult times like these I have to remember to laugh. Laughter is the best medicine.