Meal Planning Tips + This Week's Menu
8
Published Mar 23, 2015, Updated May 24, 2021
If you follow me on Instagram, you probably saw that I teamed up with my local Pure Barre to share meal planning tips and a 5 day clean eating menu. It was a fun little event! As I was working on planning our meals for this week I thought it'd be fun to share what meals we have planned for dinner and some meal planning tips I share at Pure Barre.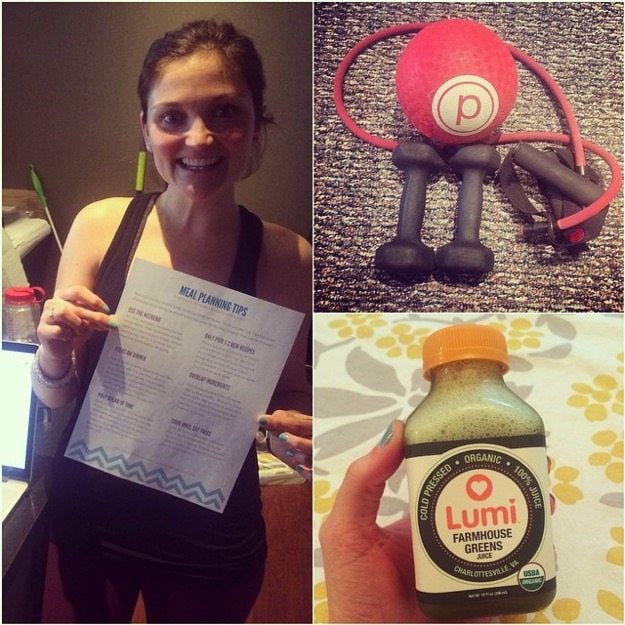 I hate to be the bearer of bad news, but eating healthy starts with cooking more at home! Yes, you can find healthy options out at restaurants, but cooking at home is usually the healthiest way to eat because you know exactly what's going into your food. I know cooking may seem like chore but it can also be fun. If you're extremely busy, looking to eat healthier, have a family or simply like to be organized, a little menu planning and meal prep can go a long way!
I'm going to be 100% honest and tell you guys that I'm not always the best at planning out our meals. On weeks when I don't plan, we end up eating a lot of salads, roasted veggies, stir-fry and/or breakfast for dinner. Not planning works okay for us some weeks (BFD is so good!), BUT I've found that menu planning is helpful in many ways and makes dinner time such a breeze!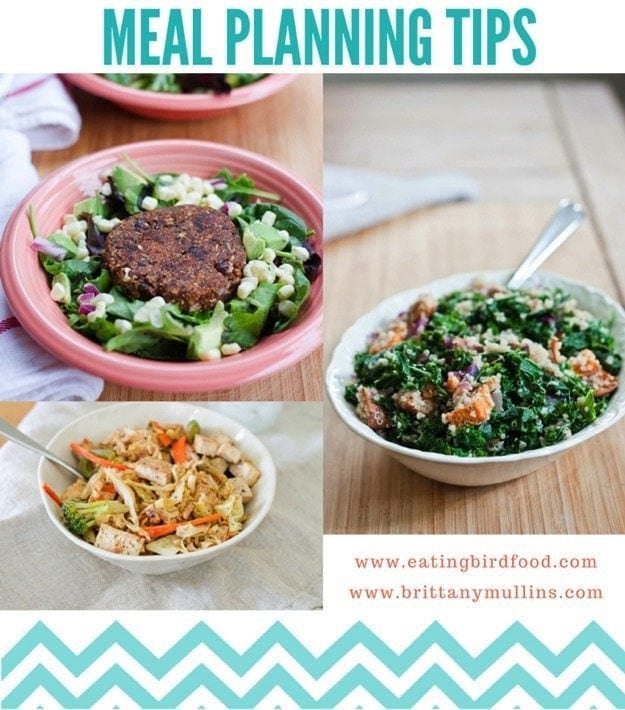 My favorite meal planning tips:
Take a free day like Saturday or Sunday to sit down and plan out meals for the week ahead:

Take inventory of what items you have in your fridge, freezer and pantry and then write a list of meals you can make using what you already have on hand.
Find a few new recipes to try by flipping through your favorite magazines or searching online. I have a bunch of healthy recipes for you to try, but Google and Pinterest are a great place to look too.
Once you decide on the menu, make a list of what items you need to pick up from the grocery store and go grab them.

Focus on dinner — You don't have to plan every single meal! Simply write down a few breakfast and lunch options for the week and make sure you have the ingredients you need. You probably already have a breakfast routine and I find that lunch meals are easy to improvise and toss together: leftovers, sandwiches, soups, etc.
Pick one or two new recipes to try, max — Don't overwhelm yourself with trying too many new recipes in one week. Pick a couple tried and true favorites and one or two new recipes to shake things up.
Cook once, eat twice — Many recipes serve 4-6 people so if it's just you or you and partner, this step is easy. You can cook once and have leftovers for lunch or dinner the next night. We do this all the time as I'm a leftover lover. If you're serving a family, simply double the recipe so you'll have leftovers.
Organize your favorite recipes — Create a folder or binder to store recipe cards and recipes you've pulled from magazines. It also helps to create a place to save online recipes. I like using a meal planning/healthy recipe Pinterest board or the notes app on my phone.
Overlap ingredients — This is especially important for items that go bad quickly. Whenever I'm planning to make a recipe with fresh herbs like parsley or cilantro, I try to find another recipe to make that week that uses it as well so that I can get more than one use of it.
Prep ahead of time — Look at your recipes for the week and figure out if there's anything you can prepare in advance.

If you're making a soup that requires a lot of chopped veggies, do all the chopping on Sunday so they're ready to be thrown in the pot the evening you make the soup.
A lot of quinoa recipes call for cooked quinoa. You can make a big pot of that on Sunday and have enough for any recipes that use it and for salads. Roasted veggies are also a great make-ahead item because they're tasty cold or at room temperature.
Prep some protein options like hardboiled eggs, roasted fish, grilled chicken breasts and/or baked tofu and tempeh so you can easily toss together a quick salad for lunch or dinner.
Buy pre-chopped veggies — It's more expensive but if you're super busy or hate being in the kitchen, prepared veggies might be your best bet. Whole Foods, Trader Joe's and Relay Foods all sell a bunch of different pre-chopped veggie options.
Our meal plan this week:
Planning our meals this week was a little bit easier because we're going to a wedding this weekend so dinner for Friday and Saturday night is already planned. Here's what I have on the menu:
Monday: broiled tilapia with garlic braised kale
Wednesday: hot garlic shrimp and asparagus
Thursday: strawberry spinach salad with orange poppy seed dressing
Friday: Wedding rehearsal dinner
Saturday: Dinner at Wedding
Sunday: TBD
Do you plan out your meals each week? Have any tips that I didn't mention?