If you've been following EBF for awhile, you'll know that I often say being prepared is essential for staying on track with healthy eating. For me, it makes all the difference. I'm usually really good about prepping for the week ahead — even if that just means stocking up on staples for whipping together quick lunches and weeknight dinners. Lately, however, I've noticed that I haven't had the time or energy to plan out new recipes to try so we've kind of been in a dinner rut (I think the move was a big part of this). So, when Jess of Cook Smarts reached out to me about trying her meal planning service I was all over it. How cool would it be to have someone else do the meal planning for me? Ummm… pretty darn cool!  In addition, I already knew Jess from working with her on a little recipe project with Relay Foods so I knew her recipes were legit. (For the record this Roasted Broccoli and Tofu with Jalapeños is one the first recipes I tried from Cook Smarts and it's super delicious and so easy.)
So last week I got my weekly meal plan emailed to me on Thursday and this is what was on tap for the week ahead: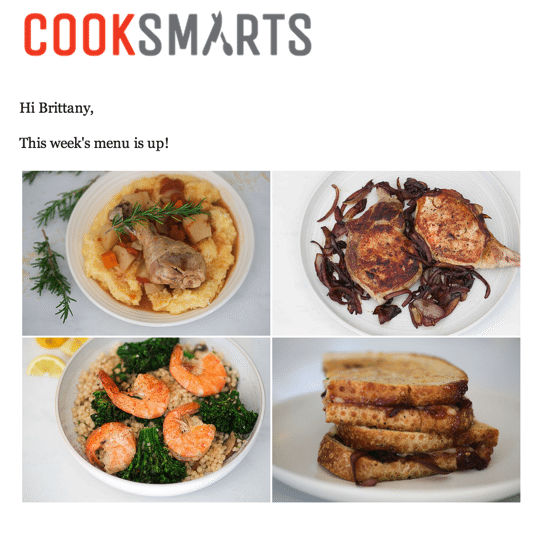 The Menu
Slow Cooker Chicken Stew (with carrots and potatoes over polenta)
Pork Chips with Balsamic Red Onions (with balsamic-roasted brussels sprouts)
Sauteed Shrimp and Israeli Couscous (with broccolini and mushrooms)
Grilled Cheese with Balsamic Red Onions and Jam (with pureed sweet potato soup)
Once I got the email, I started planning based on what we had on the calendar — we had dinner plans on Monday night to celebrate Isaac's mom's birthday and a dinner with friends on Friday night so I knew I wouldn't be cooking those nights. After looking over the plan and all the recipes I decided to make three of the four meals. The grilled cheese with sweet potato soup sounded good but I knew we'd only be eating in three nights — plus I try to go lighter on the carbs at dinner time — so I decided to skip this one.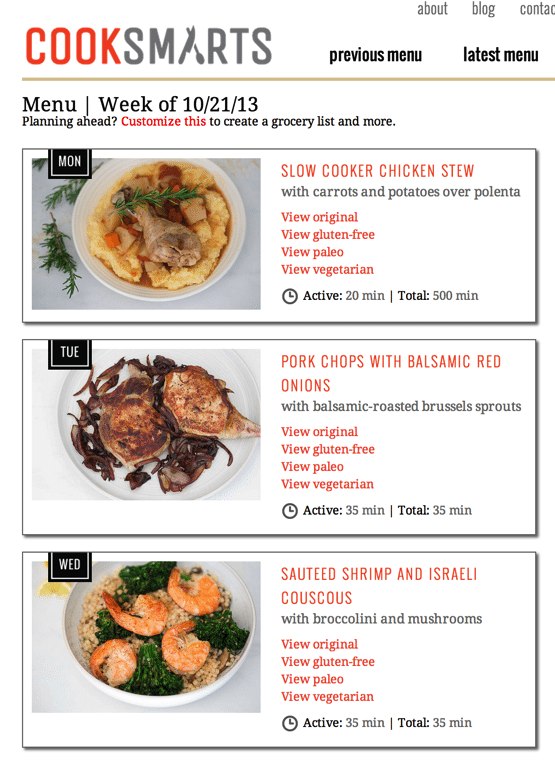 Customizing
One the best features of the meal plan (at least in my opinion) is that you can choose if you want to make all four meals and you can customize each recipe to your diet (there's a gluten-free, paleo or vegetarian option for each recipe). And, if the week's meal plan isn't appealing at all, you can always look back at previous meal plans or search for different recipes.
The recipes were super easy to follow and offered prep options with details about how far in advance the prep could be done, which I found really helpful.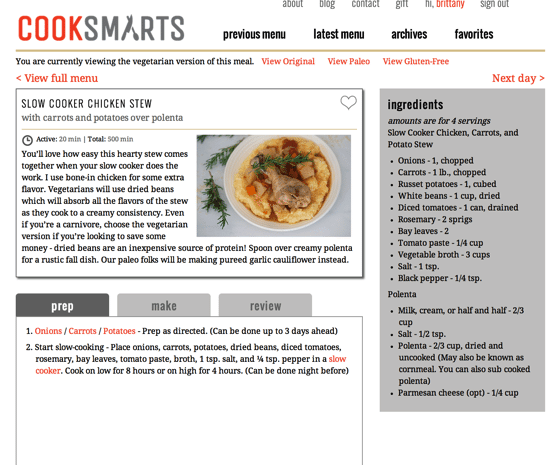 I did the vegetarian version of the stew as well as the pork chops and the paleo version of the shrimp — here's my shopping list: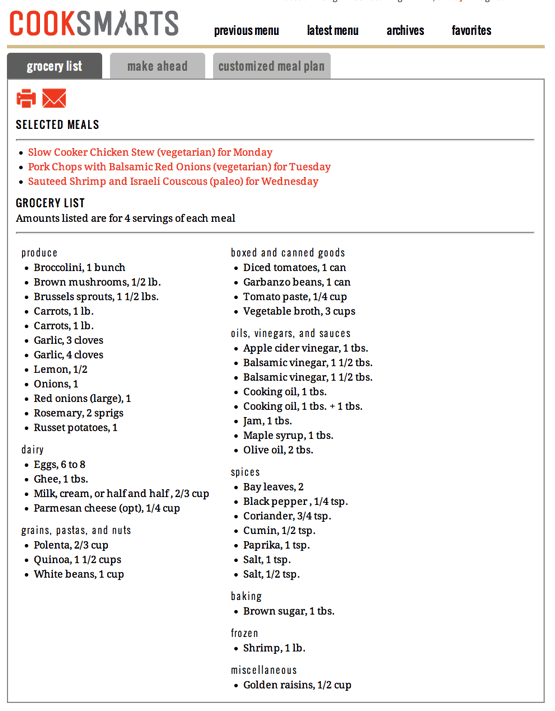 I love that all the ingredients were things I could find at my normal grocery store (no obscure ingredients) and the list really wasn't that long, especially since I had all of the vinegars, oils and spices on hand already.
The Cooking
Here's how the meals turned out for us: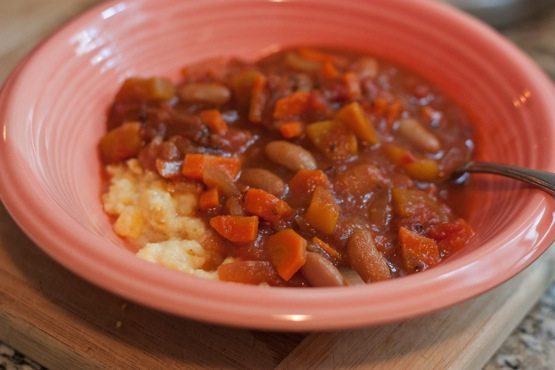 Bean stew served over polenta: I think this meal was our favorite of the week. It cooked in the slow cooker all night, made the house smell amazing and ended up being the perfect comfort meal with all the cooler temps we've been having. The stew was super flavorful and both Isaac and I commented several times about how good it was! I EBFed (yes, I just used EBF as a verb) it a little bit by using kabocha squash instead of potatoes and cut out the half and half. 🙂 That's what nice about the meal plan — you have a guide to go by, but you can easily tweak the recipes to make them fit your needs.
Chickpeas, carrots and raisins with balsamic red onions and roasted brussels sprouts: Oh man, this one was really good too. I loved the onions and brussels sprouts. I could have eaten the whole sheet full of sprouts on my own, but I was nice and shared with Isaac.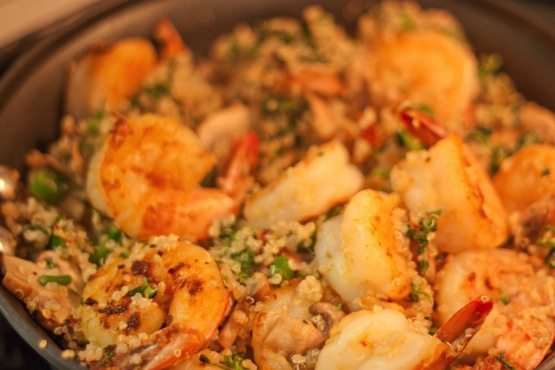 Sautéed shrimp with broccolini:  This one came together quickly and I was able to use the leftover quinoa from Wednesday night instead of the couscous, which worked out perfectly. And for some reason I always forget how good broccolini is — it's like a cross between broccoli and asparagus. Gotta remember this for future recipes!
The best part is that each of these recipes served 4 so we had plenty of leftovers for lunches throughout the week. I love leftovers so this made me a happy camper.
Another great Cook Smarts feature — handy videos with cooking tips, like how to prep frozen shrimp if you forget to let it thaw the night before (which I always do):
Overall, I was very impressed with the Cook Smarts meal plan — the recipes were a breeze to follow and all the meals I made were absolutely delicious. Plus, having a plan really took the guess-work out of dinners for the week and made me feel less stressed about what I was going to make. I can totally see myself buying a subscription to Cook Smarts when my trial ends and I might even buy gift cards for a few people for the holidays. I think it's an awesome service.
Do you plan out your meals each week? Have you ever used a meal planning service?
If you're interested in checking out the Cook Smarts meal planning service, you can try it out for free and get access to 3 sample plans just by registering. If you're interested in becoming a subscriber (get the meal plans every week and access to all the archives) plans start at $6 /month and if you sign up for the annual or quarterly plan, you can get $5 off with the code EBF1013. FYI- this isn't an affiliate link, I'm just sharing a good deal. 🙂
This post was sponsored by Cook Smarts but as always, all opinions are my own.