Ahhh happy Friday! Who else is pumped for the weekend?
We already have an agenda planned:
Cookout with friends tonight
RVA Fit Party at Boho Cycle Saturday morning
My niece's and nephew's combo birthday party at 2:00PM in Orange, VA (about 1.5 hours away)
A birthday cookout for a friend back in Richmond at 6:00PM
Relax a little on Sunday — hopefully?!?
Anyhow, back to today — Fit Friday is going to be a little combo post because I have a few things to share with you.
First up — my latest protein pancake obsession creation.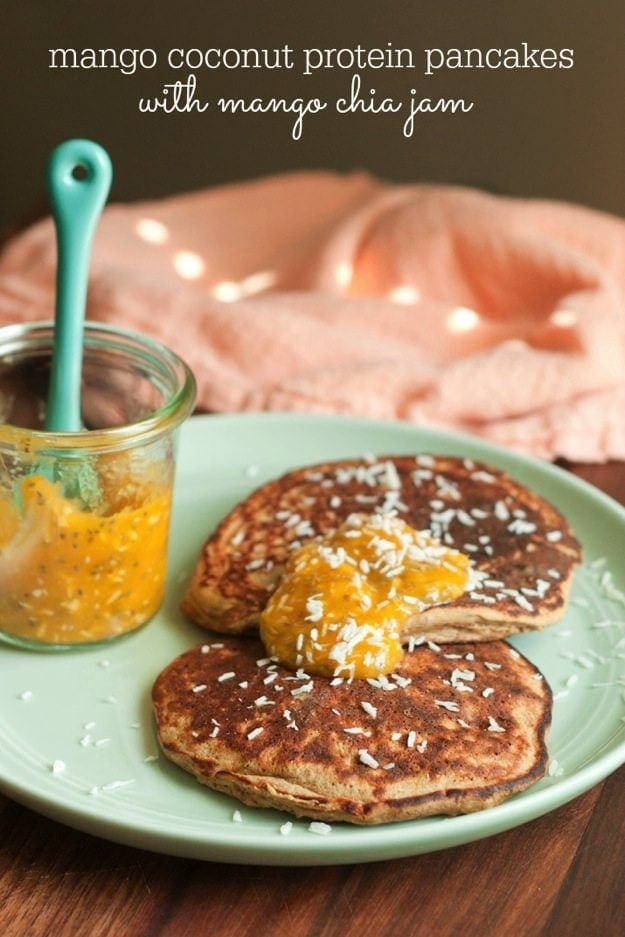 It involves mango and coconut and is probably one of my favorite protein pancake recipes yet.
Maybe it's the warm weather or maybe I'm just dreaming about being back on our honeymoon in St. Croix but I've been craving tropical fruits like fresh pineapple, coconut, mango and banana lately. I even went out and bought a Zico chocolate coconut water the other day. OMG — I had forgotten how good this stuff is!!
The base for these protein pancakes is similar to most of my other protein pancake recipes but I added tiny little chunks of mango and unsweetened shredded coconut to the batter. And the chia jam is super simple — just pureed mango with chia seeds and unsweetened coconut. Easy peasy, yet so delicious.
The protein pancake and chia seed jam combo has the perfect amount of protein, carbs and healthy fat for a post-workout breakfast and will definitely keep you feeling full all morning!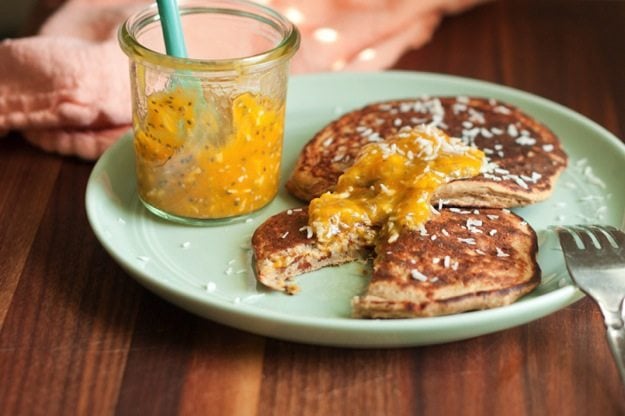 Print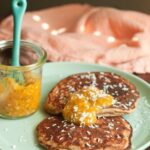 Mango Coconut Protein Pancakes with Mango Coconut Chia Jam
Author:

Prep Time:

10 mins

Cook Time:

10 mins

Total Time:

20 mins

Yield:

1
---
Ingredients
¼ cup liquid egg whites
1 scoop of vanilla brown rice protein powder (I like Sunwarrior and Perfect Fit)
½ Tablespoon ground flaxseed or chia seeds
½ banana, mashed
1/8 cup fresh mango, chopped into tiny pieces
1 teaspoon unsweetened shredded coconut
Mango Chia Seed Jam
1/4 cup fresh mango
1 teaspoon unsweetened shredded coconut
1 teaspoon chia seeds
---
Instructions
In a small bowl whisk together the egg whites, protein powder and flaxseed/chia seeds with a fork or whisk until all the protein powder is dissolved.
Stir in the mashed banana and then add the mango chunks and coconut.
Spray a medium sized non-stick pan with cooking spray and set heat to low-medium (I use the number 3 on my stove).
Once the pan is hot, pour in pancake batter — split the batter in half if you want to make two pancakes.
Cook until little bubbles form (about 5 minutes). Make sure the pancake is "set-up" enough before you try flipping it or else you'll end up with a protein pancake scramble.
Carefully flip the pancake over to the other side. Cook until pancake is done in the middle. It typically takes another 2-3 minutes.
To make the chia seed jam: You can make this ahead of time or do it while the pancake(s) are cooking. Place the fresh mango into a mini food processor or chopper and puree until smooth. Add in coconut and chia seeds and pulse a few times. Transfer to a small bowl and let the chia seeds work their magic for a few minutes.
To serve, place pancake(s) on a plate, top with chia seed jam and serve. You won't need all the chia seed jam for one batch of pancakes. Store leftovers in a covered container in the fridge and use within 2-3 days.
---
Nutrition
Serving Size:

Pancake(s) + 1/2 serving of jam

Calories:

234

Sugar:

13g

Fat:

4g

Carbohydrates:

27g

Fiber:

6g

Protein:

24g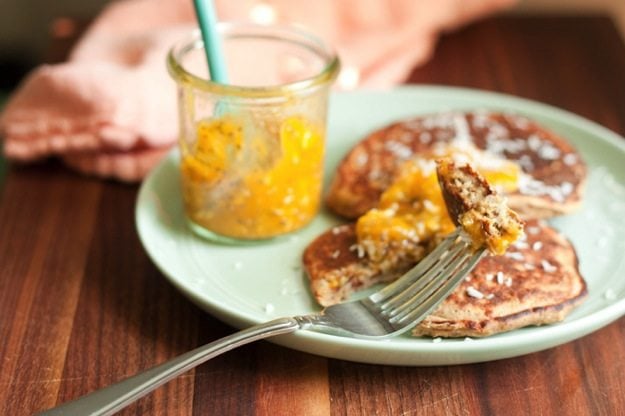 Next up — workouts!!
I haven't been able to work out much over the past few weeks because I injured myself.  I didn't go to the doctor but all symptoms point to a pulled intercostal muscle. In the beginning it hurt to breathe, laugh, yawn, cough and even to lift something light like a cup of water. It was awful! So for the past three weeks my only workout has been walking. The pain is still present when I lie down and first thing in the morning after waking up but during the day it feels much better now.
Since it was feeling so good during the day, I tried doing a few at-home strength workouts for the first time this week. The two workouts I tried were awesome so I thought I would share them.If you need to switch up your routine or add in a supplemental workout or two, check these out:
Fitness Blender 39 Minute Total Body Barre Workout — I've been wanting to get back into barre workouts and found this one when searching on YouTube. I'm so happy I did because it was exactly what I was looking for. It includes a hybrid of Pilates, ballet inspired sculpting moves, and a little bit of yoga. There's 2 rounds with a bit of leg work in the beginning then arms and abs. Before doing it I thought, "Oh, this will be easy and I probably won't get sweaty." I was wrong! After this great workout I'm pumped to explore the Fitness Blender site more. I can't believe I'm just now finding this site — they have a ton of free full-length workout videos!
Tone It Up Bikini Arms Workout — As you know, I am a big fan of the Tone It Up gals and their workouts. I did this arm routine this morning and thought it was a great. It's short (only about 10 minutes) so you can easily squeeze it into your day and it involves light weights at high reps. My triceps were on fire by the end.

Last but not least, I have some exciting (and a little frightening news)! This year I'm competing as a chef in the Richmond Vegetarian Food Fight "Iron Chef" style competition. Like I said, I'm a little intimidated. I don't consider myself a chef and the whole secret ingredient thing really scares me BUT I think it will be fun. Plus, I know how to make vegan food taste good AND I have Lauren of Vegology as my partner so we'll be fine. If you're local and interested in attending/cheering Lauren and I on, it's Saturday, June 21st from 4:00-6:00PM at Bryan Park. We'd love to have your support!
With that I think I'll sign off so I can do some vegan recipe testing to prepare for the competition. I hope you have a great weekend. Do you have anything fun planned?