Morning and happy Thursday! I hope you're having an awesome week and ready for the weekend. I know I am!
As part of my partnership with FitFluential, Kohl's and the #MakeYourMove campaign I've been working on getting 10K steps every day (it's been much easier now that the weather is nice) and doing more yoga. These have been great additions, but I still haven't forgotten about my regular workouts which include Pure Barre, running and strength training. That's why today I'm bringing you an awesome upper body circuit workout. I've included five different moves to target your shoulders, arms, chest and back.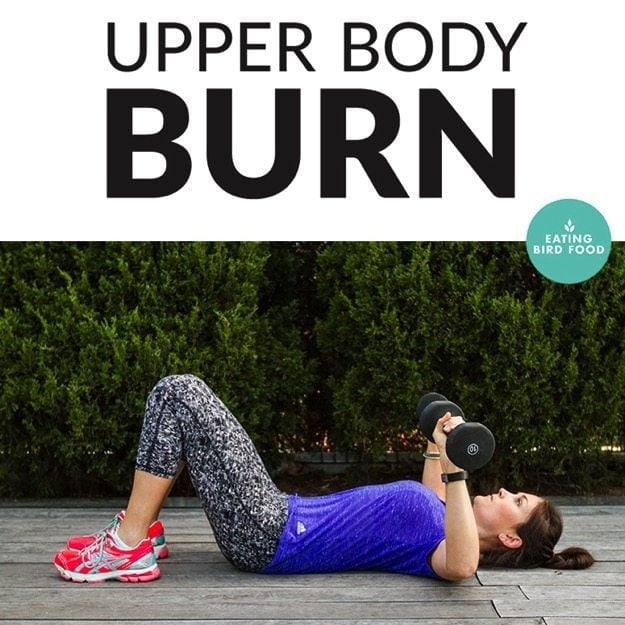 I feel like I'm posting this at the perfect time as tank top season is here and everyone wants their arms looking good, right? Suns out, guns out. 😉
For this workout, all you need is a small space (no gym membership required) and a set of dumbbells between 8-12 lbs. I have these Neoprene 10 pounders and really like them. The Neoprene covering offers a good grip and a little cushioning. Plus, they last — I've had mine for over 5 years and they're still in great condition.
Alright, let's talk about the moves!

Floor Chest Press — Lie face up on the floor. Hold dumbbells in each hand above your chest with your arms straight. Lower the dumbbells until your arms touch the floor. Pause for a second and press the weights back up to the starting position. (10 Reps)
Tricep Dips — Sit on the floor with your knees bent, feet on the floor, hands on the floor behind you with fingers pointing toward your body. Lift hips off floor. Slowly bend your elbows and lower your body close to the floor. Keep abdominal muscles tight. Extend arms through the elbows and repeat. (15 reps)
Overhead Press — Hold a pair of dumbbells just outside your shoulders, with your arms bent and palms facing forward. Press the weights upward until your arms are completely straight. Slowly slower the dumbbells back to the starting position. (10 Reps)
Bicep Hammer Curl — Place a dumbbell in each hand and bring your arms by your sides with your palms facing each other. Curl the dumbbells toward your shoulders at the same time. Pause at the top, then slowly lower the dumbbells back to the starting position. (12 Reps)
Diagonal Raise — Stand in a split stance. Grab a dumbbell in your right hand and hold it next to the outside of your right hip, your palm facing your hip. Your elbow should be slightly bent. Without changing the bend in your elbow, raise the dumbbell up and across your body. Reverse the movement to return to the starting position.  (20 Reps // 10 Each Side)
Instructions: Do each exercise the prescribed number of reps, then move to the next exercise in the circuit. Repeat the full circuit 2-3 times for a complete upper body workout.
I have to tell you, I've had so much fun coming up with new workouts to post! I think it's a nice change of pace from all the recipes. I love food and recipe development, but sometimes this girl needs to get out of the kitchen. 😉 I'm planning to post more workouts this summer so if you have any specific type workouts you'd like to see, be sure to let me know! I'm all ears.
If you try this workout be sure to let me know by commenting here or tagging me on social media (@eatingbirdfood and #MakeYourMove). Can't wait to hear what you think.
This post is sponsored by FitFluential on behalf of Kohl's.