Welcome to the weekend and hi from Indianapolis. I hopped on a flight this morning and I'll be here until the middle of next week for a work conference.
The only time I've ever been to Indy was in 2006 when George Mason went to the final four. I was junior in college and Isaac and I drove with a few friends to see Mason play. Even though we didn't win the NCAA championship, we had a blast! I have a feeling this trip is going to be quite a different experience. Oh how I miss college. Despite all the school work I always seemed to have ample free time to do other things – work a part time job, hang out with friends, go to parties, hit up the gym or read magazines.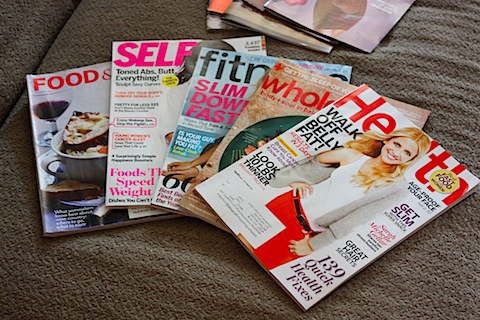 When looking at our pile of mail this week I realized I really don't have time for them anymore. I'm kind of on magazine overload.
For one reason or another I have a subscription to quite a few food, health and fitness magazines. While I've never been one to sit around the house and read magazines, I love thumbing through them in car rides (Isaac almost always drives when we go on long trips) or reading them while on the treadmill or elliptical. And it's much cheaper to get a subscription rather than pay the news stand prices.
But over the past few months I've noticed that more often than not my magazines are going unread. I might read or look through one or two but most of the time at least 3 of them aren't read. It's kind of sad because I do wish I had time to read them.
Perhaps its a good thing I'm not reading a ton of magazines any more because I've found that a lot of them run recycled content from year to year and I'm not really learning anything new. Maybe a new recipe here or there, but I can find those on the internet, along with most of the other content. I'm pretty sure I'm not the only person who has moved to using the internet for workout ideas, recipes and health tips rather than traditional print publications. I'm really curious to see what happens in the future and if all media goes digital. It will definitely be different for those of us who are used to flipping glossy pages (one of my favorite parts about mags) or snuggling up with a good book.
I did bring a couple of the magazines with me on the trip to Indy so hopefully I'll get some time to read them. 😉
So this is just my little thought for the day as I try to decide whether or not to renew my subscriptions. What do you all think? Do you still subscribe to or buy magazines or do you just use the internet to find the same content you would get from the zine? What are your favorite magazines? Most of mine are pictured above but I like Cooking Light, Shape, Natural Health and Oxygen as well.
In other news, I've only been in Indy for about 30 minutes, but so far I really like it! It's clean, has a lot of art work everywhere and fancy pedestrian sidewalks. It doesn't hurt that I'm staying a new hotel with a lovely room and a view of the city. Lovin' the J.W. Marriott!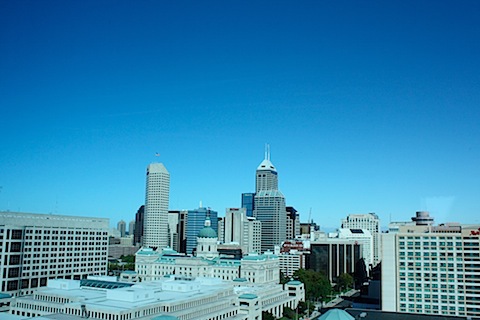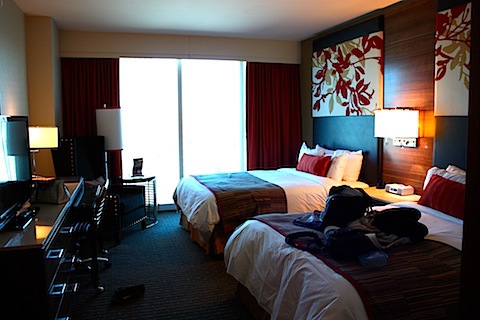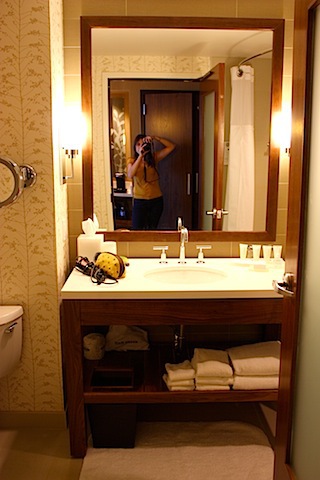 Okay, my co-worker and I are off to explore Indianapolis – hopefully there's some fun sightseeing opportunities close by! Have a great weekend.
PS- I'll post the Micoplane zester giveaway winner tomorrow.