After falling in love with Chef Mel Oza's savory mango glazed prawns at Broad Appétit a few weeks ago I was determined to experience more of his cooking by dining at Lehja sometime in the near future. So this past Sunday when one of my blogger turned real life friends, Cara of Cashews and Hummus, came to visit I knew exactly where to take her for dinner.
Cara arrived later in the afternoon so she and I went shopping for a bit and then met up with Isaac and our friend Keerti for dinner at Lehja.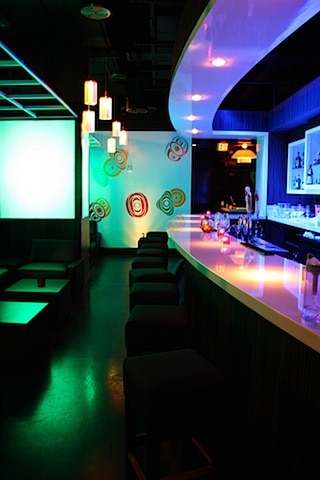 Once we got inside and saw the swanky, modern decor I was even more excited for our meal.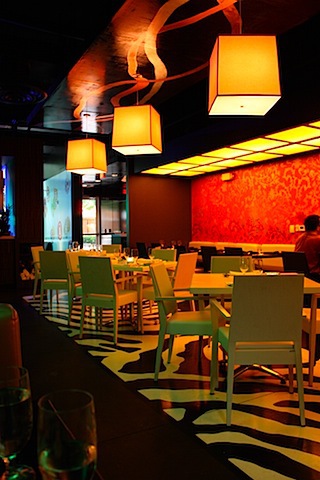 So chic!
The menu offers a variety of dishes from different regions of India with classics like saag paneer, dal and chicken tikka masala but they also offer contemporary, fusion style dishes. I had read a little bit about the restaurant online and perused the menu before we arrived but still had plenty of questions for both Keerti (who's from India) and our server, Sunny.
As it turns out Sunny is one of the managing partners and very passionate about the restaurant's concept and menu. He was extremely friendly, answered all of our questions and helped those of us who were less familiar with the Indian dialect figure out what dish would best fit with our tastes.
Sunny described the menu as Indian food without the guilt and mentioned that there aren't any fried items on the menu. I was impressed! Isaac on the other hand was like, "Where are the samosas?" True story.
The table decided to start with a bottle of Grüner Veltliner, a peppery white wine from Austria that pairs well with most foods and an order of chaat, a small snack plate Inspired by the street foods stalls of India.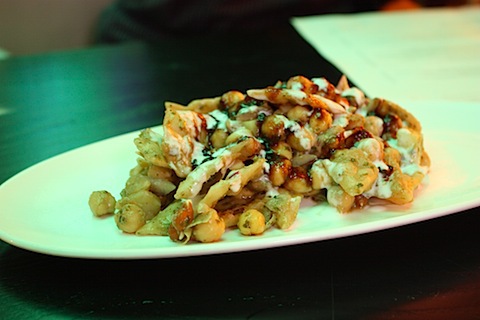 The chaat of the day featured regular chickpeas, black chickpeas, other sprouted beans, onions, spices and several sauces including one that was yogurt based. It was delicious!
I told Sunny about my experience at Broad Appétit and how much I loved the prawn dish and before we knew it the chef sent out another appetizer for the table, the fishermen style prawns.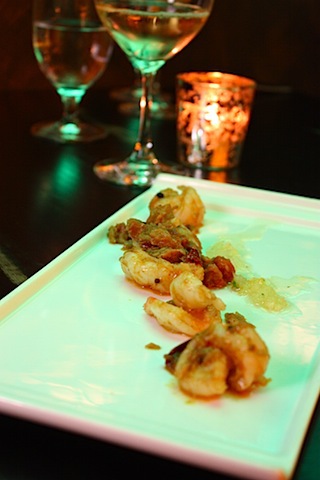 The shrimp were cooked in a coastal onion spice blend and served with a pineapple basil chutney.
After such delicious appetizers I couldn't wait to get my main course. I had a hard time deciding but ended up with one the contemporary dishes, the portobello-paneer eggplant "tournedo" with a sesame eggplant puree and sweet corn-carrot sauté.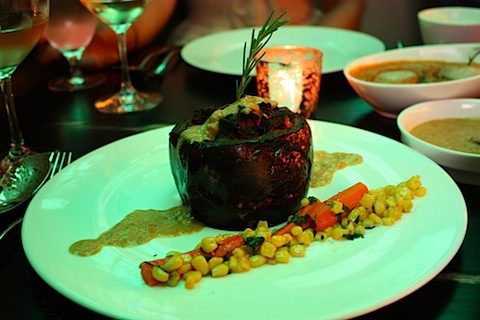 The presentation was beautiful and the taste was even better. I was once again awed by the chef's innovative technique!
Everyone else at the table was equally impressed…
On the table:
Keerti's dish – Andhra Style Chicken Curry – Aromatic Chicken Curry from Andhra Pradesh, Chilies, Curry Leaves, Tamarind
Cara's dish – Crab & Scallop "MelJol" – Seared Scallops and Lump Crab Simmered in Nigella-Mace-Tomato Sauce
Isaac's dish – Bengali Salmon Jhol – Salmon Chunks simmered in Mustard-Panchporan Curry Sauce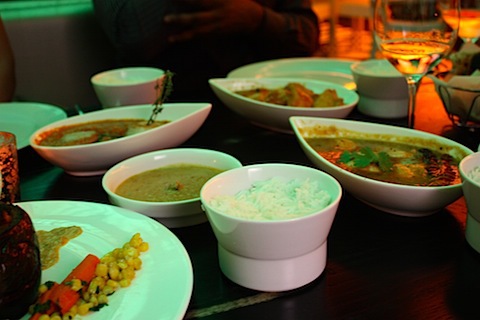 I tried the the crab & scallop dish as well as the salmon and both were packed with flavor and overall quite lovely. Word around the table was that the chicken curry was delicious as well. Keerti really liked it although he did mention that his mom is from Andhra and makes the best chicken curry ever. No one can compete with mom's cooking, but if your mom happens to be from anywhere other than India, you'll probably think it's the best. 😉
We finished up our meals and soon after another dish was sent from the kitchen. <– It was our lucky night!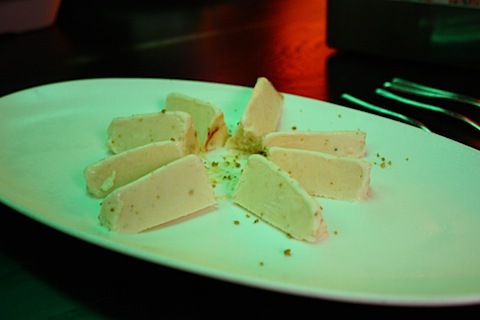 We were all pretty full, but you can always make room for dessert, especially when it's housemade Kulfi, a pistachio and cashew based ice cream.
Let's not kid ourselves – I always have room for ice cream.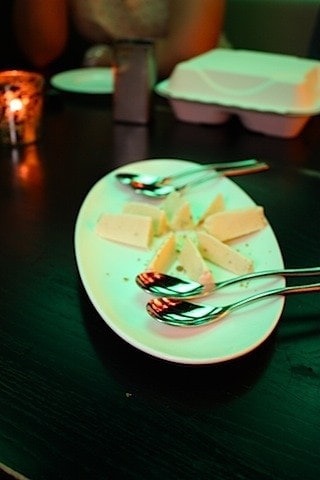 We all ended the evening with a mug of coffee or tea while discussing how awesome our meal tasted and how great the service was.
And as it turns out Isaac didn't even miss his beloved samosas. 🙂 Needless to say, we have a new favorite Indian restaurant in Richmond and we'll definitely be visiting Sunny again soon.
I hope everyone is having a great week thus far. After a weekend of indulging in delicious food I was more than ready to get back to my BFL workout routine and eating clean. I have some fun recipes coming up this week so stay tuned for those.
Question of the day – Have you ever been to a contemporary Indian style restaurant? This was my first experience so I'm interested to know if there are many out there.