Happy Saturday! I wanted to pop in to share a random assortment of things I've been digging lately. I love reading this type of post from my fav bloggers so I hope you all enjoy it as well. It's the perfect thing to read on a Saturday morning while you sip your coffee.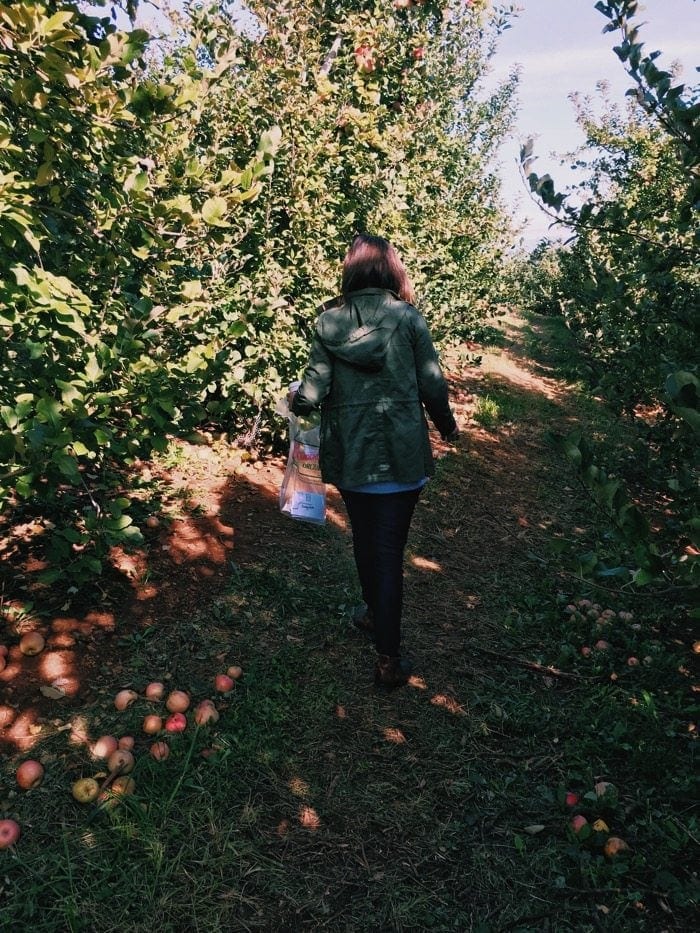 Things I've been loving lately…
Apple picking.
We've been going to Carter Mountain for years, usually with Isaac's class for a field trip, but Isaac's no longer teaching so we went on our own last weekend. We still have a huge bowl of apples to use up. Maybe I'll make these vegan apple pie squares or this vegan gluten-free apple crisp this weekend.
Yoga + 21 Day Fix workouts.
Oh, yoga! I've been sticking with my yoga challenge and although I haven't been totally consistent, I've still been doing way more yoga than I was before and it's been awesome — both mentally and physically. Some days I literally do one sun-saltation before I start work for the day, but other days I go to a local studio or do a longer yoga routine at home. I've also broken out my 21 Day Fix dvds for the yoga fix routine. It's perfect on days when I don't feel like I have the time to get to a studio.
Doing the 21 Day Fix yoga remind me how much I like the 21 Day Fix workouts so last week I did the Upper Fix workout and I'm toying with the idea of starting to do the workouts regularly again. I love them because they're a mix of cardio, body weight and weight-based strengthening. Plus they're only 30 minutes!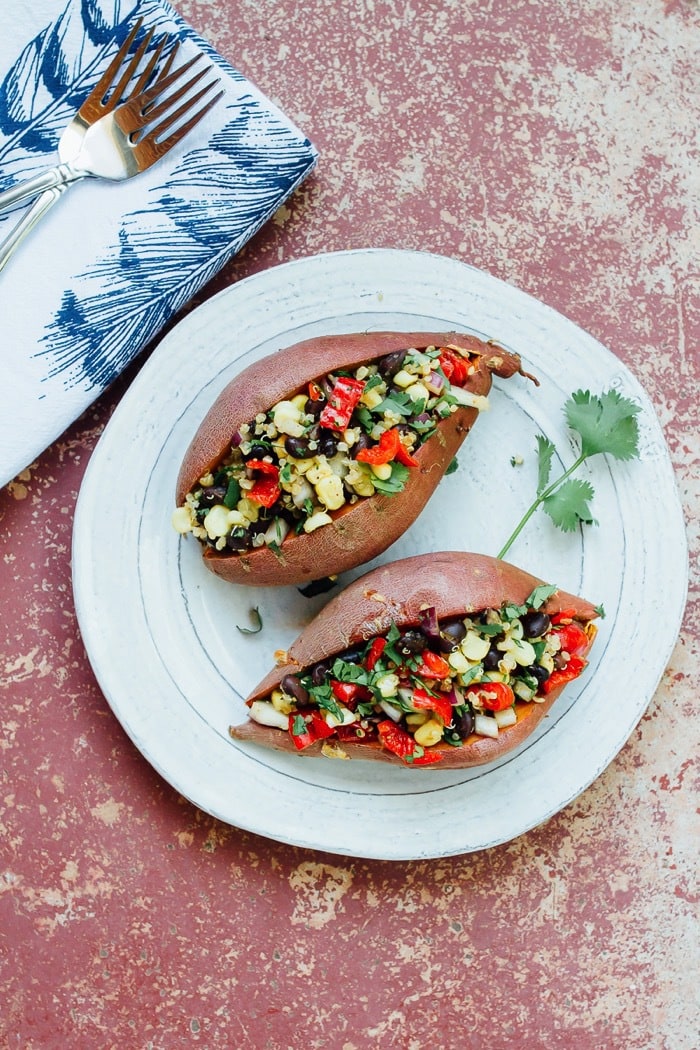 Stuffed quinoa tex-mex sweet potatoes.
These babies are so good! The recipe is from Cut the Sugar, You're Sweet Enough, a cookbook written by my lovely friend Ella Leché of Pure Ella. Her cookbook is beautiful and all the recipes I've tried so far have been delicious! My Mexicali Stuffed Sweet Potatoes are similar but without the quinoa.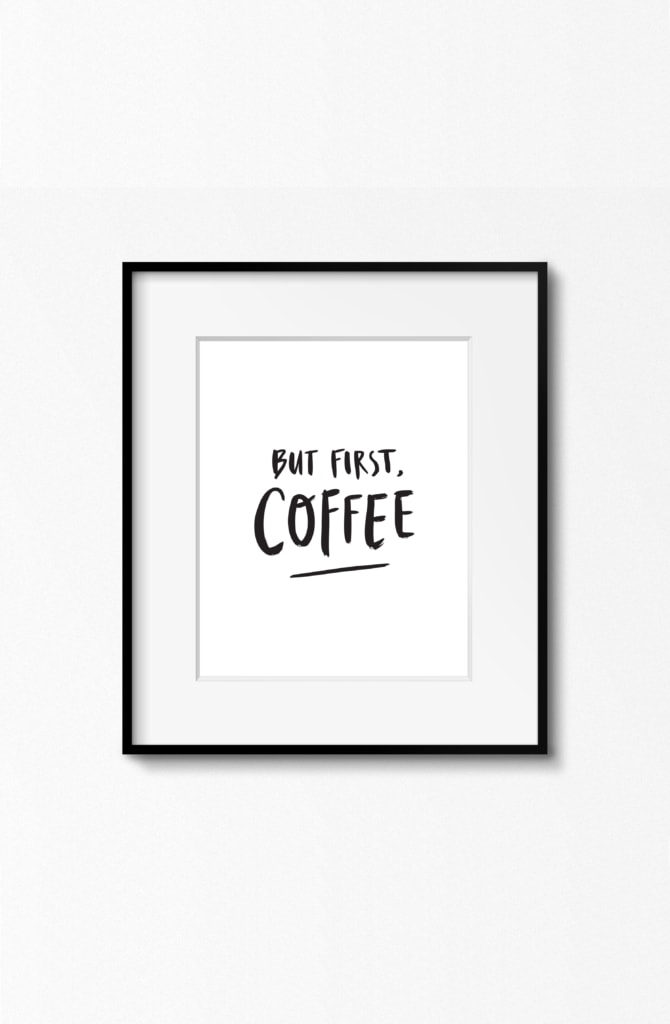 This coffee poster.
I need it for my office!
Fall fashion trends. 
The weather has been warm so I haven't broken out all of my fall clothes just yet, but I do have a few new purchases that I'm loving — this cold shoulder floral top from Target, these skinny ankle jeans and this split back pullover. The pullover is so soft. I'm wearing it as I type this.
Arm knitting.
Knitting with your arms is totally a thing and I'm so intrigued. I want to buy the wool and knit myself a big cozy blanket. Or maybe just buy this one.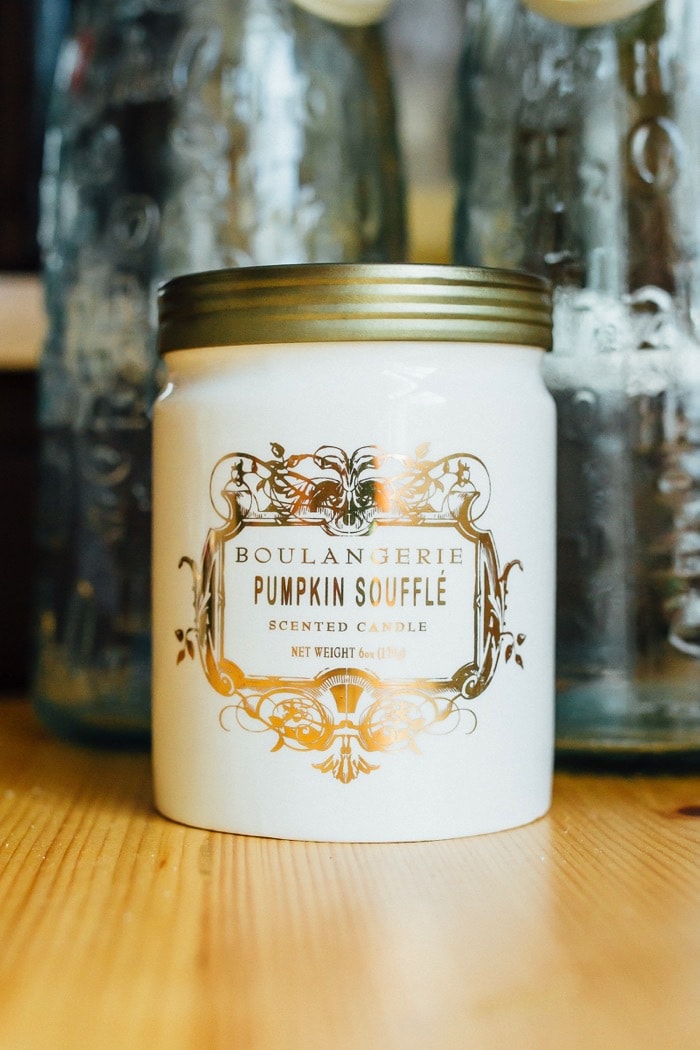 Pumpkin candles.
Omg! My niece got me this Pumpkin Soufflé Candle for Christmas last year and I absolutely LOVE it. I've never made pumpkin soufflé before but if this is what it smells like, I'm in. And because one pumpkin candle isn't enough I also bought this Pumpkin Nut Bread Candle from Target and it smells amazing too. PS: It's on sale right now for 11 bucks! And speaking of candles, how cute are these matches? Need.
Good reads:
Stress can Override the Benefits of Healthy Eating
J Crew teamed up with New Balance for an Activewear Line <— Love the look of this heather grey tank.
4 Ways to Get Amazing Abs That Might Surprise You
How to be More Productive <— Such good tips!
Some Thoughts on Being "fit"
Tips and Exercises for Finally Mastering a Pull-up <— I've never done an unassisted pull-up so I'll take all the tips I can get.
Recipes I want to make: 
Have a lovely weekend friends!