Hiiii! We just got home from an amazing trip to Israel so I'm currently wrapped up in a big blanket, sipping coffee trying to stay warm and get over an intense case of jet-lag. I'm in the process of writing a full recap of our experience in Israel, but today I'm popping in with a roundup with some things I've been loving lately. This list includes a random mix of everything from clothes and beauty items to home goods and food. Since compiling this post last week I've already found a few items I wish I would have included like these booties, this backless 1-piece bathing suit and this cookbook, but overall this list includes all the things that I've been diggin' as of late.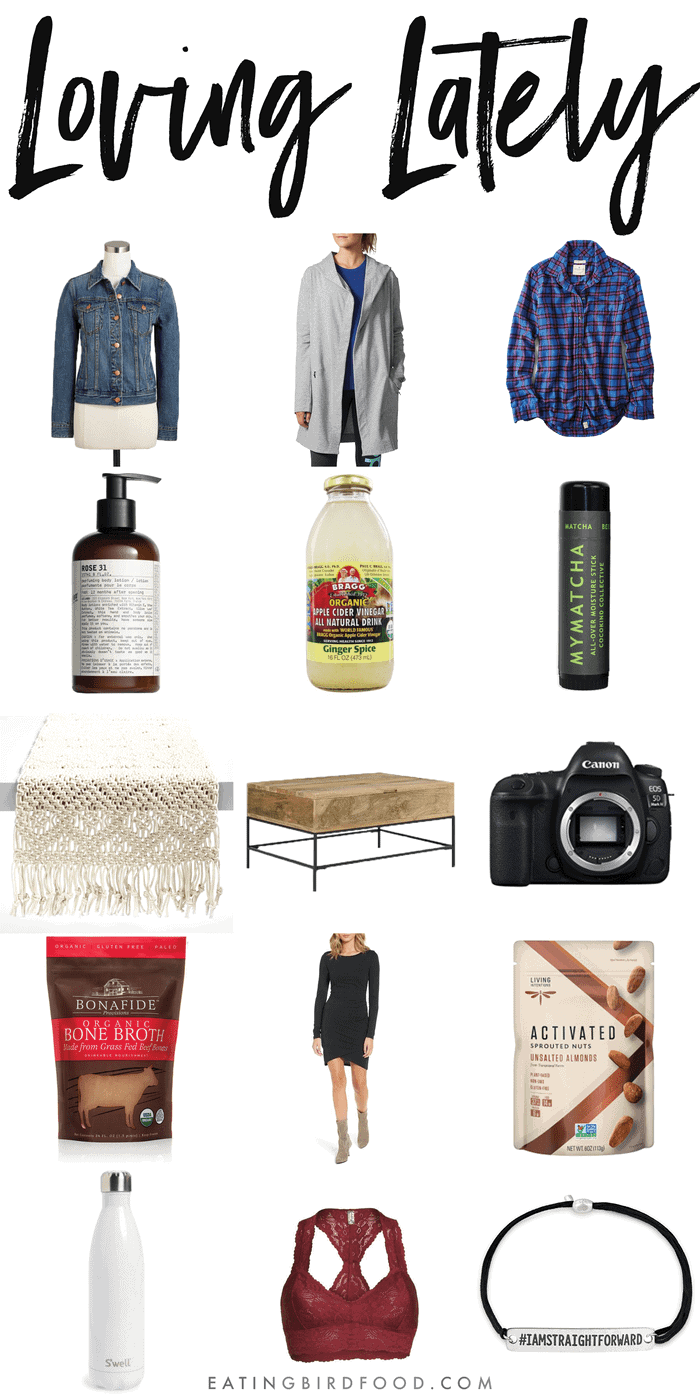 Denim Jacket: Kind of crazy, but I've never owned a denim jacket. I finally found this one, which fits great, isn't too expensive and pairs perfectly with black skinny jeans. <– These are my favorite pair, but I also bought these black skinnies before our trip and they'e super comfy and flattering too.
Coverup Jacket: Adidas sent me this wrap jacket to try out and at first I thought it looking kind of funny… almost like a boxer's cape/coat, but now that I've worn it a few times it's grown on me. It's super soft, cozy and perfect for wearing to and from the gym.
Plaid Boyfriend Shirt: I haven't shopped at American Eagle since high school, but I was picking up some undies from Aerie and went over to the AE side to pay and saw this flannel top. The material is SO soft I couldn't resist buying it and I'm happy I did because I've worn it at least once a week since.
Rose 31 Body Lotion: I only have a few small samples of this lotion (which is actually from a Fairmont hotel we stayed at), but I'm hooked. I typically don't love rose scented things, but this lotion smells so lovely and the fragrance lasts.
Ginger Spice Apple Cider Vinegar Drink: My obsession with apple cider vinegar continues and right now I can't get enough of this ginger spice drink from Bragg's. I honestly like it better than kombucha so lately I've been picking up a few every time I go to Whole Foods. I've already recreated the Bragg's apple cider vinegar grape drink so I need to make a homemade version of this one next!
Cocokind Matcha Stick: This brand has been all over Instagram so when I saw the matcha stick at my local organic market I immediatley snagged one and now I'm hooked. I've been using it under my eyes regularly and I already see a big difference in the brightness of this area. It's made with three natural ingredients and doubles as a moisturizer. I'm planning to buy the turmeric spot treatment for blemishes next.
Macrame Table Runner: I was super excited to find this macrame table runner at World Market because it's similar to this one from Anthro that I've had my eye on for over a year, but half the price. It looks super cute over our wooden dining room table.
Coffee Table: We've had our eye on this West Elm coffee table for over a year and we finally decided to purchase it. It's been the best decision ever because we use the  pop-up feature almost daily for eating dinner or doing work and I love all the extra storage for hiding magazines and remotes.
Canon 5D Mark IV: This should probably be at the top of the list because it's the most exciting of the list! I finally upgraded from my Canon 7D to the Canon 5D Mark IV, based on the recommendation of Minimalist Bakers's Food Photography School and I'm obsessed. I took the new camera on our trip to Israel and not only are my photos looking super professional and crisp, but I'm in love with the built-in wifi feature. I could take photos with the camera and upload them to my phone in less than 5 minutes. Amazing!
Bone Broth: With the weather getting chilly I like to sip on warm beverages all day and lately I've been craving bone broth. The health benefits of bone broth are amazing and I've come to love the salty savory flavor. Making bone broth at home is pretty easy, but it takes a little effort and this frozen bagged version is super convenient. I already have it on my shopping list for this week.
Ruched Dress: The most flattering dress I own… well actually one of the two because I now have the tank version in grey and the long-sleeve version in red.
Sprouted Almonds: If you haven't tried sprouted almonds you must! They're a little on the pricey side, but they're easier to digest and absorb and they taste SO MUCH better than regular almonds. And the crunch factor is on point.
Water Bottle: I know I'm late to the game on this, but I just got my first Swell water bottle a couple months ago and I finally see what I all the hype was about. I use mine every day and love it.
Lace Bralette: I have this bralette in multiple colors and just got a new one in black so I thought I'd include it. It's not the most supportive, but it's perfect for wearing with flowy tanks or off -the-shoulder tops. It works great under my #saladeveryday tank.
#iamstraightforward Bracelet: This Alex & Ani bracelet speaks to my heart as 100% net proceeds from the bracelet go to the StraightForward Scoliosis Foundation to improve the quality of life of individuals affected by scoliosis through empowerment, education, awareness and preventive care.
Let me know in the comments if you like these loving lately posts and I'll do them more often! Also let me know if there's anything you've been absolutely obsessed with lately…. I'm already looking for holiday gift ideas.