Happy weekend! Here's my latest loving lately post — perfect for light weekend reading. These posts are just a chance for me to share a few things that I'm digging at the moment or interesting reads. As always I'd love for you to play along and share some of your favorite things as of late in the comment section.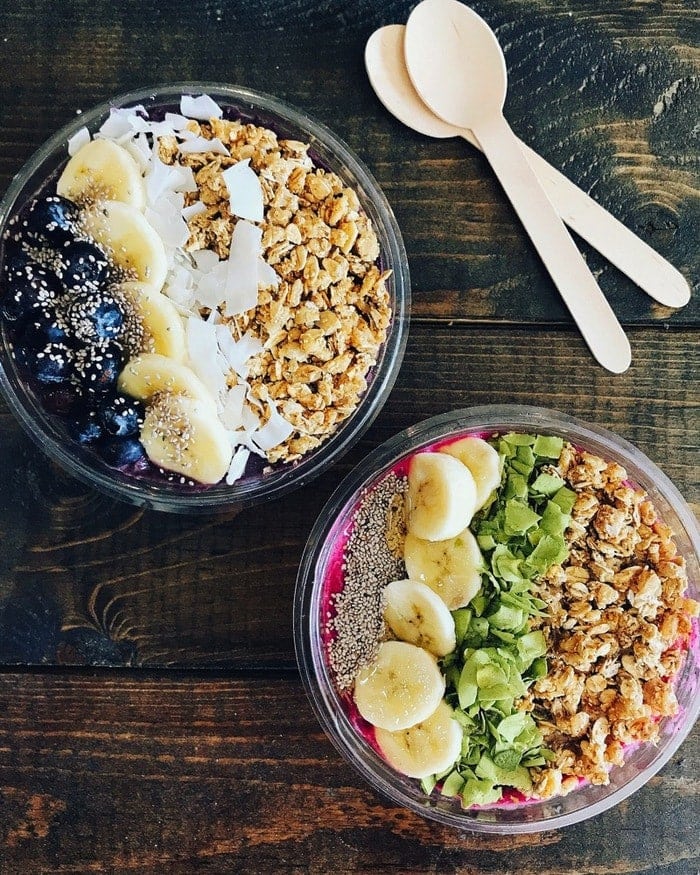 smoothie bowls from ginger juice
Smoothie bowls. The weather is getting warmer here in Richmond (it was a whopping 89° yesterday!) and I've been craving smoothie bowls almost every day… especially pitaya (dragon fruit) bowls! I love the flavor and the bright pink color just makes me smile.
Ranunculus flowers. These babies are my favorite (although peonies are a close second). They're just so whimsical and lovely. They've had them at our Trader Joe's lately and I've been making special trips just for the flowers. I arrange them in blue ball mason (leftover from our wedding) and they brighten up the whole dining room.
These Dolce Vita wedge sandals from DSW. A friend of mine was wearing the mint color last weekend and Alyssa and I fell in love. I just ordered two pairs – the blush and black.
Wedding stuff — Isaac's sister is getting married in July so I have a ton of fun wedding related stuff coming up including her bridal shower, which is today. Her bachelorette party and then the actual wedding. And then my bestie, Alyssa, is getting married next year (and I'm one of the her two MOHs!!) so I've been doing wedding stuff with her as well. Wedding dress shopping, bachelorette planning, etc. Our wedding was almost 4 years ago (which I can't believe) so I've been out of the wedding loop for a bit and it's so exciting to be involved again. Love love!
Salad challenge — I'm planning my next salad challenge and I'd love for you to join. The rules are going to similar to last year so take a peak at this post to see if it's something you'd be interested in.
Have you heard of napercise? This actually sounds amazing to me.
What to order/eat when fast food is your only option.
Why your salad is causing your stomach to bloat. As much as I love salads, sometimes the healthiest foods can still cause stomach issues. If you often experience bloating after eating a salad, some of these items might be to blame. Read this before the salad challenge so you'll know what to include in your salads and what to leave out. 🙂
Planoly — this service for planning and scheduling instagram posts has saved my life. I was using Later previously, which was awesome, but I could never see what my full feed looked like. Planoly has the same functionally, but also allows you to see what new photos would look like incorporated into your feed making it more cohesive! I'm currently using the FREE version, which lets you upload 30 photos a month.
Is intuitive eating healthy? You know my thoughts, but this article does a great job explaining why.
With sheet pan recipes being all the rage right now I feel like this idea for sheet tray pancakes is going to take off. I want to try it with protein pancakes.
This avocado desktop background from Nutrition Stripped. Just added it to my external monitor this week and it brings me so much joy.
All the Cinco de Mayo recipes: clean eating fish tacos, this skinny paloma, chicken fajita quinoa bowls, sweet potato quinoa fiesta bake, sweet potato black bean enchilada bake, healthy guacamole, black bean dip. So many delicious options. Olé!