Hey hey hey and happy weekend! I'm pretty pumped because we're celebrating my birthday this weekend!! Woot woot. But before we get the party started I have a long overdue loving lately post for you! Basically these posts are just a chance for me to share a few things I'm crazy about at the moment and I love for you to play along and share some of your favorite things in the comment section too.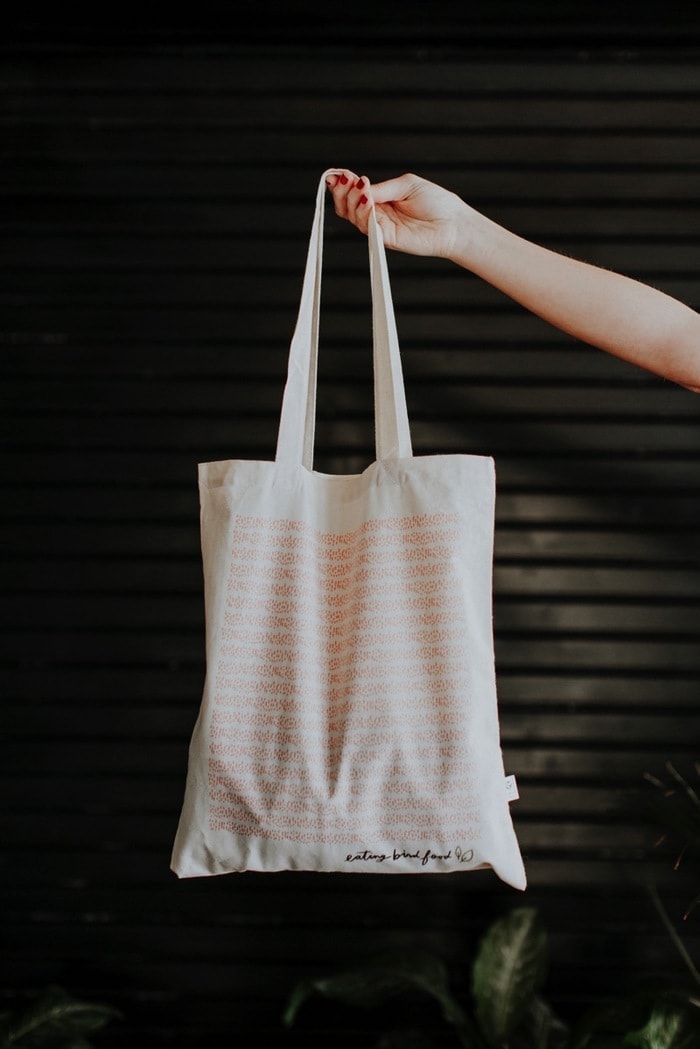 Eating Bird Food tote bags are here and I'm in love. This is my first-ever branded EBF item and I think it's perfect. Simple and cute with subtle EBF branding. Plus, it's lightweight, 100% organic and works great for carrying groceries, small items to the gym or really anything! They're $20 (which includes shipping).
Beauty stuff. I'm working towards using more natural beauty products and lately I've been hooked on Juice Beauty products. Their green apple age defy moisturizer is one of the best moisturizers I've ever used. I have dry skin and it's been tame all winter long using this moisturizer— no dry patches or flakes. And the illuminating primer is perfect for giving my skin a bit of glow. I use it before I put on this bb tinted primer from Tarte. I use this primer like foundation for my everyday look and use this foundation if I want a more polished look for special occasions. I've also been wanting to try a new under eye concealer (I have dark purple/blue circles) and quite a few people recommend Tarte's shape tape concealer so I'm actually planning to buy it soon too. Tarte and Juice Beauty FTW.
Lulu's! How am I just finding out about this online shop?!? They have so much cute stuff and the prices are really affordable. I'm hoping the quality is good… I haven't purchased anything yet, but my cart is full.
You Are a Badass by Jen Sincero. I don't read a ton of self-help books, but my friend loaned me this one and I can't put it down. Highly recommend.
In You are a Badass, Jen is all about meditating so I've started back with a semi-daily practice of 3-5 minute meditations using the Stop, Breathe & Think app. I even got Isaac to do it with me a couple times last week!
These No Bake Strawberry Cake Bliss Bites. They look so good and perfect for Valentine's Day.
Craving this GF & Vegan Birthday Cake for my bday. If only Dana lived closer.
Lehja. Our favorite Indian restaurant! We go for almost every celebration so we went last week for Isaac's birthday and it was amazing, per the usual.
Shopping for cute clothes to wear in Mexico. So far I've purchased two new bathing suits (this top and bottom from Athleta) and this tassel one-piece in black and a maxi skirt. I still need to grab some new yoga gear, a fun dress (maybe this one) and some cut off shorts.
Totally want to make this hibiscus coconut oil moisturizer. The color is gorgeous!
We've gotten back into ordering Terra's Kitchen meals and this Curried Chickpea Spinach Bowl is one of my favorite TK meals as of late. If you haven't tried Terra's Kitchen yet, use code BIRDFOOD for $30 off your first order and get the curried chickpea bowl because  it's so good!
This mini dress. I wanted something fun to wear this weekend for my bday celebration and ended up snagging this dress in red at Nordstrom. Can't wait to wear it tonight. They have it in navy and cream. I feel like the cream color is a great option for brides-to-be — for rehearsal dinner, engagement photos, bachelorette parties, etc.
These booties. They're perfect for end of winter/early spring and they can be dressed up or down. I got them in black, but now I kind of want the tan too!
We recently got this rug in the off white color to go at the top of our stairs and I'm obsessed. The braided pattern kind of reminds me of this chunky knit blanket, which has been on my wishlist for months.
Smoothie bowls. I'm so ready for spring so I can eat smoothie bowls outside in the sunshine instead of inside bundled up next to a space heater.
Plants. I have the sudden urge to buy a million house plants. I blame this article.
Strength training. Lately my workout routine has consisted of working out with Ana at SimplyLiv 3x a week. These workouts focus on strength training and conditioning. I also try to do cardio (walking/running) 1-2x a week and yoga 1x a week. This routine has been fun for me and I love the benefits I'm seeing from the strength training! Reading this article about how lifting weights can help you live longer and this one, which documents one Instagrammer's progress with lifting weights makes even more excited to keep up with my new strength training routine.
That's all for now. Off to get a birthday mani/pedi. Have a lovely weekend, friends!