Most of you know that oatmeal is one of my favorite foods. I seriously had it for breakfast almost every day for several years… until I found out about protein pancakes. Now I switch things up a bit and rotate between having green smoothies, oats, protein pancakes, yogurt, chia pudding or egg white scrambles. I'll always love oatmeal — there's nothing quite like a warm bowl of oats on a cool morning. Other oatmeal lovers will totally know what I mean.
Anyhow, I'm pretty stoked because Love Grown Foods, one of my favorite companies (known for their ridiculously awesome granola), is now offering HOT OATS!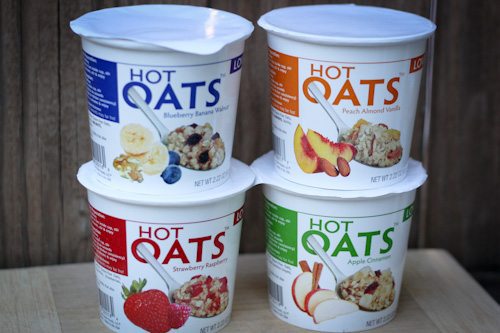 The Hot Oats are packaged in single-serving cups and come in four flavors: Strawberry Raspberry, Blueberry Banana Walnut, Apple Cinnamon, and Peach Almond Vanilla.
A couple notes about them:
Certified Gluten-Free
0mg of sodium in all flavors <– Very cool!
High in protein and fiber but low in sugar and fat
Made with freeze-dried fruits that infuse flavor
Subtly sweetened with brown sugar
You can make it in the microwave or by adding boiling water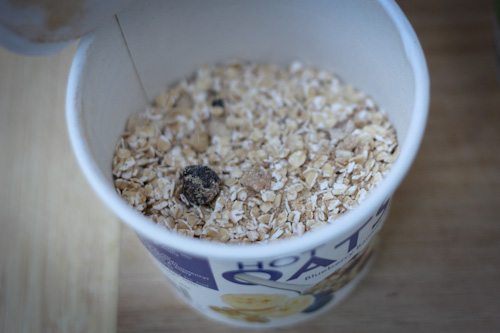 Typically I make plain old fashioned oats on the stove but sometimes I don't have a ton of time in the morning so it's nice to have these portable containers that I can take with me anywhere. I even brought one to the airport with me when traveling last month. All I had to do was ask for hot water at a coffee shop, wait three minutes for the oats to "cook" and breakfast was served!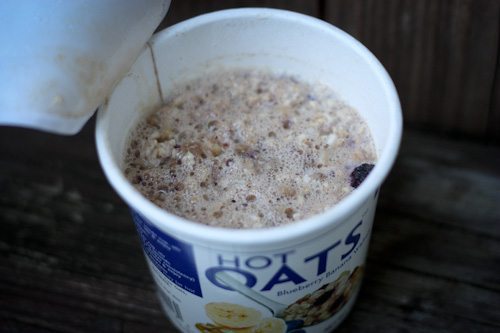 The oats taste really good too — way better than most instant oats I've tried. The texture is hearty and I love the addition of freeze dried fruit that gets rehydrated after the hot water has been added. I haven't had a chance to try all of the flavors yet, but the so far the blueberry banana walnut is definitely my favorite!
The ingredient list for each flavor is super short and include only oats, brown sugar, fruit, nuts and cinnamon! I wouldn't expect anything less from Love Grown Foods as they totally rock. I've loved the company ever since I met Maddy during the company's Love Tour the summer of 2011. She and her boyfriend, Alex, started Love Grown Foods as college students and they're both younger than me! Pretty inspirational.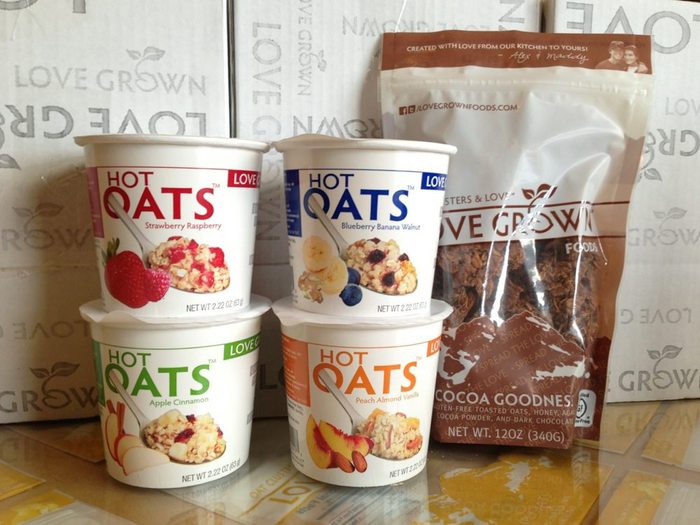 Photo courtesy of Love Grown Foods.
Want to know the best part about all of this? Love Grown Foods has offered to giveaway a package with all 4 flavors of the new Hot Oats, plus one bag of your favorite flavor of granola. If you haven't tried it before and are wondering which flavor is best, I highly recommend the Cocoa Goodness (pictured above). It's amazing and super addictive… don't say I didn't warn you. 😉
To enter to win, just leave a comment with which Hot Oats flavor you're most excited to try. For additional entries (up to three):
Follow Love Grown Foods on Twitter, Pinterest, and Instagram; then leave an additional comment letting me know you've done so.
Follow Eating Bird Food on Twitter, Pinterest, and Instagram; then leave an additional comment letting me know you've done so.
Tweet about the giveaway with a link back to this post. You can use the tweet:  "I want to win @LoveGrownFoods HOT OATS from @EatingBirdFood! http://wp.me/pDCSr-3r1" OR something similar; then leave an additional comment letting me know you've done so.
The giveaway is open to US and Canadian residents and will end Sunday, February 10 at midnight. I'll announce the winner early next week.
Happy Thursday!
**This giveaway has ended and the winner is Ashley. Please shoot me an email (eatingbirdfood at gmail dot com) and I'll get your LOVE sent out to you!