Top of the morning to you!
Let me just get directly to the point and say that Angela was right when she said that her Nut Butter Crusted Parsnip Fries (based off of Diet, Dessert, and Dog's Almond Crusted Root Vegetable Fries) would change lives.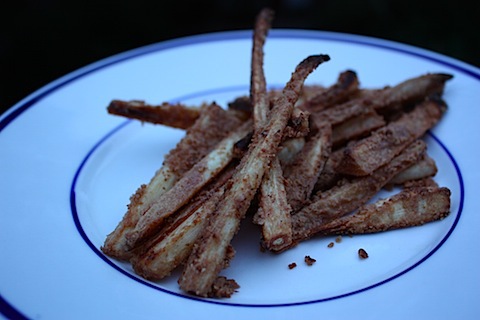 I experimented with the recipe last night by smothering 3 chopped parsnips with a mixture of 2 tbsp. smooth peanut butter, 1 tbsp. coconut oil, and sea salt. I spread the fries evenly on a baking stone and roasted them at 400° for 30-40 minutes.
The good news = they were awesome, just as Meghann had suggested.
The bad news, this is how many were left after I ate dinner. Opps.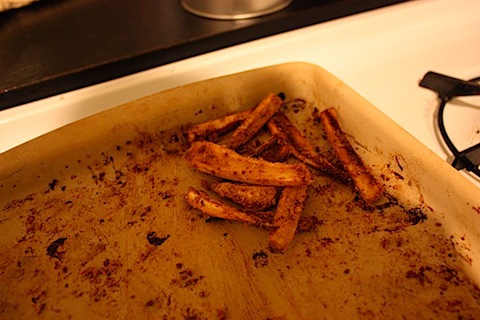 Did I mention they were good?
I just recently stumbled upon Diet, Dessert and Dogs and I must say Ricki has a knack for creating delicious, healthy recipes. So far she's two for two in my book- both the Quinoa Salad with Buckwheat and Cranberries and parsnip fries were recipes from her blog and like I've mentioned, they were amazing.
The main reason I was excited about her blog is that many of her recipes are gluten free and I'm trying to cut back on my gluten intake to see if that might be the reason for the frequent stomach pains and BAD gas (sorry Isaac) that I get. I recently found this article about 10 gluten sensitivity symptoms and it struck a cord with me because I experience many of the symptoms.
I've talked with several people who are already following a G-Free diet and sing the praises. I have been recording what I eat to see if the changes help at all. I don't have anything to report yet as I haven't been completely G-Free and I've only been doing it for a short period, but I'll be sure to post a follow up.
Have you ever thought you had a gluten sensitivity? Have you tried going Gluten-Free? I'd love hear about your experience!

Happy Tuesday my friends – get excited because we're one day closer to Modern Family day. 🙂
-Brittany