There's been no messing around in the kitchen here lately. The cold front has me craving warm, creamy deliciousness. Check it out: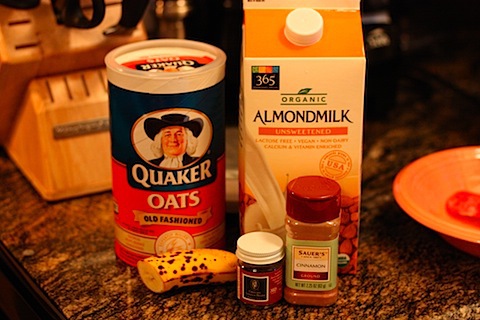 Nothing says cold weather like a big bowl of oats! This bowl was extra creamy because instead of water I used Whole Food's refrigerated almond milk. (I was provided the almond milk for free to review on the blog, however as usual I only accepted this because it's something I would actually purchase with my own money and I always provide my honest option.)
I fell in love with almond milk a while ago when I was trying out some different dairy free milk alternatives. I soon became sweet on the Almond Breeze unsweetened vanilla variety due to it's low calorie and sugar content. I haven't really strayed from it since so this is actually my first time trying refrigerated almond milk. I like the half gallon size because it will last longer (the liter containers go way too fast around here). I also liked the flavor of this variety, it's super creamy, has the same calories as my normal almond milk and I didn't even miss the vanilla flavor. Although, it may have been due to the fact that I added ground vanilla bean in the oats. 😉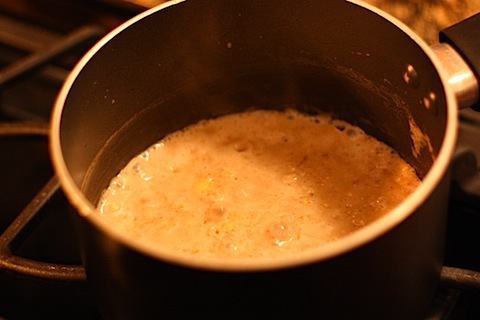 In the pot – 1/2 cup oats, 1/2 banana (sliced), 1 cup almond milk, cinnamon and vanilla. Cooked on medium heat for about 5-7 minutes (stirring occasionally).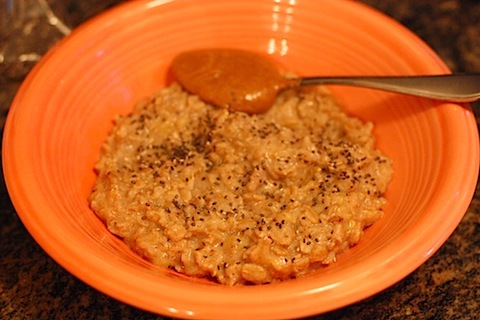 Served with a spoonful of almond butter and a sprinkle of chia seeds = perfection.
More hot, comfort foods were calling my name come lunch time so I made a quick grilled cheese on ww bread with smart balance butter for grilling. On the inside I stuffed garlic hummus, feta, kale, and red pepper.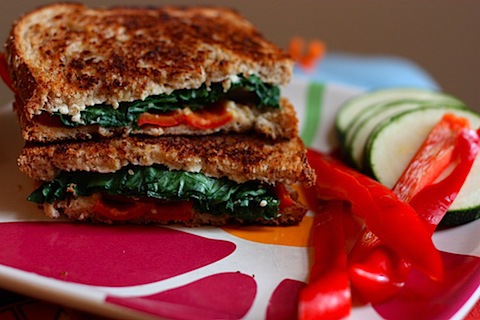 And of course, there's been some FOOD & WINE inspired meals going on. The first this week was a remake of the Fall Harvest Salad.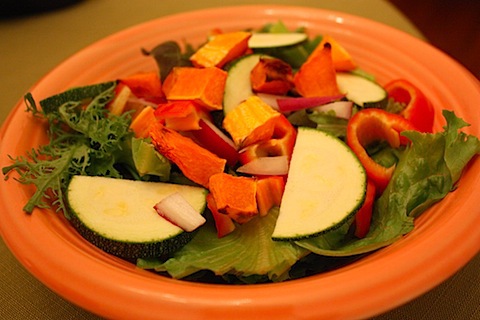 Basically I just took the idea using roasted butternut squash as a salad topping and went with it. It's delicious and quite similar to the Falldorf salad I started making last year around this time. Butternut squash is good on anything so why not salad?
Last but not least – I realized it's been a while since this little lady was featured. For your viewing pleasure, here's Miss Olive.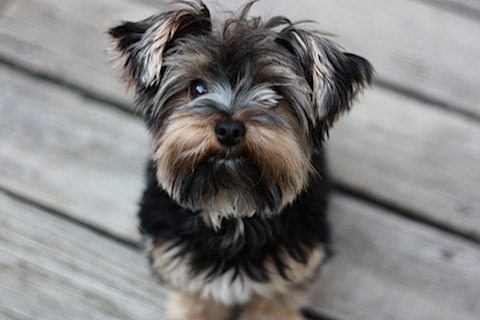 Happy Friday!
—–
As part of my participation in the FOOD & WINE Blogger Correspondent program, FOOD & WINE is giving away a year-long subscription to a lucky reader from Eating Bird Food. Click here to enter and read official rules here.
This post is part of a series featuring recipes from the FOOD & WINE archive. As a FOOD & WINE Blogger Correspondent, I was chosen to do four recipes a week from FOOD & WINE. I received a subscription to FOOD & WINE for my participation.