A few weeks ago I mentioned that I was trying out recipes from Let Them Eat Vegan! by Dreena Burton and today I'm excited to share my full review and a delicious recipe from the book.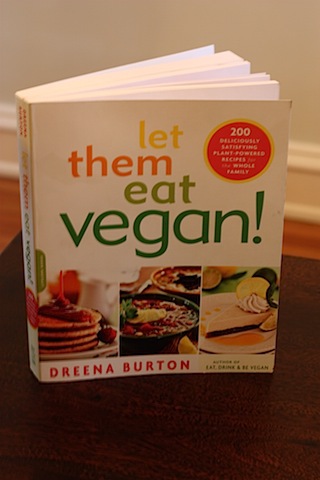 I've been a huge fan of Dreena and her recipes since buying (and falling in love) with one of her previous cookbooks, Eat, Drink & Be Vegan, so I was beyond excited when she asked if I would like to review her latest cookbook.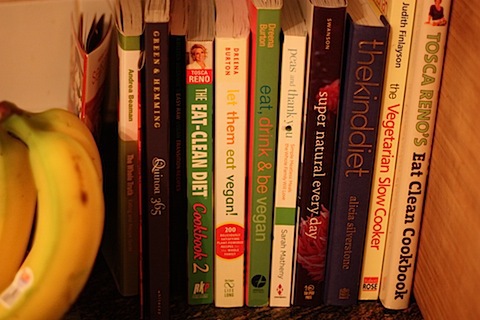 I can already tell it's going to be housed on my kitchen counter for easy access with the rest of my go-to cookbooks.
A little more about the cookbook:
Let Them Eat Vegan! (LTEV) is based around "plant-powered" eating with recipes that are made with whole grains, natural sweeteners, beans, seeds, nuts, veggies and fruits. You won't find any 'white stuff' in this book – no white flour, white sugar, white pasta and no vegan substitutes like soy mayo or cream cheese. All the recipes are either wheat-free or gluten-free, and are not loaded with soy. Dreena also included several informational sections like "Eating Your Greens", "Plant-Powered Lunchbox", and "Plant-Powered Pantry", making this a great book for new vegans or those that are thinking about making the switch. The Plant-Powered Pantry section is particularly helpful for people who may or may not know what some of the more obscure ingredients (i.e. nutritional yeast or guar gum) are.
This is Dreena's largest cookbook yet and it's packed to the brim over 200 delicious recipes, which are broken down into the following chapters – breakfast bites, salads, sauces and dips, soups, sides, mains, burgers, pasta, cookies, cakes/pies/puddings and ice cream. You certainly don't have to be vegan to enjoy the recipes in this cookbook. Neither Isaac nor I are vegan and we've found the recipes to be creative, healthy, easy to follow and delicious. There's not much else you can ask for when it comes to a cookbook! Every recipe that I've made from LTEV has been delicious and I would make each of them again. Really the only thing this cookbook is missing (in my eyes) is the nutritional information for each recipe. But at the end of the day, I know that all the ingredients in this book are wholesome and healthy so it's not that big of a deal to me.
After perusing through the cookbook, I've bookmarked many of recipes that I want to make, but have only had a chance to make a handful or so. Here's a little review of the ones I've tried…
Jerk Chickpeas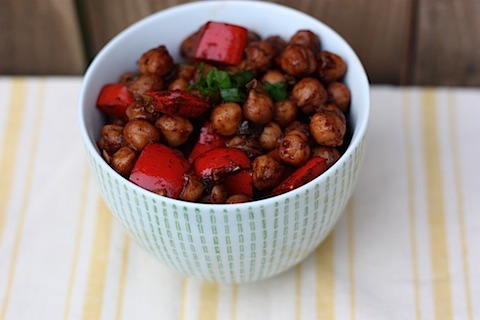 These roasted chickpeas become soft and flavorful after baking in a sauce that included a plethora of spices you'd find in a traditional jerk marinade. If you're interested in trying out this recipe, Angela of Oh She Glows also reviewed LTEV and included the Jerk Chickpea recipe in her post.
Mediterranean Bean Burgers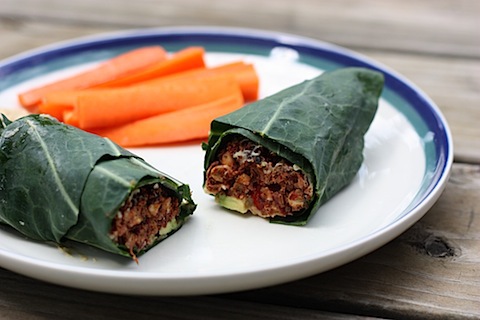 For whatever reason, I tend to stick with black beans when I'm making bean burgers, but I loved the flavor of these burgers with kidney beans and Mediterranean inspired ingredients like olives and oregano. The recipe made 7 patties so Isaac and I had them for dinner one night and then I ate the remaining patties wrapped in collards for quick lunches and dinners the rest of the week. These might just be my go-to bean burger recipe from here on out!
Thai Chickpea Almond Curry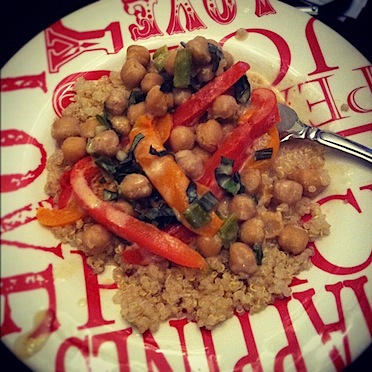 (sorry for the iphone pict.)
I used red and orange peppers instead of the zucchini, left out the lime leaves and served the dish over a bed of quinoa. I'm a big fan of coconut milk curries but had never tried one with almond butter in the mix. It was fabulous! I also liked how easy this recipe was to prepare. All the ingredients went into a covered baking dish and 50 minutes later my house smelled lovely and dinner was ready.
I've also made the Simplicity Asparagus. Just as the title suggests, this asparagus is super simple. In less than 10 minutes, you have a great side dish!
Kale – Slaw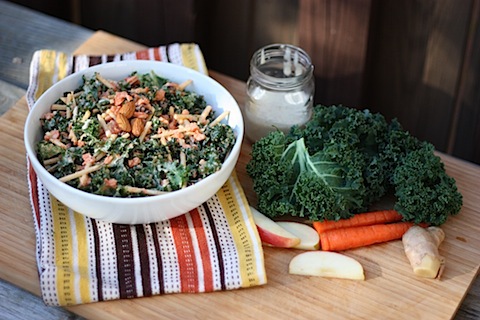 I love kale salads, so it's no surprise that this recipe is definitely one of my favorites from LTEV thus far.
Print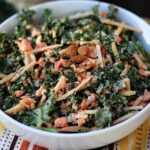 Kale-Slaw with Curried Almond Dressing
Author:

Yield:

5 1/2 – 6 1/2 cups
---
Description
This slaw is a fresh take with nutrient-rich kale, along with crunchy carrots, fennel, and a touch of sweetness from apples and cranberries. The dressing really brings this slaw to life—don't skip it! (Wheat-free, Gluten-free, Soy-free, Oil-free. )
---
Ingredients
1 small to medium-size apple, cored and julienned (3⁄4 to 1 cup), tossed in 1tsp freshly squeezed lemon juice
2 1/2 – 3 cups julienned kale (leaves cut/torn from stems and stems discarded) (see note)
1 1/2 cups grated carrot
1 cup very thinly sliced or julienned fennel
1/4 cup cranberries or raisins
2/3 – 3/4 cup Creamy Curried Almond Dressing (or more, if desired; recipe follows)
2 to 4 Tablespoons sliced or chopped raw almonds
Extra salt and pepper to taste
---
Instructions
Place the apple, vegetables, and cranberries in a bowl and toss. Add the dressing, starting with about 2⁄3 cup and adding more as desired, if you want a thicker coating of dressing. Toss to coat well, then let sit for 5 minutes or more to allow the kale leaves to soften slightly in the dressing. Serve, garnishing with a light sprinkling of almonds and extra salt and pepper, if desired.
---
Notes
Kale salads can be quite versatile. Try another thick, creamy nut- or seed-based dressing, such as Citrus Tahini Dressing, Creamy Cumin-Spiced Dressing, or DJ's Hummus Salad Dressing. The key is to coat the leaves nicely, and let the salad sit for a few minutes before serving.
Savvy Subs and Adds:
– If fennel isn't your thing, substitute julienned jicama, thinly sliced celery (cut on a diagonal), or julienned red bell pepper, or some combination of these ingredients.
– If you aren't sure if you'll like this much kale in the salad, try starting with 2 to 21⁄2 cups, making up the difference with extra grated carrot or fennel.
– Other veggies you can consider adding include chopped or finely sliced cucumber, red bell pepper, cherry tomatoes, grated beet ("pretty in pink" salad, anyone?). Or try some zucchini ribbons: Use a vegetable peeler to make thick ribbons—these can be the base of a salad all on their own! And other dried fruit, such as apricots, goji berries, and raisins, can be interchanged with the cranberries, if you prefer.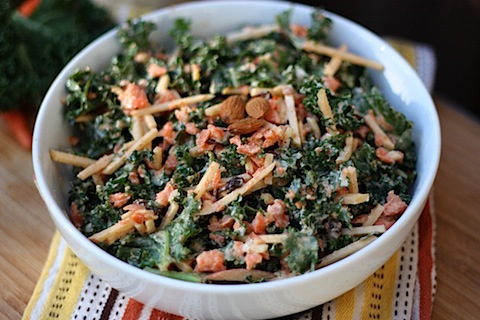 There is a bit of prep work involved since you have to do a little chopping and make the dressing, but trust me when I say it's totally worth it. Plus, you'll have left over curried almond dressing (which is amazing, btw) so you can use it for other salads.
Dreena and her publishing company are allowing me to post the Kale-Slaw recipe for you all to enjoy. Both recipes (the slaw and dressing) include the header and notes from Dreena that are in the cookbook.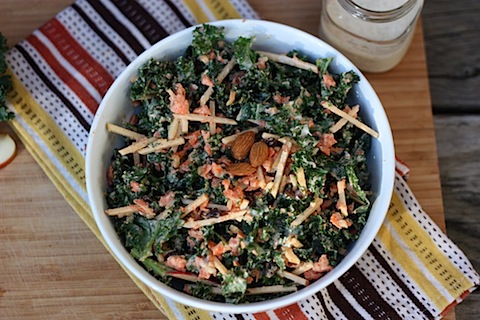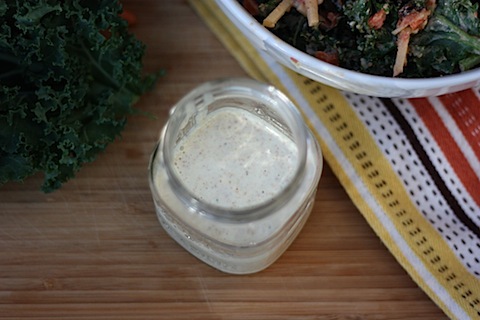 Print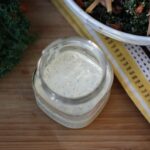 Creamy Curried Almond Dressing
Author:

Yield:

1 cup
---
Description
This dressing will definitely cling to your greens, and can easily be used as a dip as well. It is one of my favorites, with a very subtle curry flavor in a creamy, slightly sweet base. This is also the dressing for Kale-slaw with Curried Almond Dressing, a modern makeover of traditional coleslaw. (Wheat-free, Gluten-free, Soy-free, Oil-free)
---
Ingredients
1⁄2 cup raw almonds
2 1/2 Tablespoons apple cider vinegar
2 Tablespoons pure maple syrup or agave nectar
2/3 cup water (or more to thin as needed; see note)
1 very small clove garlic
1 teaspoon freshly grated ginger
1⁄2 teaspoon Dijon mustard
1⁄2 teaspoon sea salt
Freshly ground black pepper (optional)
1⁄8 teaspoon curry powder, or more to taste (see note)
---
Instructions
Using a standing blender or an immersion blender and deep cup or jar, puree all the ingredients (starting with 1⁄2 cup of the water) until very smooth. (A high-powered blender such as a Blendtec works best to smooth out the dressing; using an immersion blender or regular blender will leave a little more texture and take a little longer.) Add additional curry to taste, and additional water to thin as desired (see note).
---
Notes
Notes: I like using about 1⁄8 rounded teaspoon of curry powder in this dressing, for a very muted flavor. But if you love curry, feel free to use more than this, adjusting to your own taste.
Serving Suggestions: I first tinkered with this recipe for a salad dressing. After making it, I realized it would work equally well as a dip. If using as a dip, use just 1⁄3 to 1⁄2 cup of water to puree and then refrigerate it, adding extra water later, if desired, to thin (it will thicken considerably after chilling). If using as a salad dressing, you can keep it thick, or thin it more as you prefer. I like it with about 2⁄3 cup of water as a salad dressing, which keeps it fairly thick, almost like a Caesar dressing consistency.
I hope you enjoy this review and the Kale-Slaw recipe. If you're interested in purchasing Let Them Eat Vegan!, it will be available tomorrow, Tuesday, May 1st via Amazon and Barnes & Noble.
Last but not least, one lucky EBF reader will receive a free copy of Let Them Eat Vegan!. For a chance to win leave a comment on this post by Thursday, May 3rd. I'll announce the winner on Friday.
**The giveaway has ended and the winner is Dana.