You may remember a few weeks ago I posted about two new Larabar flavors from on Instagram.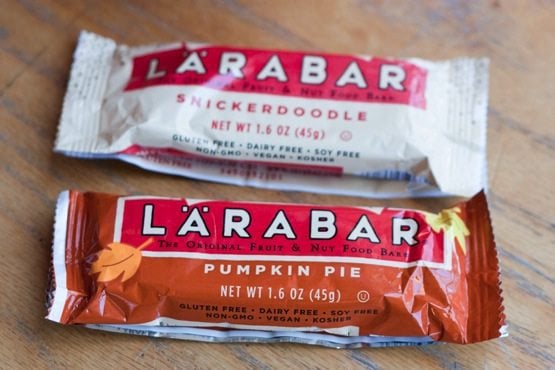 Pumpkin pie and Snickerdoodle!
Larabar is one of my favorite bars because they're made with whole foods and contain no processed junk or artificial sweeteners. Naturally I was super pumped to hear about their new Pumpkin Pie and Snickerdoodle seasonal flavors for the holidays and graciously accepted when the company offered to send me four bars so I could try them out.
When I posted them on Instagram I had just got them in the mail and hadn't had a chance to try them yet so I couldn't really speak to how they tasted, but over the last few weeks I've had a chance to try both. They're perfect as a mid-afternoon snack!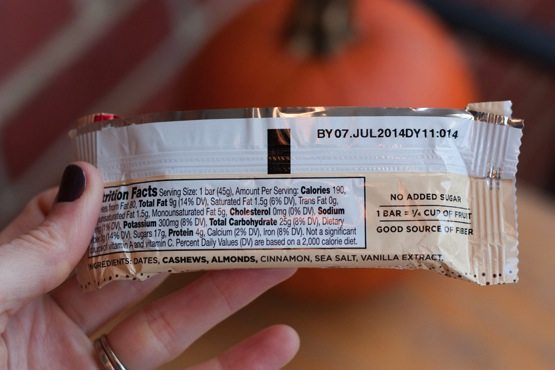 Snickerdoodle = dates, cashews, almonds, cinnamon, sea salt and vanilla extract.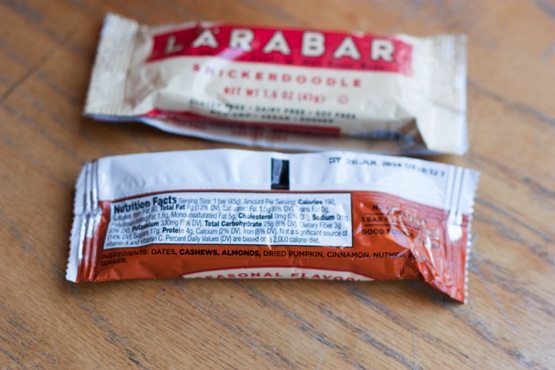 Pumpkin Pie = dates, cashews, almonds, dried pumpkin, cinnamon, nutmeg and allspice
I'm a huge fan of the short ingredient lists and overall I like both bars. The snickerdoodle has a pronounced cinnamon flavor and a salty note from the sea salt, however, between the snickerdoodle and the pumpkin pie, the pumpkin pie was definitely my favorite. Not really a big surprise considering I like actual pumpkin pie more than snickerdoodle cookies. Plus I love pumpkin everything so there's that.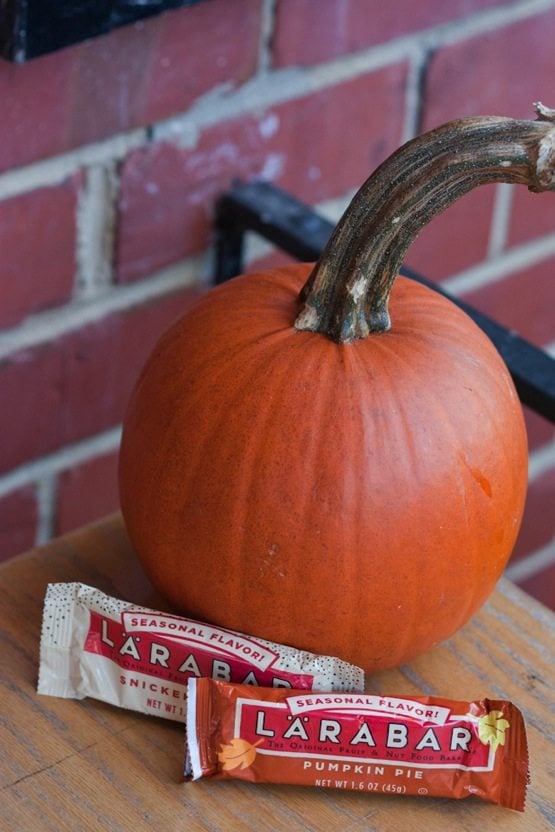 I like that the pumpkin pie has actual dried pumpkin rather than just pumpkin pie spice. It's delicious and probably one of my top Larabar flavors. Speaking of top Larabar flavors, here are my favorites as of now: Pumpkin Pie, Coconut Cream Pie, Apple Pie, Peanut Butter Cookie and Carrot Cake. I also really like the ALT bars, which have more protein than regular Larabars bars — they're made with pea protein so they're still vegan, gluten free, dairy free, and non-GMO.
A few of you asked me where to find the new flavors when I posted about them on Instagram. They're available at select natural food stores and traditional grocery stores in the US. I've seen them at my local Whole Foods. 🙂 They're also available for order from the Larabar website.
Larabar Seasonal Flavor Giveaway
Now for the the exciting news! Larabar has offered up two cases of Larabars (16 bars in each) — one with the Pumpkin Pie flavor and one with the Snickerdoodle flavor.
Simple leave a comment on this post with which of the new Larabar flavors you're most excited about. For additional entries you can
Share the giveaway via Pinterest, Twitter, Instagram or Facebook – tagging both Eating Bird Food and Larabar in the post. I'll have a post on all my social media mediums so you can simply share, retweet or re-pin or re-gram my posts if you'd like (leave another comment letting me know you've done so).
You have until Wednesday, November 20 to enter. I'll announce the winner soon thereafter. Good luck and happy Thursday!
**This giveaway has closed. The winner is Linda Bee.