Thank YOU for all the great feedback on my last post – Is blogging making me unhealthy? It was nice for me to finally share my feelings with you all and I think just publishing that post gave me a little relief. Almost everyone, bloggers and non-bloggers alike, could relate to how I'm feeling – trying to manage your time, get everything you want accomplished all the while trying to stay healthy and sane can be a challenge. Hopefully we all picked up some good ideas or things to think about by reading through the comments – I know I did!
This weekend I took time off blogging and went home to spend time with my family. I got to see my dad, mom, nanny, sister, nieces and cousins, relax and catch up. It was fabulous! My plans of going cross country skiing on Sunday didn't happen (:/) but it was still a successful weekend. One highlight is that I ran 3 miles on Friday evening. It was the first time I have run in about 5 months due to my leg/back issue and although it did flare up my back tightness a bit, it felt really nice to know I still had it in me. However, next time I am going to choose running partners who aren't so dang fast. 🙂
Neither Isaac nor I have to work today, yet we still woke up quite early. We decided it was a coffee shop kind of morning and went to Lamplighter, a local roasting company and cafe, for breakfast.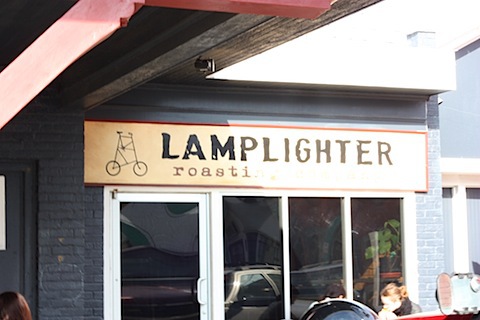 The shop is super cute with delicious food including lots of freshly baked muffins, brownies and other goodies. I skipped the treats and went for a small coffee and parfait.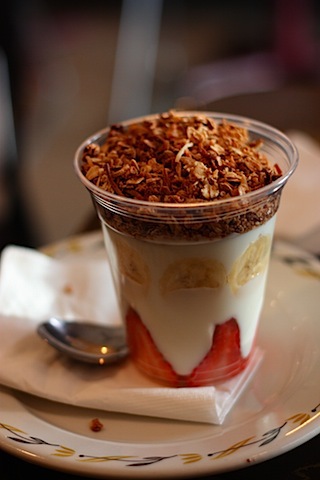 The parfait was made-to-order with their homemade granola, bananas, strawberries and plain yogurt. The plain yogurt was tart with a bit of sweetness, similar to how it turns out when I make it at home. Their menu doesn't suggest it's homemade so it might not be, but it tastes delicious! The homemade granola is also amazing! I was definitely impressed with the parfait.
Isaac got his breakfast of choice – an everything bagel with cream cheese, lox, tomatoes, onions and capers.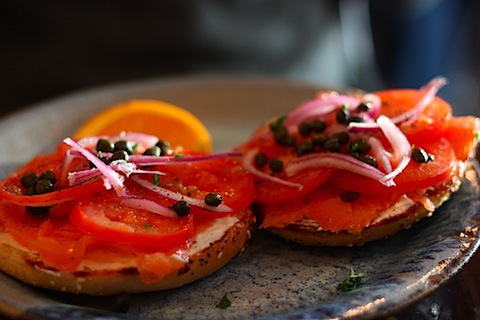 Isaac pretty much always orders this same thing whenever we go out to breakfast, but he said Lampligher's version was really good. The bagels are actually shipped in daily from a Cupertino's, a local bagel place that makes NY style bagels.
As for the coffee, I ordered the medium bodied Costa Rican Tarrazu, added a little soy milk and really enjoyed it. Isaac got a red eye, for what reason I'm not sure- maybe he just needed the extra energy for golf today? His Dad better watch out. 🙂
Alright, I'm off to enjoy the warm weather, hit up the gym, and get ready for the (short!) workweek. Enjoy your day!