I slept in this morning, debated about heading 1.5 hours west to my family's holiday party, and then decided it wasn't the smartest idea with the weather. :/
After calling my aunt to break the bad news, I had a bowl of sunny oats to brighten my day.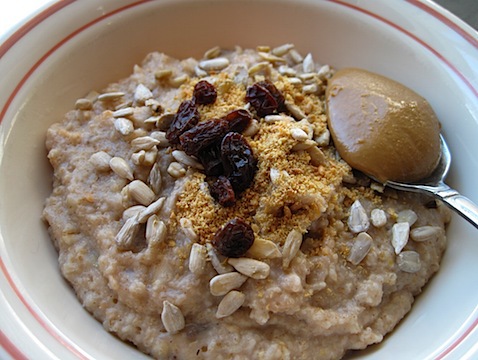 1/4 cup oatmeal, 1/4 cup oat bran, 1 cup water, and 1/2 of a banana, sliced and cooked with the oats. Once cooked to perfection I topped them with sunflower seeds, raisins, ground flax, and a spoonful of TJ's sunflower seed butter! So so delicious!
Isaac offered to break out the juicer and make us some citrus juice so I ended up drinking some tangerine, clementine, and grapefruit juice.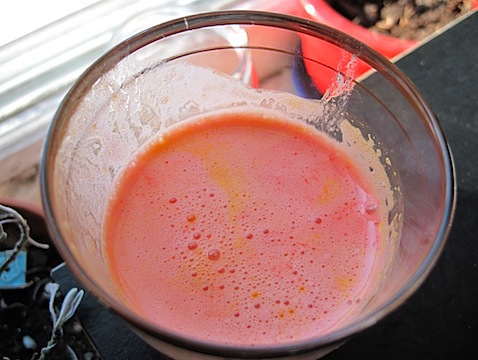 So delicious and way better than any grocery store juice I could ever purchase!
Isaac also offered to dig the car out of the snow and drop me off at the gym because he is such a sweetie knows how agitated I get after missing the gym for a few days. (Both are true really.)
After visiting the gym I convinced my chauffeur to stop by The Lamplighter, a brand new coffee shop near our house. It's a quaint little place with its own coffee roaster and coffee bean delivery service. Locals can purchase beans by the pound and they'll deliver them by bicycle. Very cool! They serve breakfast and lunch but since I had already eaten I ordered a simple Americano.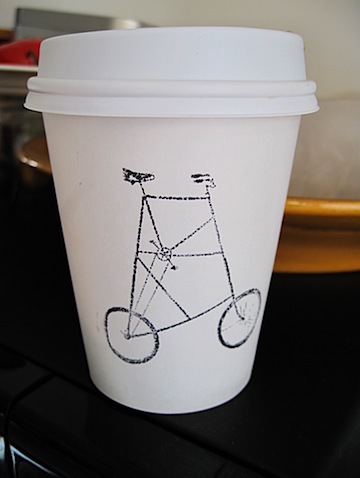 Cute cups- I'm sold. No really, the expresso was good as well.
I didn't see any coffee sleeves in the shop- maybe I just missed them or maybe they are trying to be "green" but the cup was quite hot on the ride home. Although the contents weren't so hot when we arrived home I decided to break in one of Isaac's holiday gifts from a student in his class.
A reusable coffee sleeve!! Isaac and I both thought this was such a cool idea. Apparently Kristen's Esty store is closed until Jan. 4, but if you interested here's the link.
I ate more Black Eyed Peas for lunch (I'll spare you the photo) and then snacked my way throughout the rest of the day.
I anxious to see whether my office will be open tomorrow – if the roads are still bad we might be able to work from home. Although, I'm kind of hoping to go in because I officially have cabin fever now. 🙂
-Brittany
PS Can you believe it's almost Christmas?!?!