Is it kimchee or is it kimchi? Both seem to be used interchangeably so I'm going to roll with kimchi today.
As I mentioned in my last post, Stephanie, Jesse and I had a little kimchi making party at Stephanie's house last week. I've been wanting to make kimchi since I took a kombucha and kimchi class at Whole Foods over a year ago but never got around to it. Needless to say, I was pumped with Jesse and Stephanie suggested we get together and try making some.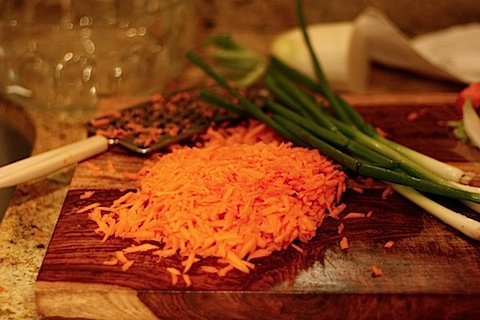 None of us had made kimchi before so we were sort of winging it, but from what I've read fermenting vegetables isn't like baking, you don't have to measure everything for it to come out tasting good. This worked to our advantage because if you know chef Jesse you know he isn't one for measuring… especially when it comes to salt. 😉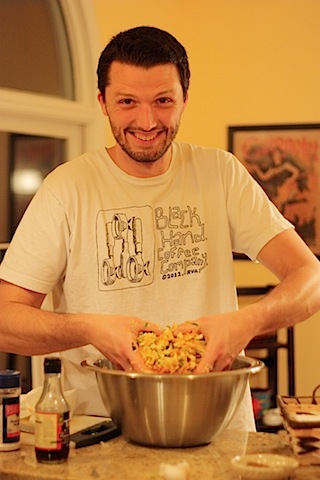 And he likes to use his hands.
To start, we chopped and grated the veggies and combined all the other ingredients. Then Stephanie used a meat hammer (mallet) to pound the veggies to help them release their juices. (If I put TWSS here it would be so very wrong so I'm going to be an adult and refrain from doing so.)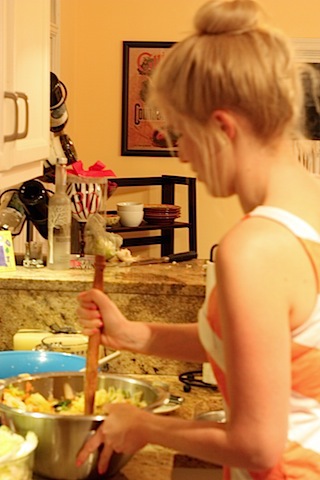 I did some mixing.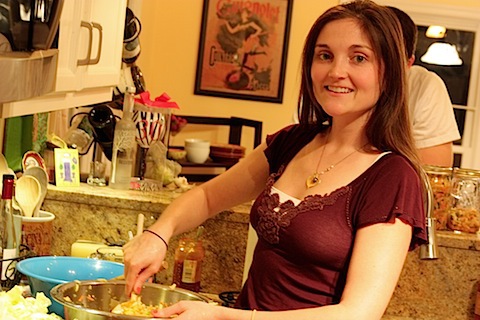 And voila – our kimchi was done! Well not entirely, because we let it ferment for three days, but the chopping, pounding and stirring was done for the evening and our kimchi was packed into jars. As it turns out, making kimchi is much easier than I anticipated!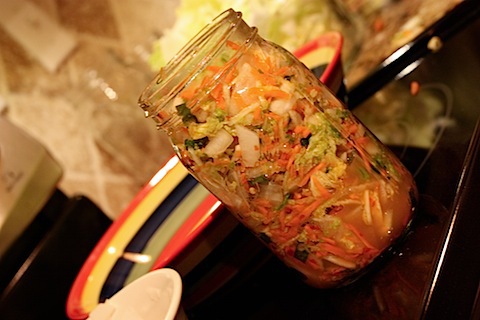 We all went home with one jar. I let mine ferment for three days, opening it every 24 hours or so to release the gases caused by fermentation. My batch must have had some serious fermentation going on because when I opened it on the third day there was a bit of an explosion and the liquid from the jar starting overflowing a bit. I think next time I'll make sure to leave a little more "headspace" between the top of the jar and the kimchi.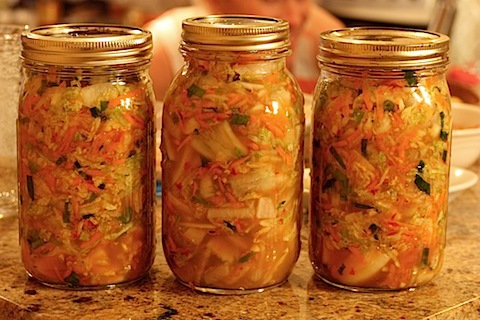 If you're interested in trying to make your own kimchi or fermented veggies I would totally recommend it because it's super easy. Here's the recipe we used if you're interested. You can definitely tweak it to meet your needs – based on what you have on hand and how much spiciness you want. We used the recipe as a guide but didn't use measuring utensils and our kimchi turned out just fine. 🙂
Easy Kimchi
Ingredients
(makes two quarts)
1 head of napa or savoy cabbage, cored and shredded
1 Tablespoon fresh ginger, chopped finely or grated
1 1/2 Tablespoons fresh garlic, minced
1 bunch of green onions (scallions), chopped
1 1/2 cups diakon radish, shredded or grated
11/2 cups carrots, shredded or grated
2-3 Tablespoons sambal oelek (fresh ground chili paste)
1 Tablespoon sea salt
2 teaspoons fish sauce (optional)
Preparation
Place all ingredients in a bowl, mix them together and pound with a wooden mallet/pounder to release the juices.
Place kimchi into two quart sized glass jars and press down firmly until all the juices come up to the top and cover the vegetables. The top of the vegetables should be at least an inch from the top of the jar.
Cover tightly and keep at room temperature for about 3 days, opening every day or so to let the kimchi release gases. On the third day, try the kimchi and then put it in the fridge for storage. It should last a few months in the fridge.
Have you ever made kimchi or fermented vegetables before?