Look what I found on my desk when I walked into work this morning!?!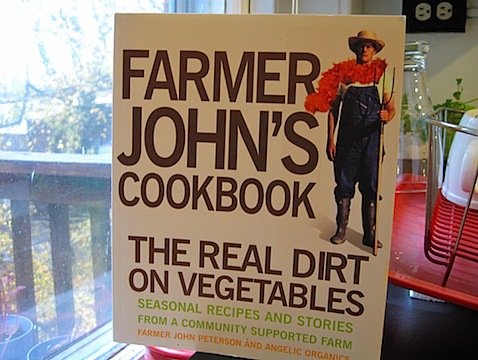 How sweet was it that a co-worker that I recently told about the blog brought in Farmer John's Cookbook- The Real Dirt on Vegetables for me? (Thanks Kate!) Of course I've already read through it and I'm super excited to try some of the recipes. The best part is that the cookbook is written by a farmer, John, who harvests for a CSA. Yes, he is wearing a boa on the cover, and I'm still not sure why. However, the book is awesome- it highlights stories from the farm shareholders, offers a list of what vegetables are in season when and has recipes categorized by vegetable. It's perfect for someone that is part of a CSA as you could find out storage and handling details, culinary uses, and plenty of recipes for unusual veggies like Kohlrabi, Daikon, and Celeriac.
For breakfast this morning I took a break from the norm (oats) and had a bowl of quinoa flakes. I've had them once before long ago (almost 1 year!) and wasn't hooked so this box has been sitting in my pantry since then. (YIKES) Something made me try them again. Let's be honest, it was because I was out of bananas for my standard banana whipped oatmeal/oat bran combo.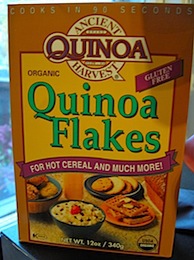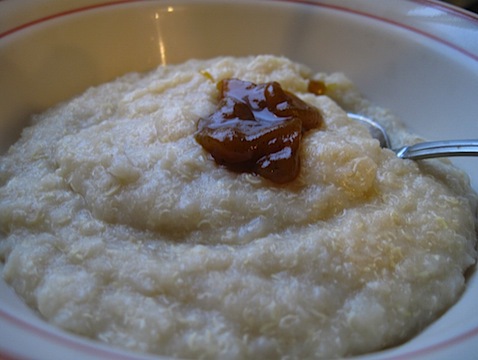 I'm glad I gave them a second chance! This bowl was made with 1/3 cup of the flakes, 1/2 cup almond milk, 1/2 cup water, and 3 drops of liquid stevia, and it was delightful. Smooth, creamy, sweet (from the pumpkin butter and stevia), and full of protein! The best part about quinoa flakes is that they are gluten free (holla back celiacs!) and they are a complete protein source (holla back vegetarians!) Try em out!!
In other news, my head phones broke. The worst part is that they stopped working about 10 minutes into my 5 hour flight to CA last week. I was kicking myself for not accepting Isaac's offer for me to bring his BOSE noise canceling headphones just as I found out that US Airways doesn't offer headsets. I was not a happy camper.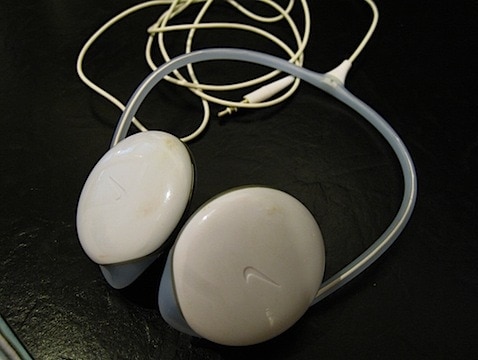 So these are the Nike Aero headphones that went kaput. They cost $39.99 from Target, which I thought was pretty pricey for a pair of workout headphones so I expected them to last…
Now, maybe I'm just spoiled because my last pair (Phillips) lasted all throughout college and 2 years after (that's 6 years folks!) and they actually still played music when I bought the new ones- they had just become too dingy to wear in public.
I tried to find a similar pair of Philips but couldn't so I settled with the Nike Aero Sport. They seemed promising- sweat proof, sleek, and a wrap around the ear design. I've never been a huge ear bud fan- they never fit in my ears, always fall out, and are uncomfortable so I figured these were a good bet.
They ended up being fine- comfortable and good for a person like me that sweats a lot. The music quality was quite awful, but they were for working out so I didn't mind that much. However, now I'm more convinced that $40.00 was too much to spend, because they only lasted 9 months!
I made a stop by Target last night to grab a new pair before hitting up the gym.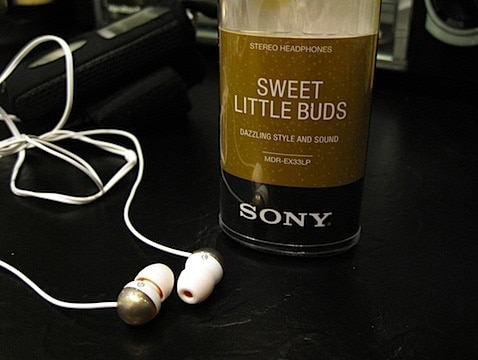 I know I know, I said I didn't like ear buds but these caught my eye as they were only $20.00 and are specifically designed for smaller ears. Since I was headed to the gym after Target I was able to try the buds out right away. They fit well, sounded better than my old ones and take up less space in my bag. Overall, I'm pretty stoked about finding a pair of ear buds that actually fit. This was a quick trial run because I only wore them for about 15 minutes while walking on the treadmill. I'm nervous to see if they hurt my ear after a prolonged period of time, but I have high hopes that they wont!
I still have my receipt from the aero headphones and I'm trying to decided if it's been too long to take them back – I just think headphones should last more than a year- at least!
Do you wear headphones when you workout? If so, what type?How much would you spend on headphones and how long should they last?
– Brittany

PS I just had the BEST dinner I've had in a while (well, since last Saturday- haha) – I can't wait to share the recipe tomorrow!!