How to make the BEST curried hummus dressing plus a delicious rainbow kaleidoscope salad!
There are a few store-bought dressings that I like (and occasionally buy) but normally I make my own. Homemade dressings tend to be less expensive to make and generally healthier.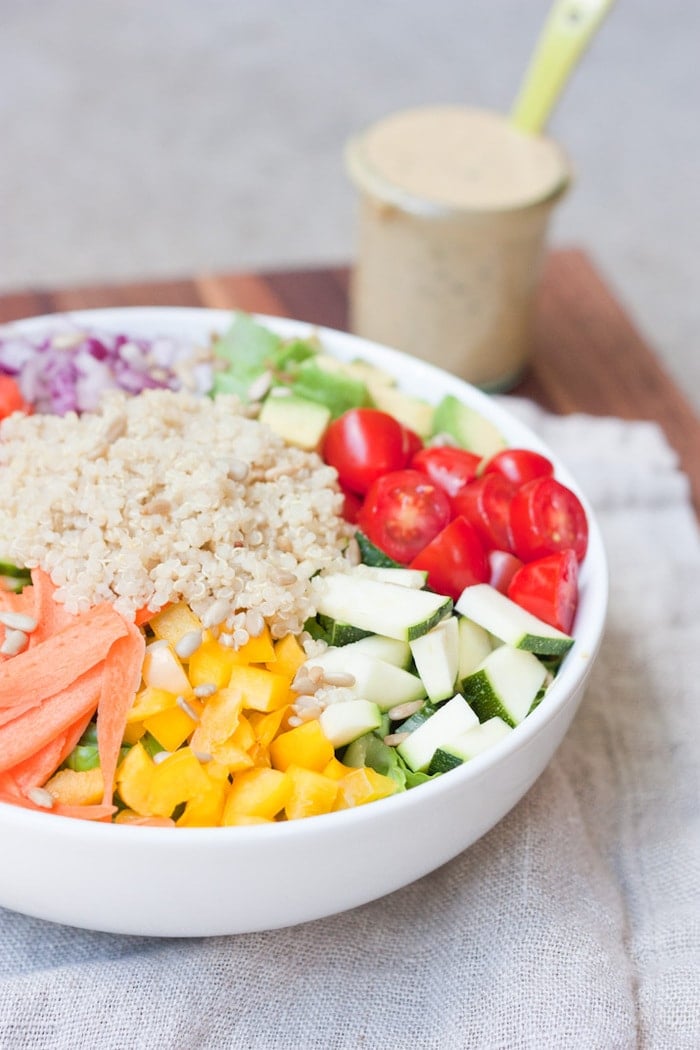 Plus, they're pretty quick and easy to whip up.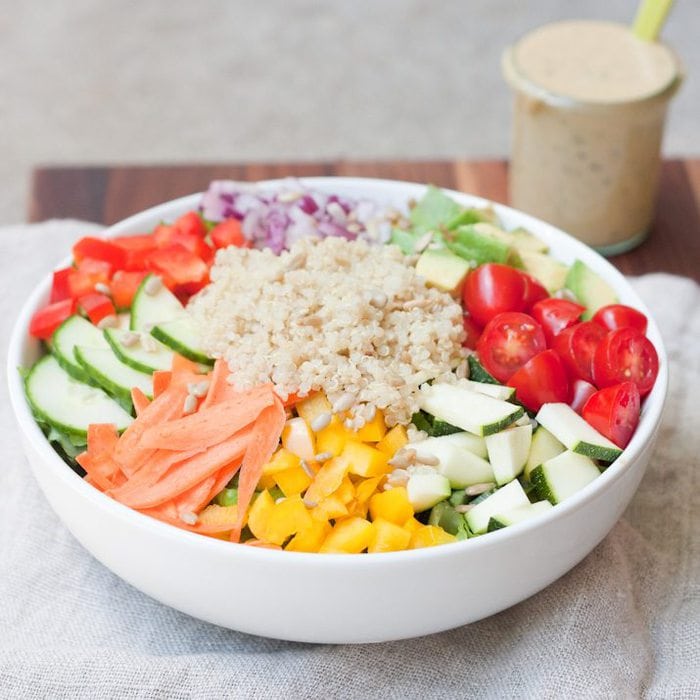 I do have a little secret though. If I'm in a huge rush and have no time to fuss with making a dressing for my salad, I just add a big dollop of hummus and use it as a dip/dressing. This little salad secret got me thinking and I started experimenting with using hummus as a base for an actual dressing — something thinner that I could drizzle.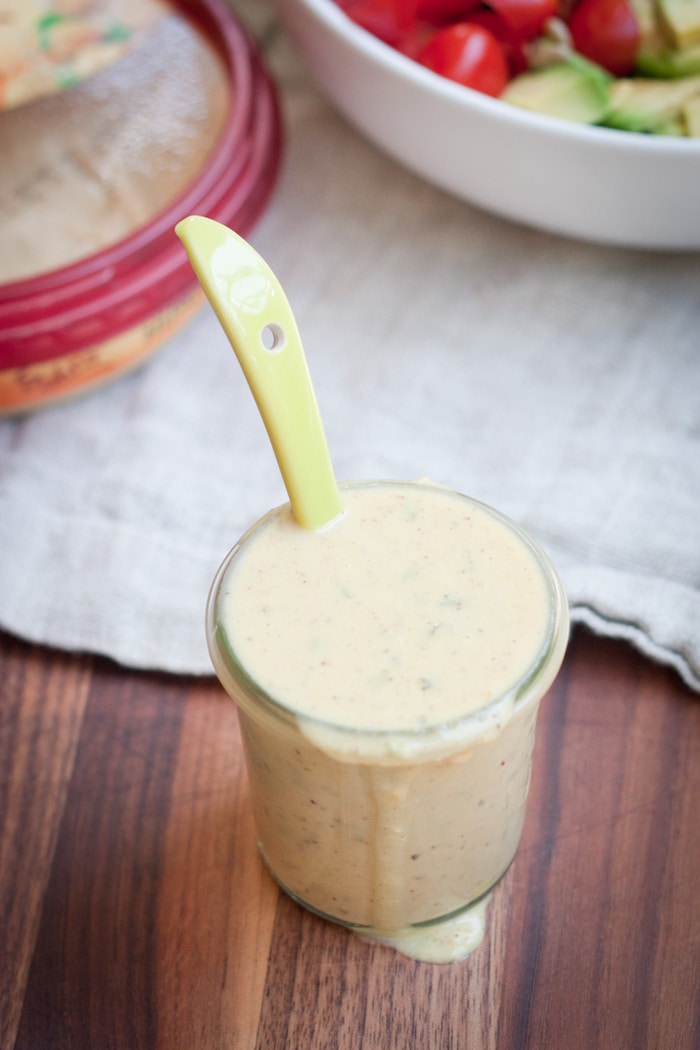 I had seen it done before (Dreena has a homemade hummus dressing recipe in her book Let Them Eat Vegan that looks awesome) but I hadn't ever tried it. Now I'm sad it took me so long because I've been missing out — hummus dressing is amazing!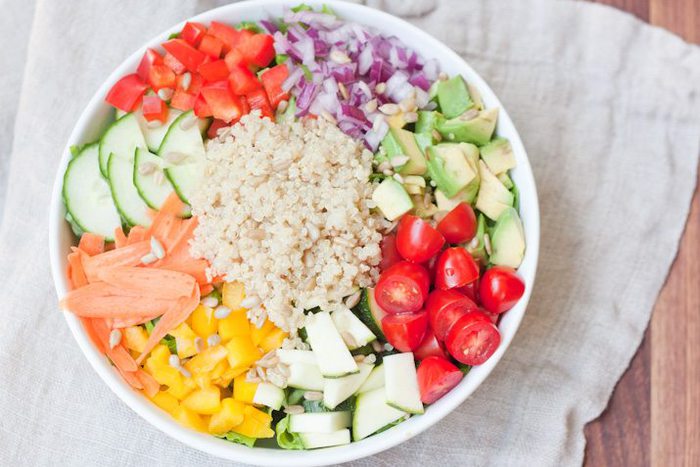 The hummus replaces the oil and adds a nice creamy component without any dairy or oil. Less fat, more flavor! If you know me, you know I like adding curry powder to any and everything so, of course, I made this dressing curried. <— I just wrote curry power instead of powder. haha. That said, curry is a powerful flavor. If you're not a fan of it, we can't be friends. I mean, you can simply skip it. I'm sure the dressing will still taste delicious. 🙂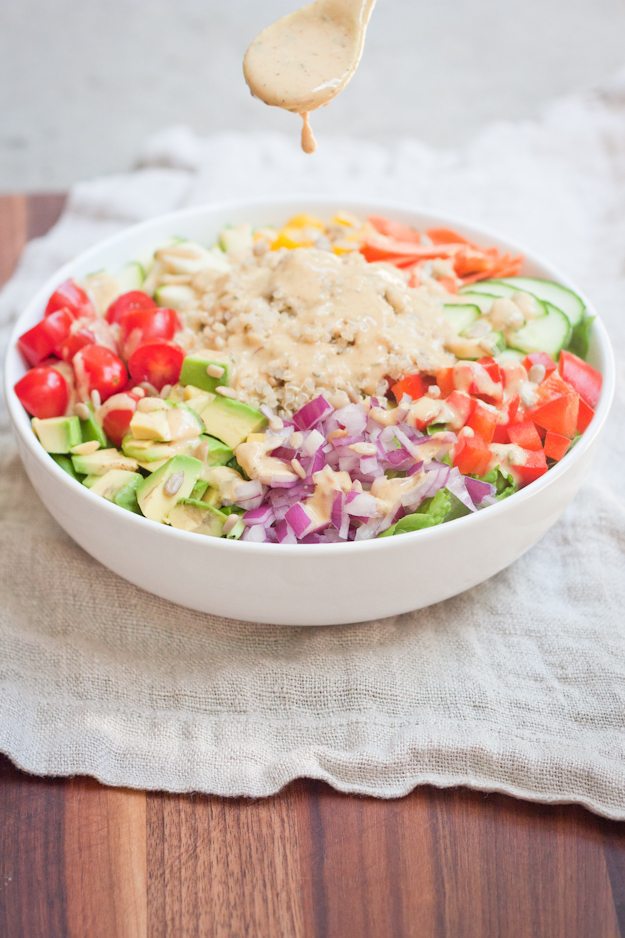 For this version I used Sabra's classic hummus but you could certainly test out other flavors — I bet Sabra's garlic or pine nut flavors would be awesome too.
Print
---
---
Scale
Ingredients
1/3 cup

Sabra classic hummus

2 Tablespoon

s water

1 Tablespoon

apple cider vinegar

1/2 Tablespoon

maple syrup

1 teaspoon

dried oregano

1 teaspoon

almond butter

1/2 teaspoon

curry powder

1/8 teaspoon

sea salt
ground pepper, to taste
---
Instructions
Using a fork, whisk all ingredients together in a mixing bowl until well blended. Drizzle onto your favorite salad and enjoy. Refrigerate any leftovers.
---
---
Nutrition
Serving Size:

2 Tablespoons

Calories:

50

Sugar:

2g

Fat:

3g

Carbohydrates:

6g

Fiber:

2g

Protein:

2g
This dressing is delicious and will work on pretty much any salad but if you want to create the kaleidoscope salad, here's how! Simply choose your base greens. I used romaine but you could use baby spinach, kale, spring mix, arugula or whatever other greens you have on hand. Place in a salad bowl and top with the follow ingredients:
carrots
cucumber
cherry tomatoes
raw zucchini
bell pepper
red onion
quinoa
roasted sunflower seeds
avocado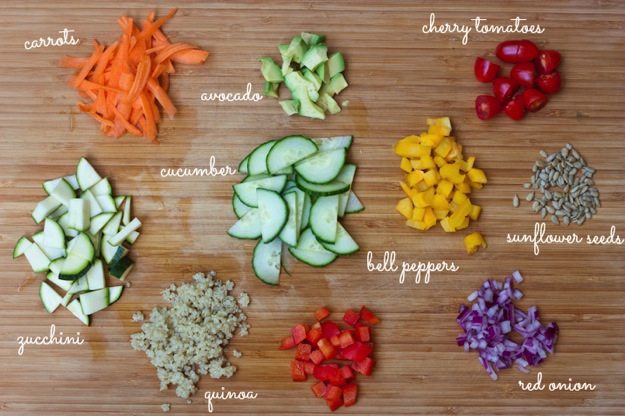 Drizzle on the curried hummus dressing and enjoy!