Heya friends. I hope you're having a fab weekend. I know I am! I've been enjoying the hot weather and all sorts of fun weekend activities. Stopped by the Farmer's Market this morning for CSA goodies; then went with Christie to Solid Ground Yoga, a "new to me" yoga studio in the area. I fell in love with the cute set-up of the studio. It's small- with only one class room, but the main area when you come in is so welcoming and comfortable with magazines, seating, and fun decor. I totally loved the vibe.
And, the class- it was awesome and I felt like I got in a good workout, all thanks to the lovely instructor. I find that with any exercise/yoga class, the instructor totally makes or breaks the experience. Even if you've tried a certain type of class once and hated it, you should probably try it again with another teacher because it might be totally different with someone else teaching. I find this particularly true with spin and yoga.
Before leaving for the farmer's market and yoga I had banana split protein cereal. I used to make this all the time with Kashi Go Lean and for some reason it popped in my head again today. It's the perfect way to enjoy the flavors of a banana split for breakfast.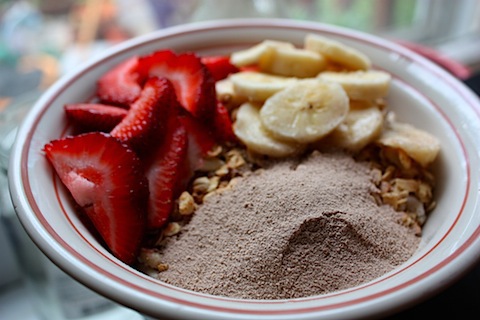 Banana Split Protein Cereal
1.5 servings Kashi Puffed Wheat
1/2 banana, sliced
3-4 strawberries, sliced
1/2 scoop of chocolate protein powder, I used Designer Whey
Unsweetened Vanilla Almond Milk (the amount is up to you – I use more than usual because the protein powder tends to thicken things up)
Put all ingredients into your favorite cereal bowl, stir and enjoy. As a note, I typically put the protein powder in the bowl first because it's hard to stir/blend when it's on top.
I was ravenous when I got home from yoga so I whipped up something quick and easy. A Chik'n Grillers Veggie Pattie salad with spring mix, corn, carrots, onions, and TJ's goddess dressing.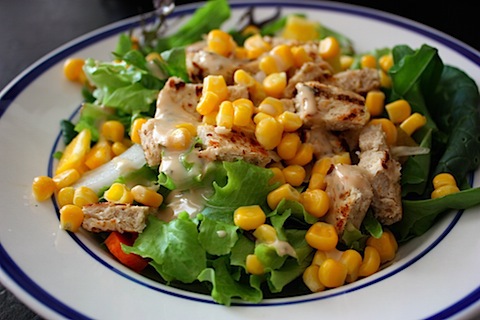 It was the perfect size to fill me up, which was good because I had a date with a genius at the Apple store to fix my computer and a shopping spree at my one of my favorite grocery stores. Apple took forever – i had time to go to Whole Foods and come back and they still weren't done, so I posted up at largest monitor in the store and read blogs. It was fun.
Although, not as fun as later in the evening when I met up with these lovely ladies – Meredith and Rebekah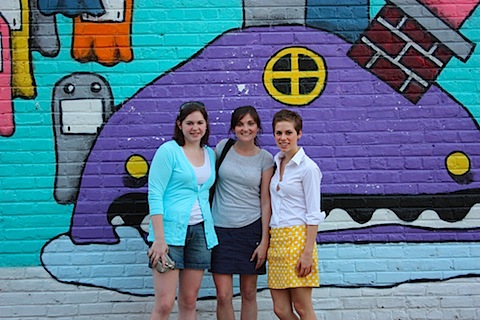 Please don't ask what exactly the painting on the building in the background is depicting. Richmond is rather unique when it comes to art and we thought it was fun.
We went to dinner at this little hole in the wall (quite literally).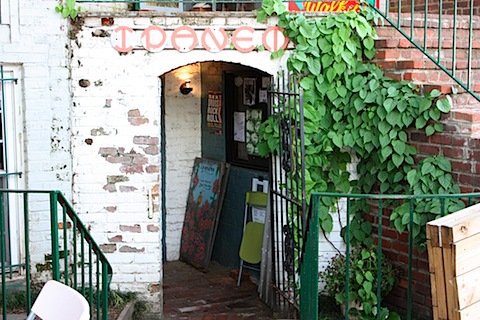 Ipanema Cafe, a local vegetarian/vegan restaurant with some mouth watering food, not to be confused with Ipanema Grill, a Brazilian steakhouse on the other side of town.
I ordered the grilled tofu sandwich which had caramelized onions, oven roasted tomatoes, hummus, and spinach. It came with their super tasty sweet potato fries and a small side salad.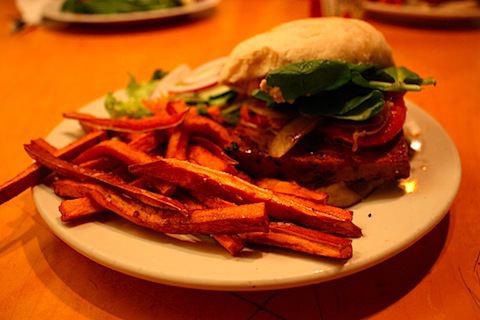 Everything was tasty, per the usual. I don't think I've ever ordered a bad entree at Ipanema.
I spent the rest of evening catching up with friends and family on the phone, twittering, blogging, and suffering from a heat stroke in our 81° apartment. I think it's about that time to bust out the air conditioning units, especially since it's suppose to be 98° today!
I'm off to my personal training session, then hitting up another one of my fav grocery stores for lunch with a friend. It should be a fun filled scorcher of a day.
-Brittany
PS- I have a new header. If you are reading through a reader you'll have to click through to see it, but I think it fits the style of my blog better. Plus I LOVE the new little birdie. Please tell me what you think of it!