Inexpensive Rustic Wood Kitchen Floors + Kitchen Faucet Upgrade
17
Published Dec 10, 2015, Updated Jan 12, 2022
Earlier this year Isaac and I bought our first home. Yay! It was built in 1949 and as you can imagine it has some quirks, or character if you will. For instance, we have one of those little telephone nooks in our dining room, which I think is really cute, but then there are things I don't find attractive — like crazy amounts of tile everywhere. Our kitchen countertop is made from basketweave black and white tile (cleaning grout on a countertop is NOT fun), our downstairs bathroom is salmon colored and covered in tile and our master bath is maroon and white tile. I'm ready to be done with the tile, but from everything we've read it's a HUGE project and one we might not be able to DIY so we're holding off for now.
Since the tile projects are on hold we completed two fun kitchen projects instead and I thought they would be fun to share. I hope home stuff doesn't bore you guys!
The first project is super simple, but is a huge upgrade in my opinion. We replaced the kitchen sink faucet.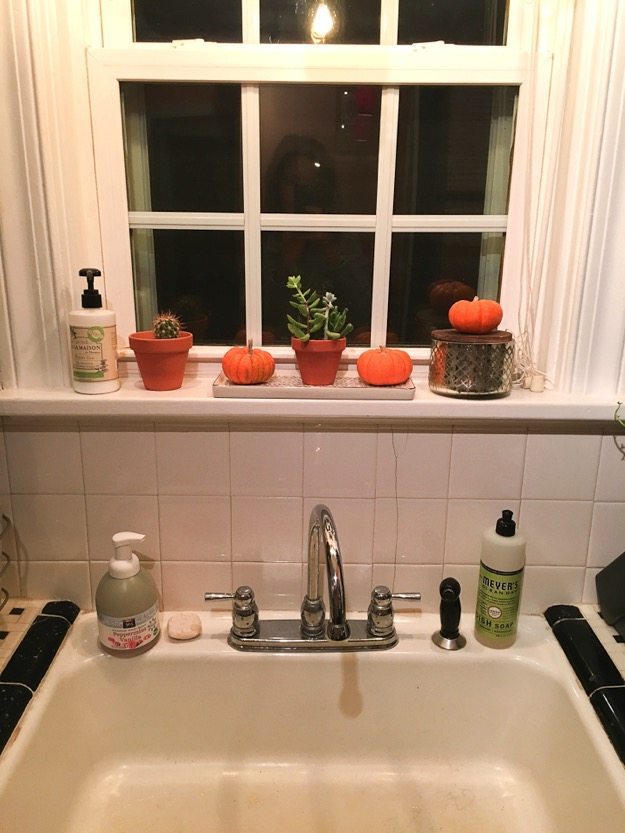 It was really old, didn't have any cool features and it leaked… a small continuous drip that was super annoying. We ended up finding one we liked at Lowe's and Isaac did the install. The new faucet is a Delta Savile with a pull down sprayer. It also came with a built in soap dispenser, which is awesome because our sink ledge is small and a little curved so bottles of soap don't sit on it very well. Now we have the dish washing liquid in the dispenser and a bar of soap for hand washing.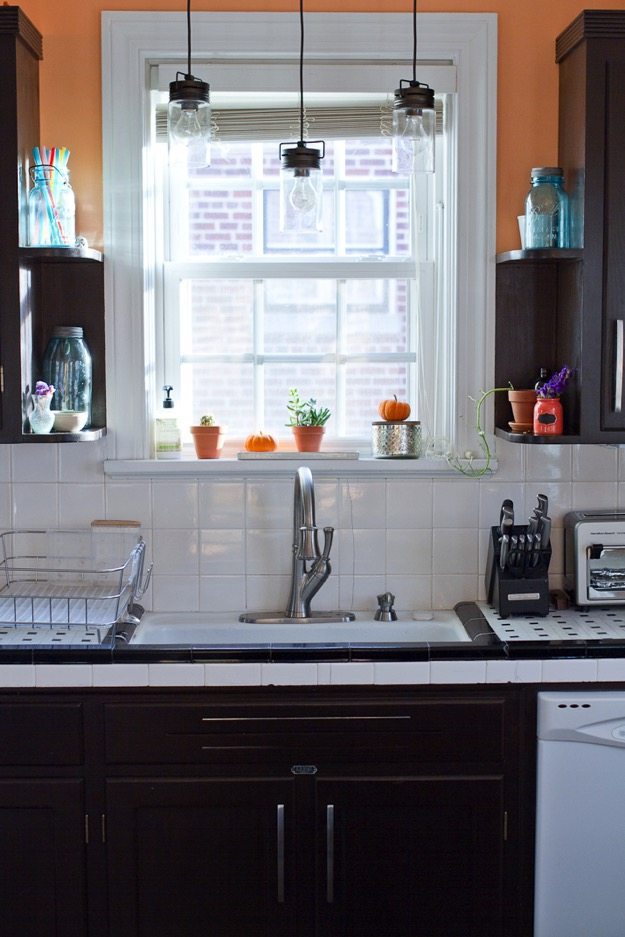 Here's the during… Isaac did all the work. I supervised and took photos. Just kidding, I helped when he asked me to.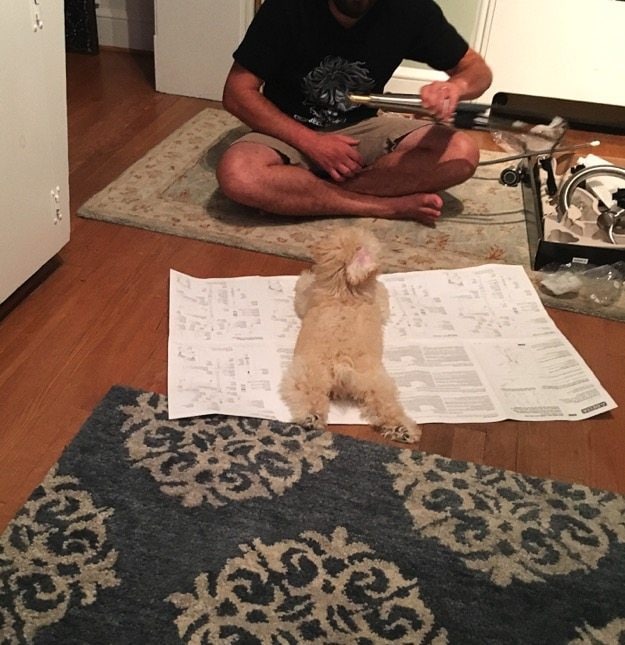 Sophie helped too!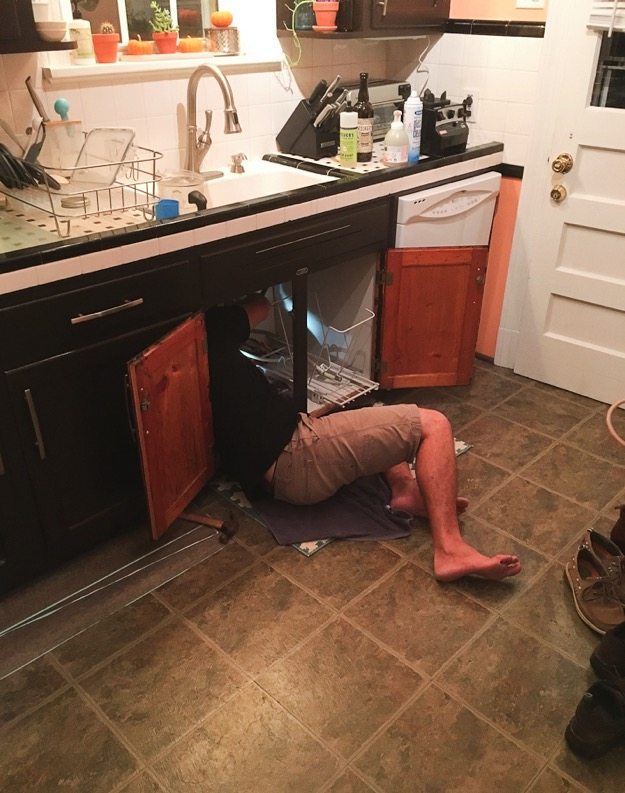 The kitchen sink project took about one night, while the kitchen flooring project was a little more labor intensive and took quite a few days to complete. That said, both projects were pretty comparable in cost.
Here's what we had going on before: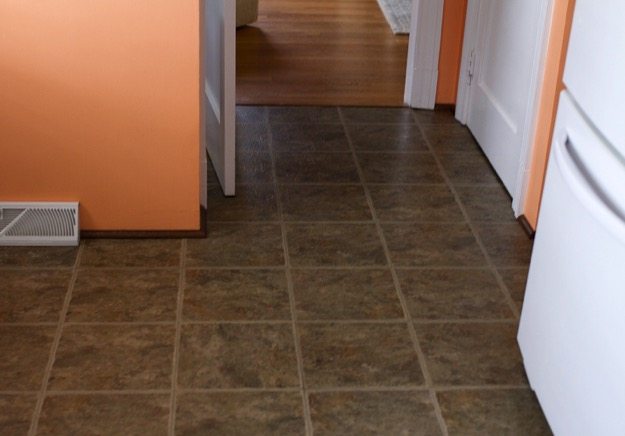 Peel and stick vinyl square tiles. It was dark, old and some of the tiles were starting to peel up so occasionally we would stub our toes on the edges. Not fun. At some point we really want to redesign and renovate the whole kitchen. There's a lot of wasted space, the appliances are a bit older and it could definitely be modernized. Since it's not in the budget at the moment we decided we needed to do something quick, inexpensive and easy to update the flooring.
In the photo above the tiles look wonky because Isaac had already starting peeling up a few up to check out what was underneath. Had our floors looked THAT BAD we probably would have replaced them before moving in. haha.
I was really nervous about replacing the flooring on our own. I'd read some stuff online about needing to take it all up, clean up the sticky goo underneath and start from scratch. It seemed like so much work for something we might pull up when we redo the kitchen. Isaac was optimistic and persistent. He found that we didn't need to do any of that. Maybe it's because our current tile was old and had lost a lot of it's adhesiveness, but he was able to peel up the old tile relatively easily and replace it with the new planks.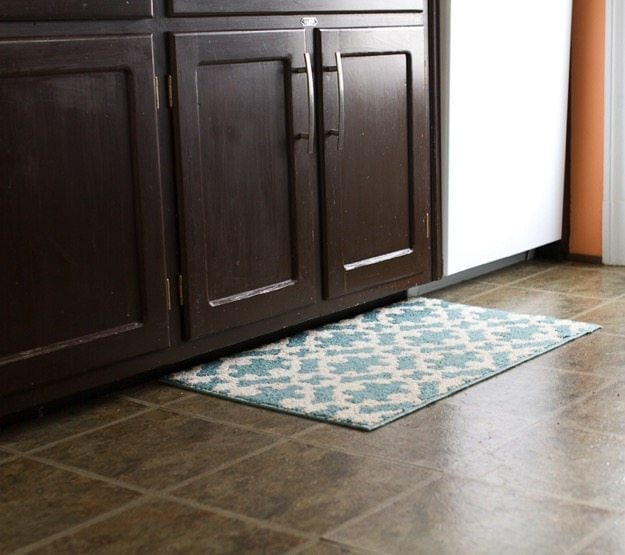 We found some rustic peel and stick vinyl tile at Lowe's. I'm all about the chic farmhouse look so this flooring was my top choice.
And here's the finished product:
The only big challenges were matching the tiles because our old ones were square and the new ones were planks and then cutting the planks perfectly for areas around the edges. Isaac just measured and cut the pieces with a utility knife.
Each plank costs $1.47 and we needed about 100 planks to cover our kitchen floor so the whole project ended up costing us about $150.00 and a bit of Isaac's time and hard work for the install.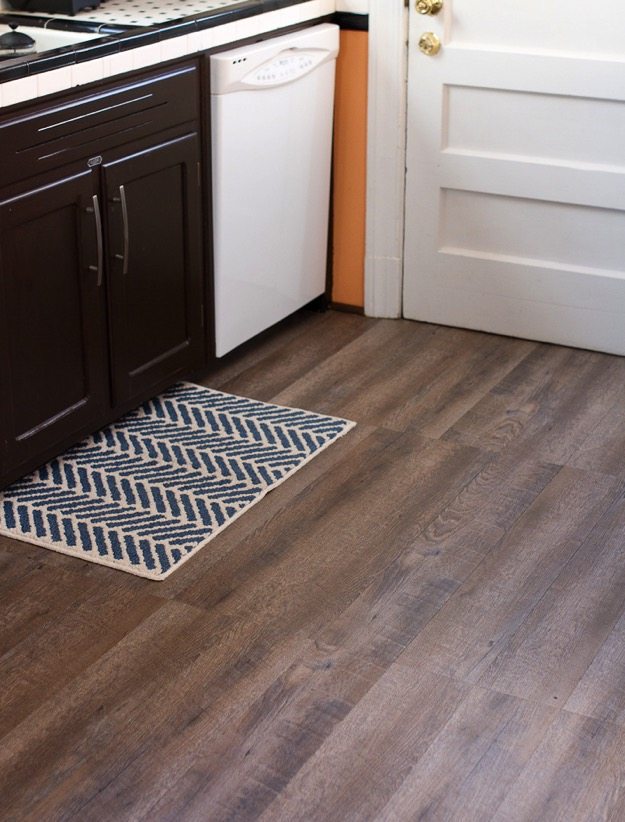 Overall, we couldn't be happier. It's definitely not real deal hardwood flooring (which we would adore) but the planks look very similar to natural wood flooring and give our kitchen that rustic farmhouse vibe I love. They're also much lighter than our old flooring so the whole kitchen is brighter now. I would have never thought that we could replace our kitchen flooring for less than the cost of a new kitchen faucet. Pretty sweet!

Have you ever done any surprisingly cheap DIY home projects? I'd love to hear about them! 🙂