The fed-ex man always seem to make me grin, but yesterday's delivery had me smiling from ear to ear!
My first ever purchase from Lululemon, the Reverse Groove Shorts, arrived!!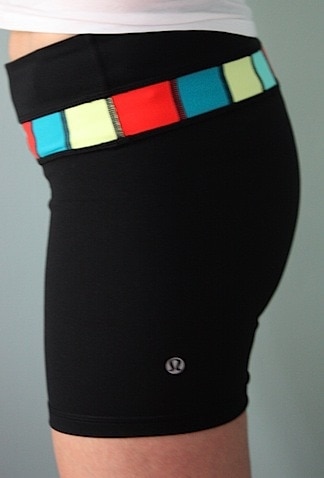 I'd heard great things about Lululemon products from lots of trust–worthy ladies but hadn't bit the bullet and bought something of my own until this week. When the package arrived I was so pumped that despite being at work, I went straight to the bathroom and tried them on!
As expected, they fit perfectly..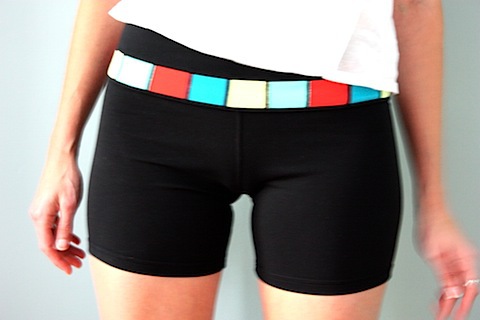 Sadly, I had to take them off and put my work duds back on but you'll be happy to know that as soon as I got home the groove shorts made an appearance once again. I cleaned the house up a bit, made Isaac do a Lululemon Groove Short photo shoot and then asked him over and over again if I could wear them to the cookout we were going to. He said no, unless I wore them under a skirt. Of course, they'd be perfect for that as well – but I didn't want to hide my new purchase under a skirt. So I took them off and wore more cookout appropriate clothing, but I'll give you one guess what I'm wearing as I type this…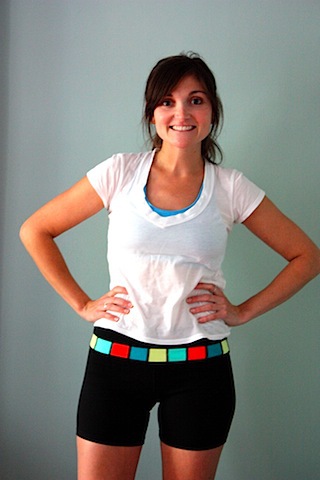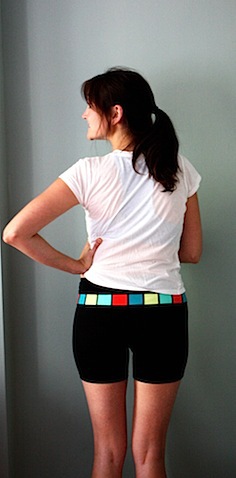 Most of my workout clothes are from Target, discount stores (like TJ Maxx), with a few pieces from sporting goods stores so this was definitely a splurge. But sometimes quality rules when it comes to clothing- particularly items you wear often. I definitely spend the majority of my non-working life in workout type clothing so I have a feeling I will get my full $48.00 worth out of these babies. They're not only super comfy and made of high quality material, but they are reversible too! If I were to reverse them, they would be completely black – basically two shorts for the price of one. 🙂 One other really cool thing is that there is a stash pocket in the waistband for small items like cash or a key.
So I haven't even worked out in these yet, but I'll be sure to let you know how they hold up after a good sweat session, which will hopefully occur this afternoon!
Needless to say, I'm stoked about my new purchase and even more excited that were getting a showroom in Richmond!
Today is errands day, so I'm off to the Farmers' Market, then hitting up the gym, an alternations shop, and the grocery store. Would it be weird to wear the groove shorts to all these places, because I have a strange feeling I might…
So tell me, what's your favorite brand of workout gear and do you wear it out in public? Also, if you are a Lulu lover – what items would you recommend. I think I might need a top now? 🙂
-Brittany