I received my certificate from the Institute of Integrative Nutrition in the mail yesterday!! It's amazing how quickly time files. It feel like just yesterday I was starting the program and here I am a graduate.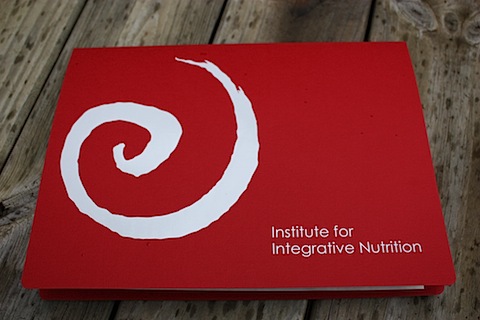 Through the Institute for Integrative Nutrition (IIN) program I have learned a ton about food and nutrition from leading experts in the field, but also explored other things that affect our health and wellness (like relationships, our career and spiritually). I've learned how to coach clients and manage a health coaching business and I've connected with some amazing individuals. It's all been very exciting! During the program you are encouraged to start taking on clients so I've worked with several people so far and learned a lot through that process as well.
I get emails all the time asking about the IIN program — what my thoughts are and if I would recommend it? My answer is undoubtedly yes.
It took me a long time to decide that IIN was the right path for me. It's obviously not the only option if you're interested in a career in nutrition, but it's one that excites me and I'm grateful I had the opportunity to get this certificate.
If you're interested, here's the back story: I didn't get passionate about health and wellness until college, a point where I was already well invested into graduating with a marketing degree and on top of that, the school I attended didn't have an RD program. Once I was done with school and working full-time I continued my interest in health and started Eating Bird Food as a result. Then I started to think about a career in nutrition and ended up researching almost every nutrition program out there. (Thank you if you were one of the many people I emailed for advice.) 🙂
During this time I ended up taking a few advanced nutrition courses at a local ADA accredited university in pursuit of getting a second bachelors in nutrition so I could become an RD. Through the classes I realized that being an RD wasn't the path I wanted to take – many factors were involved but it all boiled down to the fact that I didn't want to work in a clinical setting and I really wanted to learn more about natural health. Isaac's mom, who was a student at IIN at the time told me about the program and I was automatically drawn to it. Unfortunately at the time it was only offered in New York and she was having to travel there on the weekends for classes. This option didn't fit with my full-time work schedule so I ended up back at square one. When IIN expanded their program to include distance learning, I was more than ready to go and signed up.
The distance learning worked great for me because I could listen to the modules form the ipod wherever, whenever — even during workouts. And the work load wasn't too crazy. Completing the program with a full-time job worked out fine for me. My blogging has definitely slowed down a little since beginning the program but I think that may also be because I moved away from posting what I eat every day. I focus more on quality than quantity now and that works well for me. Hopefully you all like it this way as well. 🙂
I love that the program is based around a holistic approach to nutrition and focuses on bio-individuality, meaning what works for one person might not work for someone else. The program teaches a variety of different dietary theories but also focuses on that fact that being healthy has to do with more than what you eat. Nutrition is a big piece of wellness but there are many other factors that affect your health including things like stress, relationships, career, your faith, exercise, etc.
I also really liked that fact that I was assigned a health coach during my schooling. I LOVED my coach – she was there to support my health, the schooling process and answer any questions I had about coaching.
Many people e-mail me asking about the program and basically it's a wonderful program if you are interested in learning about natural health and you want to become a health coach. It really does give you all the tools you need to start your own business. But just like any other schooling, you get out what you put in! I am an IIN ambassador and often get emails about the latest specials they are running for new students so feel free to check out my health coaching website and contact me if you're interested in the program.
As for my career plans in the near future… I don't know that I want to start my own full-time health coaching business at this time. I like my current job and health coaching part-time works great for me right now. Plus now that I'm done with the schooling and will have some free time I've thought about studying to become a personal trainer as well so I could teach both the nutrition and fitness aspect.
Something that combines my degree in marketing with my passion for health and wellness would be my dream career. This might mean being a wellness coordinator for a corporation, doing marketing for an organic food/fitness related company or opening my own health coaching/fitness practice one day. There are many options out there for health coaches and I'm sure these options will only increase considering the health of our nation.
I'm not sure what the future will bring, but I'm excited about the possibilities and super excited to have this certificate in hand!
It's Friday night, which means should probably go and celebrate this accomplishment. Have a great Halloween weekend.