Last weekend I traveled to Alexandria, VA for the IDEA Personal Trainer Institute East. This was my first time attending a personal training conference so I had no clue what to expect. Part of me thought we'd just be working out the whole time…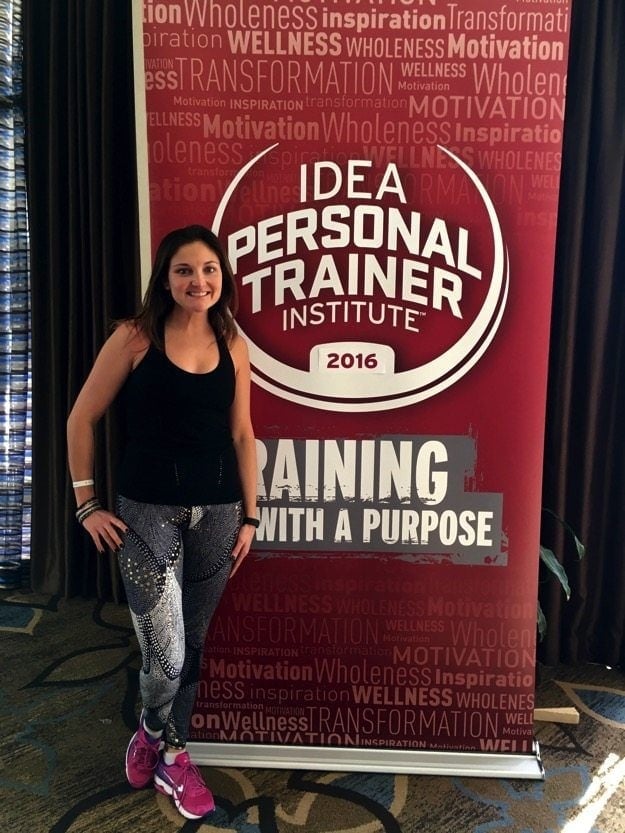 Thankfully the folks at IDEA know how to put on a fitness conference so there was a good mix of workshops, lectures and workouts all led by industry experts. There were over 100 sessions on topics ranging from program design, training techniques and fitness assessment to nutrition, coaching and marketing.
In order to keep my NASM personal training certification up to date I have to get at least 20 hours (2.0 units) of CEUs every two years so this was my primary reason for attending the conference. Trainers can acquire CEUs through a variety of different ways (courses, workshops, seminars, etc.) but the fact that I could get all the credits I needed in one weekend made the IDEA conference my top choice.
And now that the conference is over, I'm so happy with my decision. I learned a ton, connected with personal trainers from all over the east coast, and left feeling super excited and giddy about being a personal trainer and health coach. I love the ease of online classes, but the energy you get from live events is irreplaceable!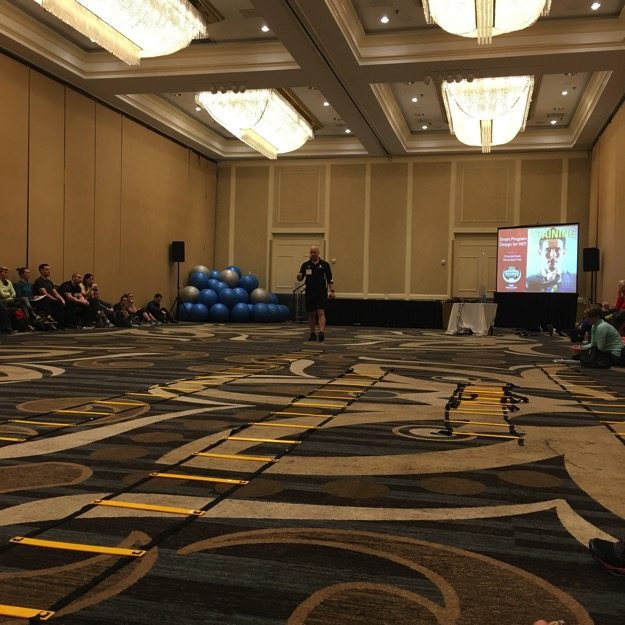 The whole conference was super organized — you sign up for which sessions you want to attend before the conference so when I arrived to registration at the Hilton hotel my schedule was printed for me and I knew exactly where I'd be going for each time block. Insider tip: popular sessions fill up quickly so it's helpful to sign up for your sessions soon after you register for the conference. IDEA offers full conference passes or day passes if you just want to attend for one day. I ended up doing the full conference as well as the NASM: Complete Client Nutrition Coaching preconference session on Thursday.
I learned something new in every session I attended. Here's a quick recap of my favorite sessions.
Get It Done: Time Management Made Easy with Shannon Fable —> Time management is something I really struggle with so this session was perfect for me. Here are some helpful tips I jotted down:
Create a system that works for you.
Picture your to-do list and priorities as spinning plates rather than juggling balls.
Multitasking is horrible for productivity.
Practice data dumping — every so often you need to rid your brain of everything you need to do and everything you're thinking of.
Teach people your preferred method of communication.
I've already started utilizing some of Shannon's tips — I got my email inbox down to zero (!!) and downloaded OmniFocus, a to-do list/task management program that Shannon recommends.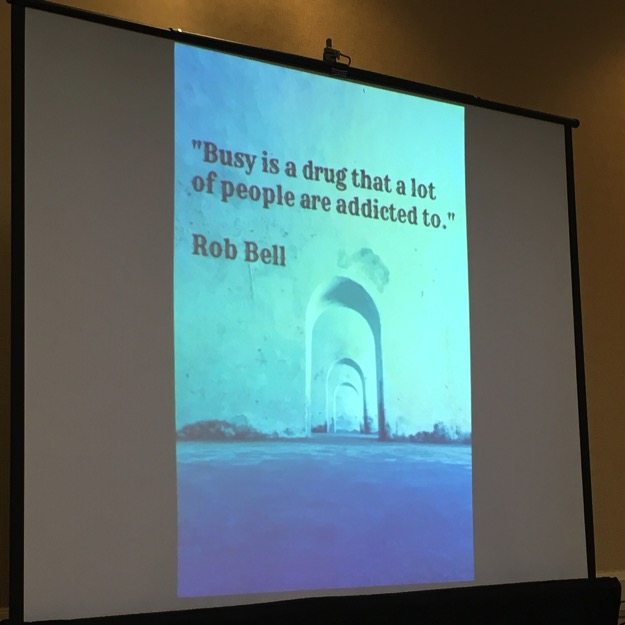 Transform Your Posture – Transform Your Body! with Leslee Bender —> I'd heard great things about the Bender Ball from Alyssa so it was really cool to meet Leslee Bender in person. I learned a ton about assessments and strategies for different postural issues, including scoliosis in this session. I'm hoping to use some of the techniques she taught us on myself and my clients.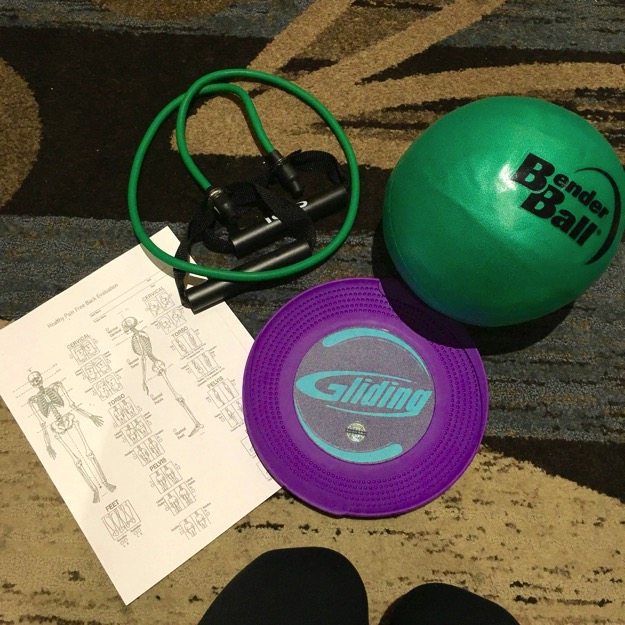 TriggerPoint Progressive Systems to Self-Myofascial Release with Brittny Fowler —> This session focused on myofascial release, but went way beyond the typical foam rolling technique. I liked this session so much I ended buying two of the TP massage balls.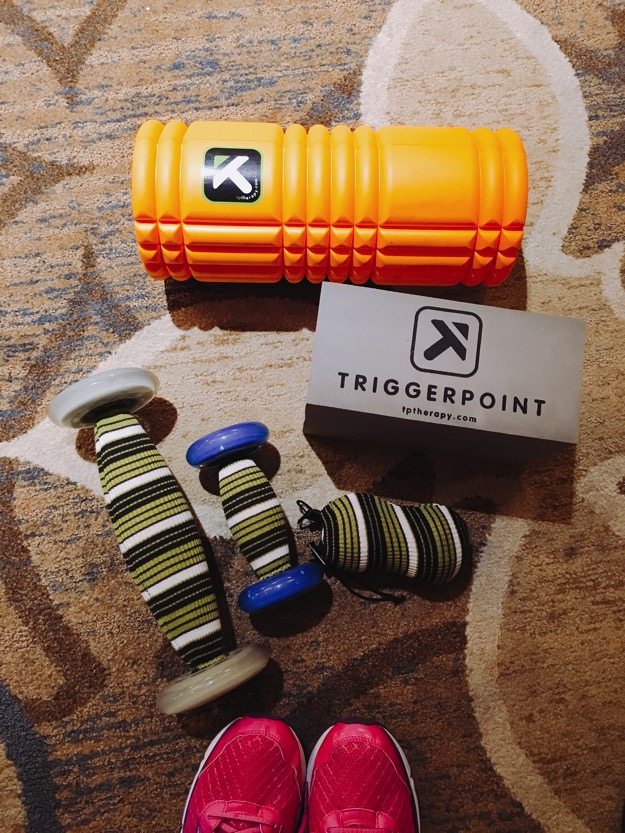 Cracking Your Female Client's Fat Loss Code with Nardia Norman —> This was by-far my favorite nutrition session of the whole conference not only because Nardia has an awesome New Zealand accent but because I really like her approach. She spoke about working with clients to make lifestyle changes rather than quick fixes and how to design a workout program for women that works with her menstrual cycle and hormone levels rather than against them. Here are some of key takeaways:
Women who diet regularly (more than 5 times) are 75% more likely to experience depression.
The majority of women (it has been estimated between 80 – 90% of women) do NOT like their body.
7 out of 10 15 year old girls are currently dieting. 🙁
Issues:
Weight loss industry is set-up for failure.
Public confusion over the difference between weight loss and fat loss
Over emphasis on calories in vs calories out model
A lack of understanding regarding how a woman's body functions
Think Different:
Health needs to be the primary focus with Fat Loss being secondary
Re-think the exercise more, eat less model
Learn to work with the body not against it
Individualize your approach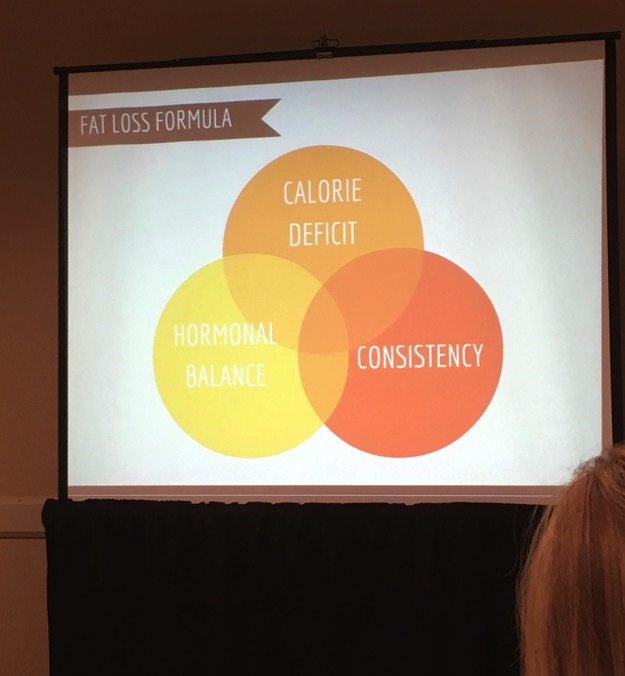 To make it easy on myself I stayed at the Hilton hotel where the conference was hosted for the weekend. The sessions started at 8:15 each morning so staying at the hotel was super convenient. It also allowed me to take advantage of my time in Northern Virginia and plan a couple dinner dates with friends in the area.
On Thursday night I met up with Katie of Chocolate Covered Katie. We've been online friends for years so it was amazing to finally meet her IRL.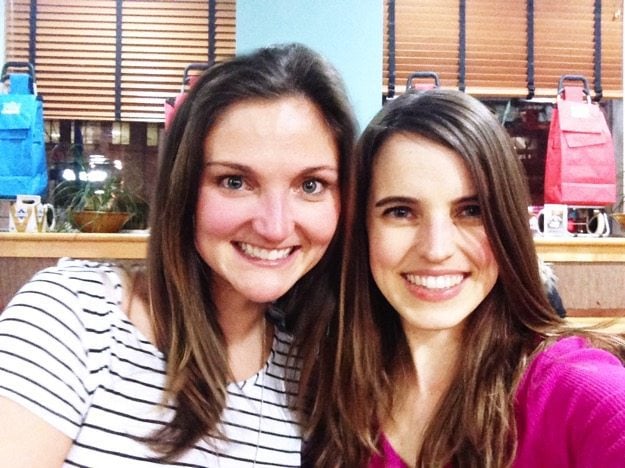 And on Friday I had dinner with three of girlfriends from high school at True Food Kitchen in Fairfax. I love going on dates with Isaac, but sometimes girl dates are just want you need.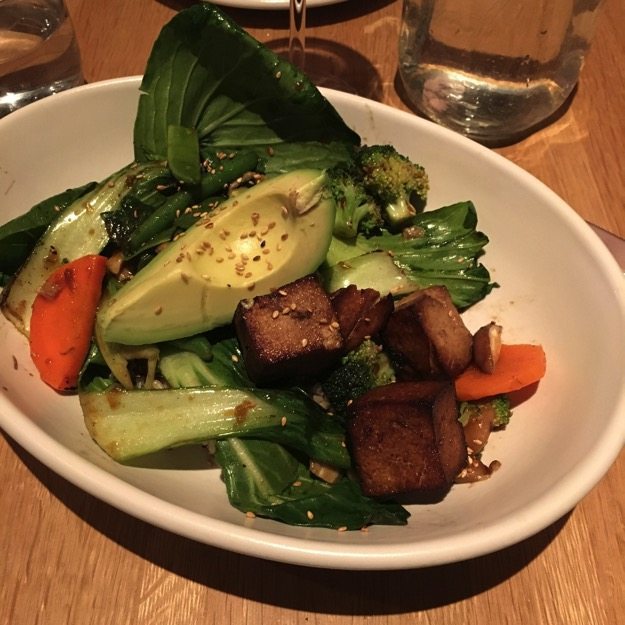 After such an awesome experience with the IDEA PTI conference I've decided that I have to attend the IDEA WORLD Convention in LA next. I've wanted to attend for a few years… I'm thinking 2016 just might be the year!! 🙂
Full disclosure: IDEA provided me a discounted ticket for the conference. My pre conference sessions, hotel room and accommodations were not discounted or sponsored.