I made a batch of cookies this weekend.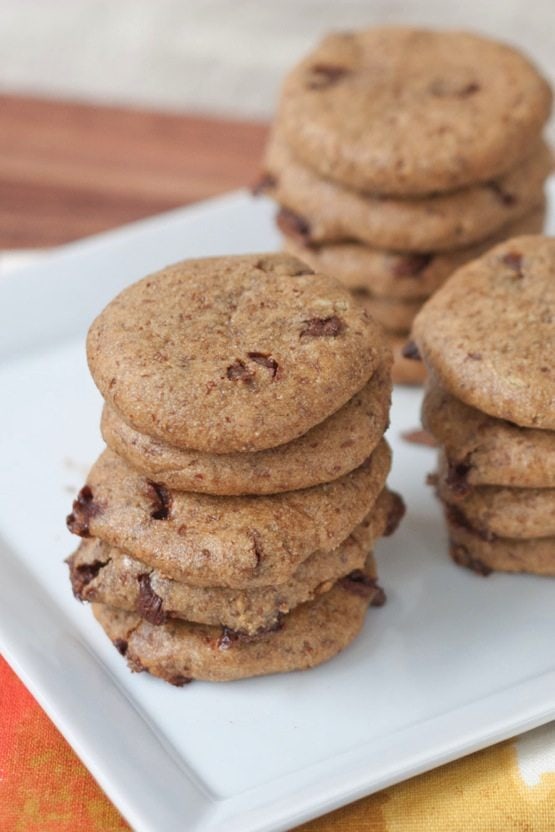 Chocolate-Flecked Pumpkin Seed Cookies to be exact.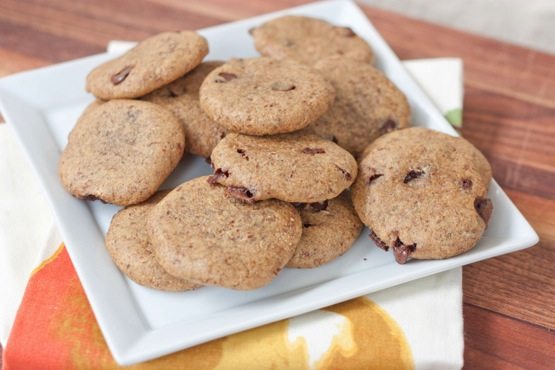 I whipped up the cookies on Saturday morning and they were gone by Sunday evening. I'm not proud (because I definitely had more than my fair share) but I think that it says a little something about these cookies. Long story short — they're absolutely delicious!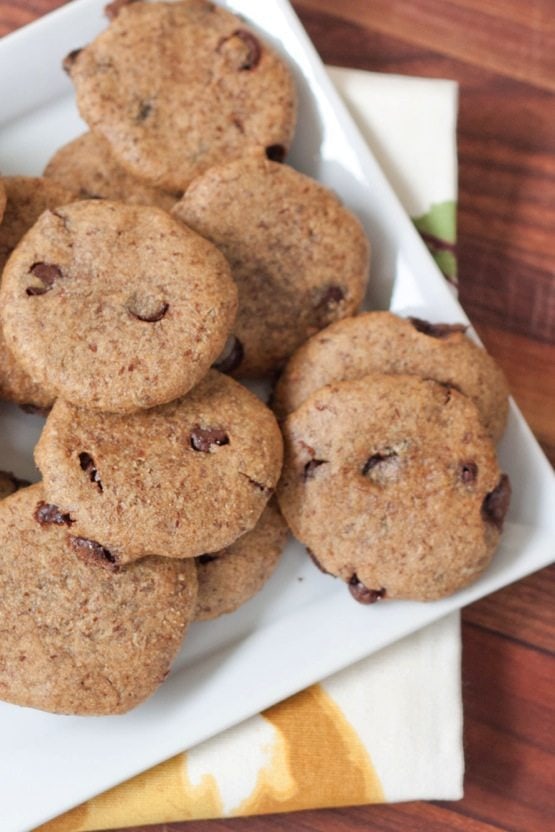 They have a nice crunch factor to the exterior but the inside is still dense and chewy = the perfect cookie texture, at least in my book.
I loved them, Isaac loved them and so did everyone else I shared them with. One of our guy friends liked them so much he texted his fiancée right away to tell her about them. And no one would have guessed that they were sweetened with coconut sugar and stevia, completely gluten-free, made from pumpkin-seed butter and vegan.
This is because Ricki Heller is quite the dessert magician. Her new cookbook, Naturally Sweet & Gluten-Free, is packed with 100 allergy friendly, vegan dessert recipes — all without gluten, dairy, eggs or refined sugar.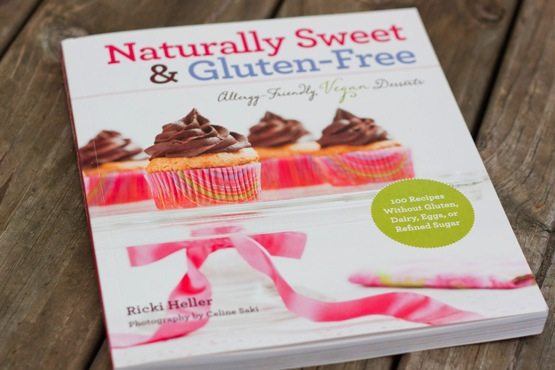 These Chocolate-Flecked Pumpkin Seed Cookies happen to be included in the book.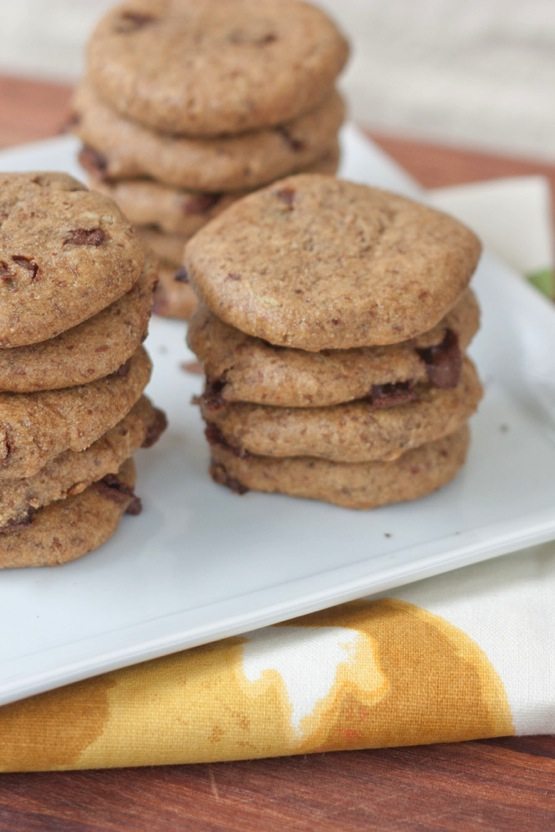 Here's what else you'll find in the cookbook:
A full introduction, including descriptions of key ingredients, where to find them, how to substitute ingredients, and how to make your own staples (such as flours or nut butters) if you wish.
At-a-Glance Pantry List listing frequently used items
Recipe for Ricki's all-purpose, gluten-free flour mix
More than 60 stunning, full-color photographs by Celine Saki
Tips and techniques
Bakeware & tools
Clear, step-by-step and easy-to-follow instructions for every recipe to ensure foolproof, delicious baked goods, regardless of your previous baking experience!
I'm not gluten-free or vegan, but I love making healthy treats so this cookbook is right up my alley. I already have my eye on at least a dozen recipes in the book that I want to try over the next few weeks and I know the book will come in handy when doing holiday baking this winter.
If you happen to be gluten-free, vegan or just interested in healthy, allergy-free desserts, I would highly recommend Ricki's book and her blog. Her recipes are top-notch! Want to experience her delicious recipes for yourself? Whip up a batch of these cookies!
Print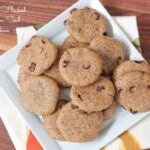 Chocolate-Flecked Pumpkin Seed Cookies
Author:

Prep Time:

10 mins

Cook Time:

12 mins

Total Time:

22 mins

Yield:

12
---
Description
The recipe calls for pumpkin seed butter, which can be purchased online but may be hard to find at regular grocery stores. I simply used raw pepitas (purchased from the bulk bins at my local health food store) to make my own pumpkin seed butter to use in the recipe. It was easy to do and the cookies turned out great.
---
Ingredients
1/3 cup (55 g) coconut sugar
20 to 30 drops pure plain or vanilla liquid stevia liquid
1/4 cup (60 ml) water
1 tsp (5 ml) pure vanilla extract
1/2 cup (120 ml) natural smooth pumpkin seed butter, at room temperature
1/4 cup (25 g) finely ground flax seeds (from about 2 Tbsp whole seeds)
1/2 cup (75 g) brown rice flour
1/8 tsp (.5 ml) fine sea salt
1/4 cup (50 g) unsweetened carob chips or dairy-free chocolate chips, coarsely chopped
---
Instructions
Preheat the oven to 350ºF (180ºC). Line a cookie sheet with parchment paper, or spray with nonstick spray.
In a small bowl, whisk together the coconut sugar, stevia, water, and vanilla until the sugar dissolves.
Add the pumpkin seed butter, flax, flour, and salt and mix well to form a very thick and sticky dough. Stir in the chips.
Using a heaping teaspoon (5 ml), scoop the dough and roll it into small balls, placing them about one inch (2.5 cm) apart on the cookie sheet. Flatten slightly with your palm (or use a silicone spatula).
Bake for 10 to 12 minutes, rotating the sheet about halfway through, until the cookies are light golden brown (the dough will lighten as the cookies bake). Allow the cookies to cool completely before removing from the cookie sheet.
Store in an airtight container in the refrigerator for up to 5 days. May be frozen.
Thanks to Ricki and her publishers for offering me a copy of Naturally Sweet & Gluten Free for review. It is now available for purchase through Amazon and Barnes and Noble.