I think orange must be my favorite color- at least when it comes to fruit and veggies. This weekend I've been enjoying many of my favorites (butternut squash, sweet potatoes, and pumpkin) in a variety of ways, but no worries because my skin hasn't turned orange yet.
On Saturday morning I decided against making my typical breakfast of oats and went with a sweet and savory sandwich with 1 egg white, 1 veggie sausage patty, and 1 slice of Nature's Pride whole wheat bread smeared with pumpkin butter.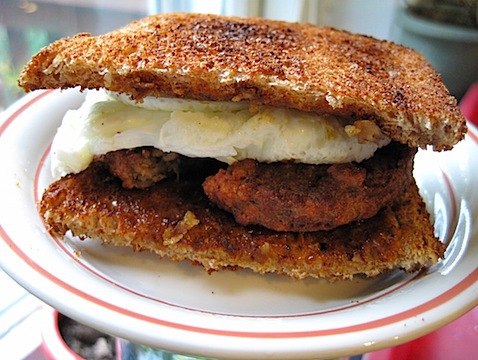 I had planned to use jam on the bread at first, because I've done that in the past and like it, but I thought why not use pumpkin butter today. It was a rash but great decision and the sweet and savory combination was awesome. TJ's pumpkin butter is so versatile! Speaking of pumpkin butter, I was catching up on my blog reading and realized that the amazing Heather from HEAB had posted a recipe for Kabocha Squash Butter! It looks delicious and pumpkin or butternut squash could easily be substituted for the kabocha. This would be perfect for anyone that's jonesing to try some pumpkin butter and doesn't have a store nearby that sells it.
Breakfast fueled me well for my Saturday morning spin class and I was pretty hungry for lunch when I returned home. I was craving the butternut squash soup that I purchased for lunch on Friday so I decided to recreate my own.
Butternut Squash Blended Soup (based on a recipe for Butternut Squash Apple Soup from the VITAMIX cookbook)
3 cups butternut squash, peeled, seeded & cubed
1/4 small onion
1/2 clove garlic
1/4 cup whole wheat flour
1/4 tsp thyme
1/8 tsp salt10.5 oz vegetable broth
Directions:
Steam squash in steamer or microwave. Saute onion and garlic in a lightly oil pan until onion is clear and tender. Set Aside. Place starch, thyme, salt, and vegetable broth in the Vita-Mix container and secure the lid. Select VARIABLE 1. Turn on machine and quickly increase speed to VARIABLE 10; then to HIGH. Blend for 5 to 6 minutes or until mixture starts to thicken. Remove the lid plug and carefully add squash and onion mixture. Replace the lid plug. Run for 30 seconds. Serve immediately.
I whipped up everything in the vitamix and out came steamy, hot soup. It still amazes me that a blender can create hot soup. Very convenient. 🙂
After a not so eventful afternoon, Isaac invited a couple friends over and we all decided to make a visit to Balliceaux, a new farm to table restaurant and bar here in Richmond. The first time we went to Balliceaux for dinner we knew we needed to come back for drinks based on the unique cocktail menu.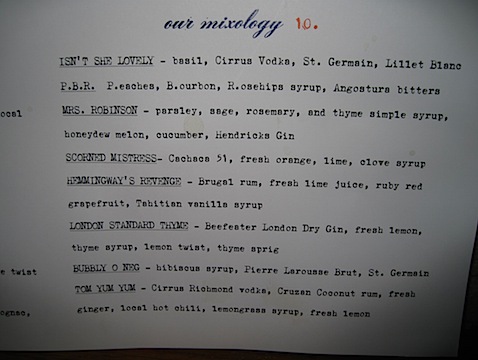 Isaac and I both ordered the Tom Yum Yum.
It was completely different than any cocktail I have ever tasted. The combined ingredients (Cirrum Richmond vodka, Crusen Coconut run, fresh ginger, local hot chili, lemongrass syrup, and fresh lemon) made a tasty Thai inspired drink. It was amazing how much it reminded me of a coconut based Thai soup. As you all know I love Thai cuisine (hello, fresh spring rolls!) so this was the perfect cocktail for me.
Isaac also happened to order some sweet potato fries and like everything else on the menu they were delicious- definitely too good to pass up.
I think I have a small restaurant crush on Balliceaux. I was impressed by the unique decor and the raw lasagne on my first visit and now the drinks and sweet potato fries have officially won me over. It's definitely my favorite (nice) restaurant in Richmond!
Today Isaac and I are working to winterize our apartment (because it's 58 degrees in here right now). Later I have exciting plans to meet up with another food blogger and then lots of grocery shopping to do. It should be fun!
I hope everyone is staying warm and having a lovely weekend.
– Brittany