I had the best dinner tonight! It was pieced together with two very interesting items (note that Isaac wasn't home for this dinner), but it's way too good not to share with you all.
1.) Baked sweet potato with cottage cheese and ketchup.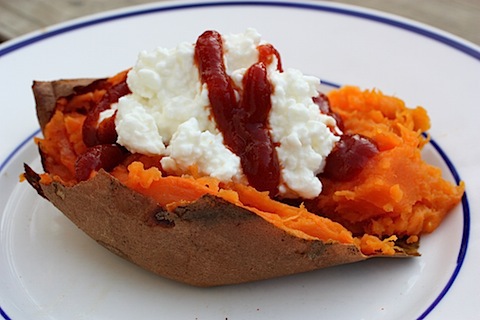 I know it sounds odd, but if you've been reading EBF for a while you'll know I really like this combo and if you've tried it for yourself, you'll know that despite how crazy it sounds/looks, it's quite delicious.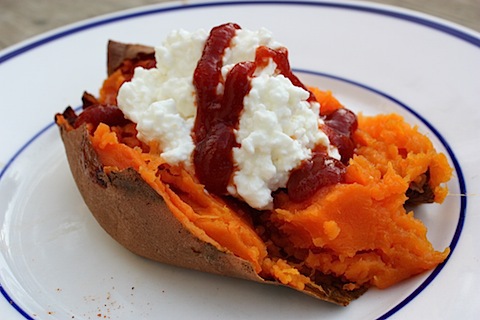 I have the lovely Jenn from Eating Bender to thank for introducing me to it!
2.) Hummus and Avocado Cake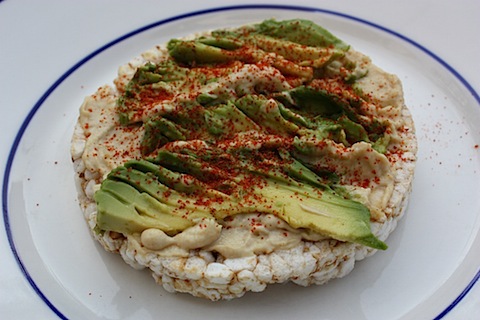 I told you it was an interesting dinner…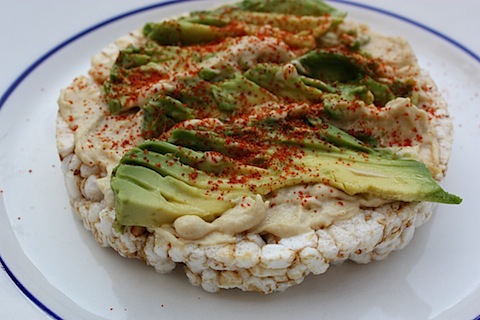 Although I would love to, I can't take the credit for coming up with this delicious treat – my friend Laurel actually told me about this little combo, and I can't be completely positive, but it might just be the "it" snack for summer 2010!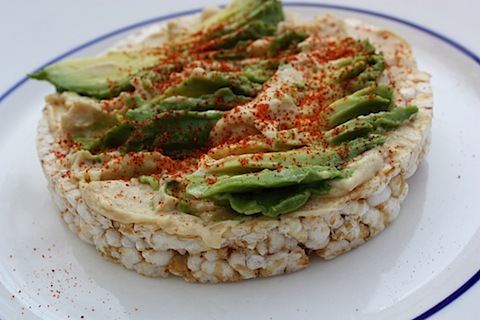 Hummus and Avocado Cakes (2 cakes)
2 brown rice cakes (I used Lundberg)
2 tbsp. garlic hummus (Sabra is my fav)
1/2 of an avocado, sliced
cayenne pepper, to taste
Spread an even amount of hummus over the rice cakes, top each with 3 slices of avocado (about 1/4 of an avocado on each cake) and smash it a little to spread it out, sprinkle on the cayenne pepper ( I like it HOTT) and enjoy!
In other exciting news, the Candy Valley Cake Pops winner is #33, Anna!
Congrats lady. Shoot me an email (eatingbirdfood at gmail dot com) and your dozen Cake Pops will be on their way!
While Anna jumps up and down after finding out she's won, I think I'll do Somersaults.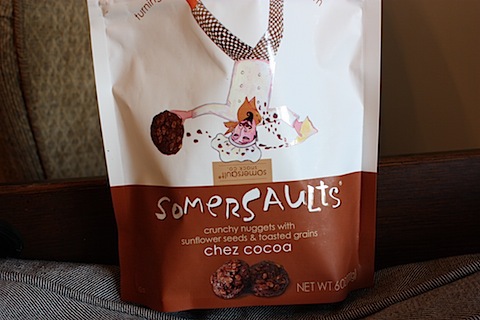 And by do, I mean eat them. Actually, I've been snacking on these a lot today- after both lunch and dinner. They are small baked treats made with toasted whole grains and sunflower seeds. I like the not-too-sweet chocolate flavor of the chez cocoa variety and the crunch factor. With the first ingredient being sunflower seeds, they're different than any other snack item I've ever tried. If I had to describe what the chez cocoa somersaults are most similar to, I'd say mini cookies- only they are better because the ingredient list is short and they provide a good amount of both protein and fiber.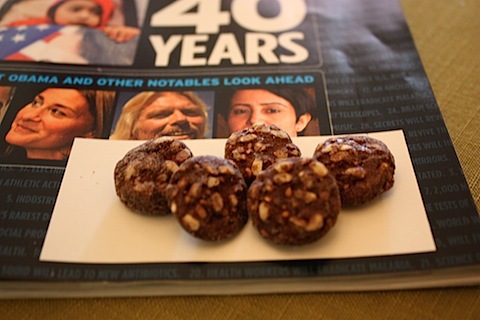 I haven't tried the other flavors yet – s.s. sea salt, salty pepper, and santa fe salsa, but you can bet I'll be digging into those later this week.
The Somersault Snack Co. sent me these to review, but just so you know, I only state my true feelings about the products I review. In addition, I only accept products for review that I would be interested in buying myself if I saw them in the store. Speaking of which, I've seen these snacks at my local Whole Foods and you can always "like" Somersault Snack Co. on facebook for a possible chance to win a summertime snack giveaway.
Alrighty, I'm off to bed folks. It's been a long day – we moved offices at work so I actually did more than sit on tush for 8 hours. It felt great to move a bit while at work, but now I'm sleepy.
Sweet dreams (of hummus and avocado cakes) to you!
-Brittany