How to Get 10K Steps Every Day
10
Published Apr 14, 2015, Updated Jan 12, 2022
Tips from a health coach and personal trainer for how to get in 10K steps every day!
As most of you know one of my big goals lately has been to get in 10K steps (about 5 miles) every day. Plenty of research has been done about why physical activity (getting more steps) is good for you, but I can speak personally speak to the benefits as well. Being more active makes me an overall healthier, happier person. When I'm active I'm not only more productive, but I have more energy, a positive outlook, an increased ability to focus, better digestion and more restful sleep — all things that are huge in terms of living a healthy lifestyle.
Speaking of living a healthy lifestyle, over the next few months I'm teaming up with Kohl's for their #MakeYourMove campaign, which is focused on all the ways that living well can feel good while being easy and fun. They offer a variety of wellness solutions (cute workout gear, sneakers, healthy kitchen appliances, bedding, etc.) and this year they're really focused on helping customers do things every day that energize and motivate them to live a healthier life. Definitely something we can all get excited about, right?
The timing is perfect because I have big goals for myself this year (in all areas of my life) and I'm really focused on living as healthfully as I can, saying yes to the things that I'm passionate about and letting go of things that aren't important or not my concern. More energy, joy and excitement, less worrying and comparing myself to others! I think the spring season helps with this as well. I almost feel as though spring is more of a "new year" than January 1st — the warm weather, flowers blooming, fresh beginnings — it has a way of making us feel renewed, energized and motivated.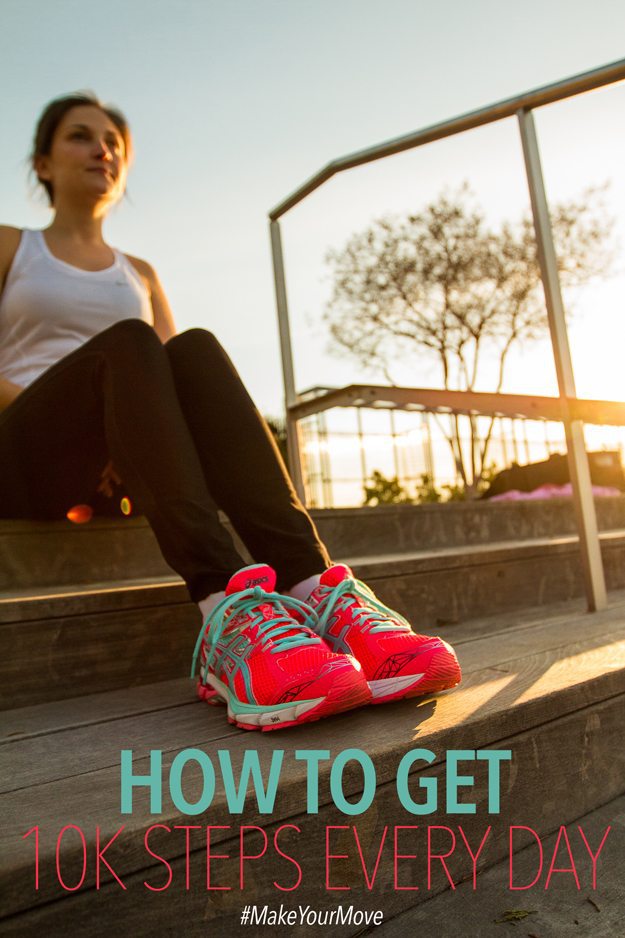 So back to the big topic at hand today — getting more steps!
I'm not saying that 10K is the magic number. Any sort of increase in activity is awesome. I've just found that 10K is a good goal for me. As someone who works a sedentary job, getting in 10K steps is a challenge that takes a little planning and some creativity (i.e. pacing around the coffee table while watching TV and removing toilet paper from the downstairs bathroom so I have to go upstairs to pee). But it's also totally doable, which makes it a good goal!
Everyone is different so maybe your goal is 5K or 8K or maybe it's 12K or 20K. Whatever the case, here are my best tips for increasing the number of steps you take throughout the day. <— Wherever you see "10K" in the tips below, simply replace it with the number of steps your aiming for.
How to Get 10K Steps Every Day
Set the intention and make it a priority — If getting in more physical activity is a goal that fits your needs and you want to aim for 10K steps a day than make the commitment and get started. Write the goal down in a journal, wrap your head around what you have to do each day to meet your goal and set the intention to do it! If 10K steps seems out of reach, start slow by figuring out how many steps you're currently getting and add 1K-2K every week until you reach 10K consistently.
Wear an activity monitor — This has been a game-changer for me! Not only did it give me a wake-up call about how inactive I was, but it gave me a starting point and helped me set a challenging and achievable goal. It's also a visual reminder that motivates me throughout the day. It probably sounds a little ridiculous but the inactivity alerts, progress charts and even the digital fireworks that appear when I reach my goal are really motivating. I currently have an Series 3 Apple Watch and love it, but there are a ton of different activity monitors to choose from.
Plan ahead — Figure out ways to add activity into your day the night before and schedule it in. Plan a morning walk before work, bring your sneakers to the office for a walking meeting, write "after-dinner walk" on the family calendar so everyone knows it's on the agenda.
Break your goal into small increments — Say you'll do 4K steps before noon, 3K at lunch and 3K after dinner. Breaking the 10K goal down into 2-3 smaller goals will make it seem more achievable and less overwhelming.
Drink more water — Not only is drinking loads of water good for you, you'll have to go to the kitchen to fill up your water bottle (I love my Swell) more often AND go to the bathroom more, which will inevitably lead to more steps. Woo-hoo!
Find a buddy — Whether it's a human or a furry friend, walking or running with someone else is always more fun! Schedule walking dates with a friend, convince a colleague to walk during your lunch break or get in the routine of doing after-dinner walks with your family. If you have a dog, create a daily routine and take him or her for a scroll every morning or evening.
Get competitive — Even if you're not the competitive type, sometimes it can be fun to make a game out of getting in your steps. Focus on beating the number of steps you got yesterday, join a challenge group or team up with a friend or family member to create some sort of friendly competition. For instance, you could have a competition with your family and whoever gets the least steps each day has to the dishes after dinner.
Be inefficient — Only use the upstairs bathroom, take multiple trips to the laundry room, bring in groceries one bag at a time, take the stairs, park far away, hide your t.v. remote so that you have to get up to change the channel and/or walk to the store instead of driving.
Keep a clean house — Cleaning the house and doing laundry is a great way to get extra steps. Whenever I have a couple thousand left at the end of the day, I start vacuuming, putting away odds and ends, dusting, etc. and before I know it I've reached my goal.
Wear comfy shoes — I don't know about you, but waling 1 mile, let alone 5 miles in high heels or uncomfy shoes doesn't sound very fun. You're basically asking for a blister! If you can wear sneakers or comfortable shoes throughout the day, DO IT! You'll definitely notice that you take more steps. If you simply can't wear comfy shoes to work, simply pack an extra pair of sneakers (keep them in your car or at your desk) so you can slip them on whenever you want to walk. I have several pairs of sneakers, but these Asics Gel-Quantum 360s are my new favs.
Buy a treadmill — I finally bit the bullet and purchased a treadmill for myself last year and it has been a total game-changer. It's right in our basement so I have no excuse not to get my steps in!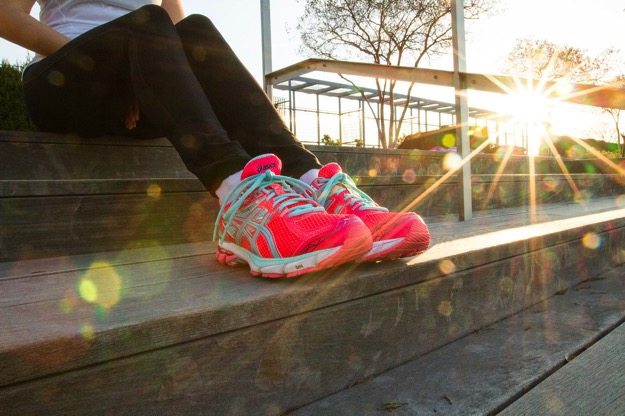 Are you ready to join me in the "10K Steps A Day" challenge? I'd love to have you on board so we can keep each other accountable and motivated! I'll be sharing my progress here and on social media using the #MakeYourMove hashtag so definitely connect with me and follow along. 🙂