How to Eat Healthy at Restaurants
How to eat healthy when eating out at restaurants…. what to order for each meal, healthy dessert options and what alcoholic drinks are best!
Want to eat healthy, but still have a social life?
SAME! 🙋🏻‍♀️
I vividly remember when I was just starting my healthy eating journey. I avoided going out to eat because I didn't think I'd be able to find anything on restaurant menus that would fit into my clean eating lifestyle.
So sad, right?
If I did decide to go out I would order the plainest meal like a salad (but without the cheese, nuts, avocado and dressing) because I thought that was my only option and I feared fat. <– I'm so glad that myth has been busted. The world is healthier for it and food tastes SO MUCH BETTER!
If you're feeling the same way… kind of lost when you go out to restaurants, have no fear! I'm share my tips for healthy eating at restaurants and breaking down what to order (and what to steer clear of) at a variety of restaurants today.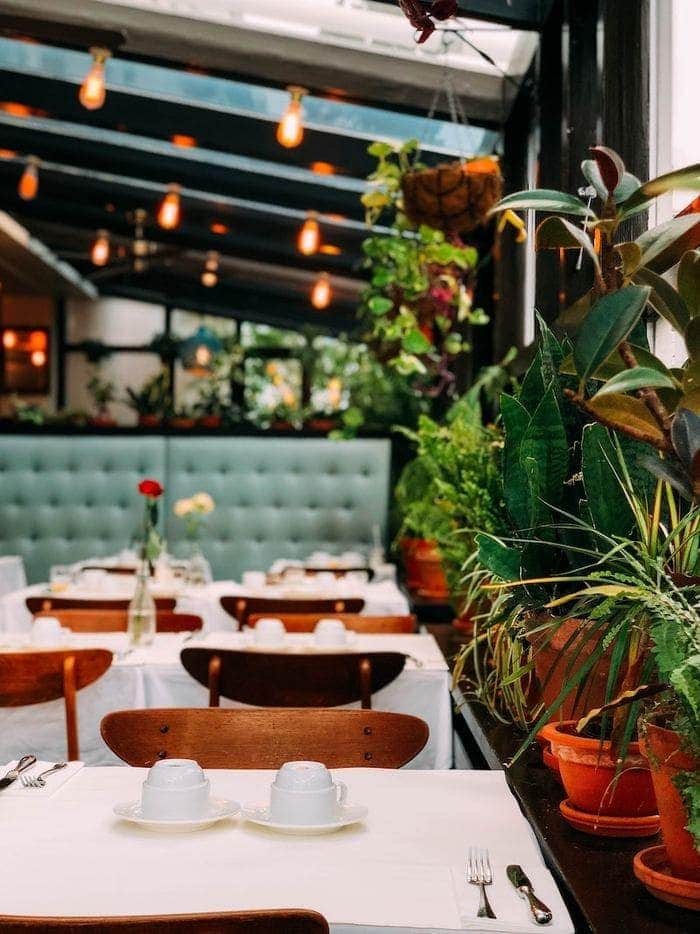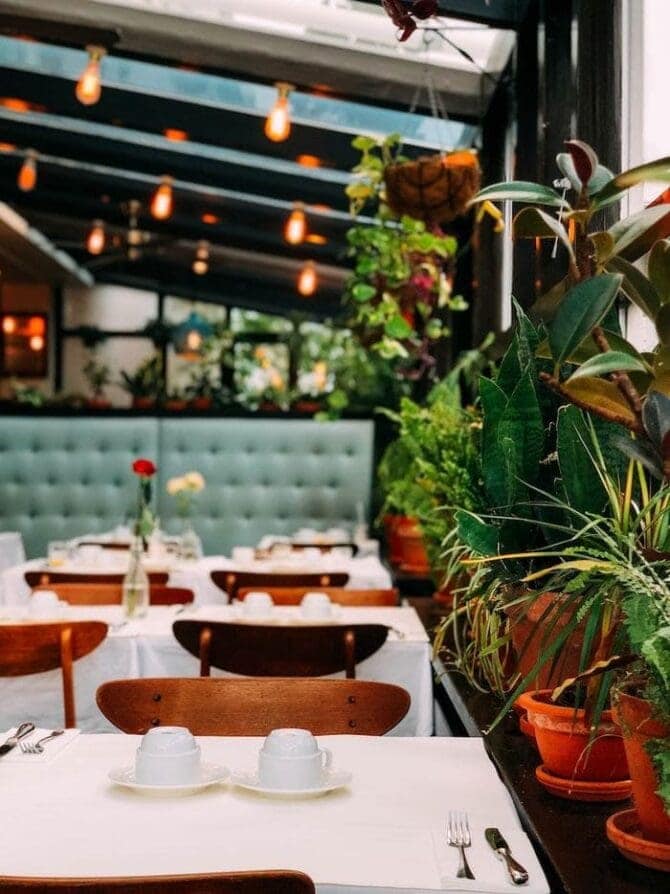 General Tips for How to Eat Healthy at Restaurants
Whether it's me going out or others asking for advice when eating out, I have some general practices I follow. The cliff notes to eating out, if you will!
Limit alcohol. Obviously, I treat myself to a drink (or two) on occasion, but I limit myself to drinking one day a week so I don't get a drink every time I go out. Alcohol adds calories – no matter what type of drink you order – and it lowers your inhibitions so you're more likely to eat more or things you wouldn't normally eat. Overall, just be mindful of what you're drinking!
Skip the chips and bread. Depending on what type of restaurant you go to, the server might provide free bread or chips when you arrive. Pass on these! I find that I mindlessly snack on the bread or chips and then I'm not even hungry for my actual meal. Sometimes the chips or bread are extra delicious and "worth it" so I'll treat myself and indulge, but most of time they're not.
Avoid the words "creamy" or "crunchy" when ordering. Creamy typically means heavy dairy or cream, and crunchy typically means fried. Both=loaded with extra calories.

Healthy Eating at Breakfast Restaurants
Depending on what type of breakfast restaurant you're going to, there will be a wide variety of options. Here are some items to look for on the menu:
Scrambled eggs (or egg whites)
An omelet with veggies + salsa. Skip the cheese if you are sensitive to dairy!
Soft boiled eggs
Breakfast hash – a combination of veggies and eggs
Oatmeal. Dried fruit and nuts are great topping options! Use honey or maple syrup to sweeten if you don't love plain oatmeal.
Plain yogurt with granola and fruit
Fruit bowls are always a great side option!
Black coffee or an Americano (espresso with hot water) – if you want to add a sweetener, opt for honey, maple syrup or stevia.
There are certain foods I recommend limiting. If going out is a rare occasion and you want to treat yourself to one of these items, that's totally okay! Another trick I have is to order a side or small option to split with the table – that way you still get to taste these items, but aren't basing your entire meal off them. If you regularly go out for breakfast, limit the following items:
Processed breakfast meats – they're loaded with a lot of unnecessary ingredients like preservatives and sodium!
Breads and fried potatoes
Heavy, creamy sauces
Pancakes, french toast, muffins, pastries… all the sweet stuff! It will spike your blood sugar and unless it's made with whole grains or flourless, it will likely have you hungry (and craving more sugar) in an hour.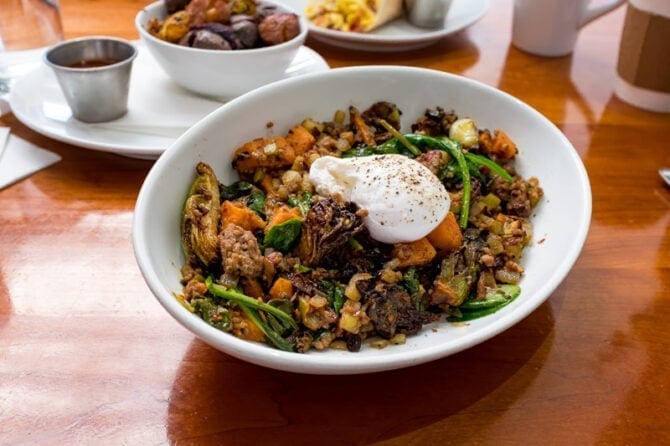 What to Order for a Main Dish
There are creative ways to build a super healthy main dish when you go out to eat! Try to balance out your plate so 1/2 of your plate is veggies and then 1/6 of your plate is a lean protein, 1/6 is a healthy carb and 1/6 is a healthy fat option.  If you're trying to lose weight, stick to 1/2 a plate of veggies, 1/4 a plate of lean protein and 1/4 a plate of healthy fat. Skip the extra sauces and keep your meals as fresh as possible!
Protein – Choose grilled, steamed, broiled or baked salmon, chicken, fish, or other type of meat
Veggies – The sky is the limit here! Load up on salad, root veggies, green veggies… whatever your heart desires
Healthy carbs – besides veggies, I love:

Sweet potato or butternut squash
Rice, buckwheat, millet, farro, quinoa, amaranth or brown rice noodles

Healthy fats – nuts, avocado, fatty fish, and olive oil are all great healthy fats to add to your plate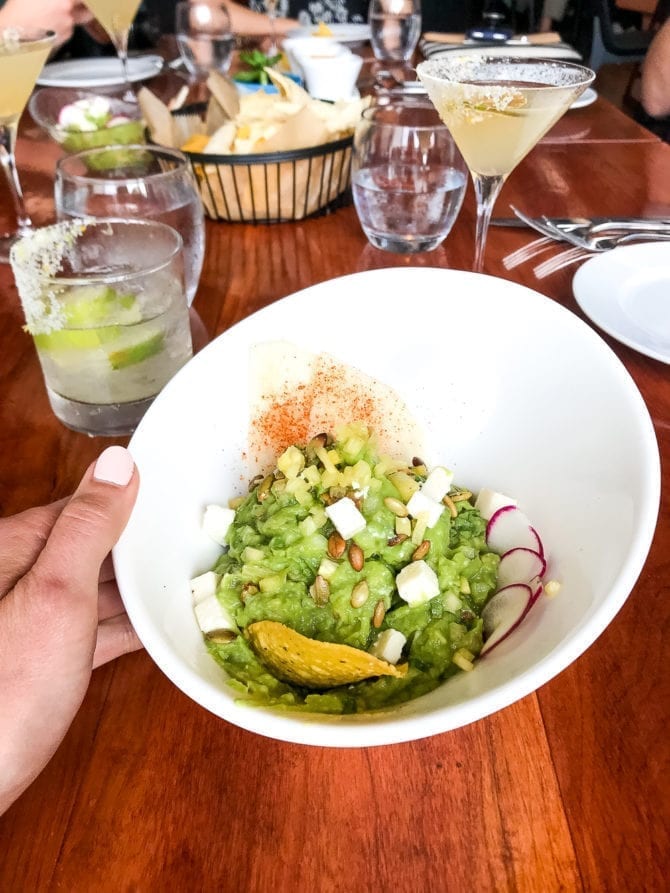 What to Order for an Appetizer
Just say no to the bread basket! Whenever we eat out, I always try not to arrive at the restaurant starving. It's much more tempting to go for the bread or unhealthy appetizers when I would gladly eat anything in sight. Instead of ordering fried appetizers, opt for a salad, ceviche, a dip with veggies or another lighter/healthier choice!
What to Order for Dessert
If you're dying for dessert, opt for a fruit-based option like sorbet or apple crisp. Similarly to sweet breakfast options, when I'm craving a dessert I order one for the table and take 2-3 bites instead of eating the whole thing!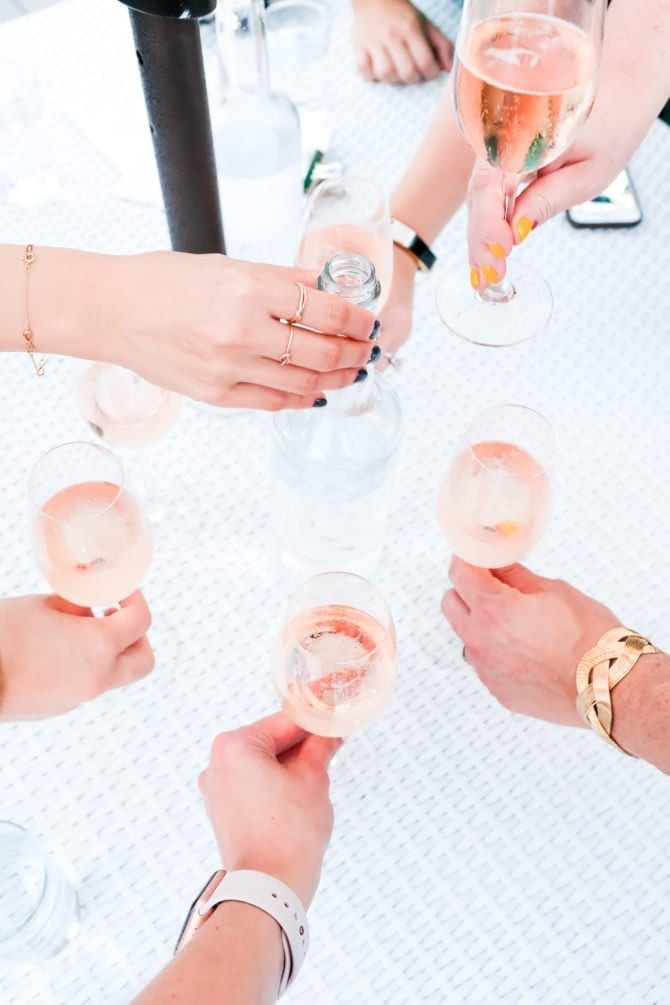 Let's Chat Alcohol
Alcohol can be a slippery slope for some people. It lowers inhibitions and may cause you to eat more or choose foods that may not serve your body. Remember, the liver has to work overtime to metabolize alcohol. If the liver is too busy metabolizing alcohol, it won't be able to burn fat! Having said that, I understand that sometimes you want a drink to accompany your dinner or to celebrate a special occasion – that's totally normal!
"Healthiest" Alcoholic Drinks
Your #1 option is red wine. Red wine is one of your healthier options due to its antioxidants (polyphenols, flavonoids, and resveratrol).
If you prefer liquor my go-to to vodka with soda water with lime or grapefruit juice. I love palomas so I'll often ask for a no-sugar added paloma. If you LOVE drinks like moscow mules, mojitos or margaritas, you can always order them without the simple syrup to cut back on the sugar and calories.
And my biggest tip — don't forget about that water! Drink a glass of water between every alcoholic drink to sty hydrated. Trust me, you'll feel so much better the next day.
I know eating out can be stressful for people following strict diets or trying to eat healthier but I hope this guide helps give you a starting point! My number one tip is to do your best and don't stress too much. It's all about balance and if you're only eating out every once in a while it shouldn't affect your health and fitness goals.