One of my DIY projects for the wedding was supposed to be our wedding programs. Notice how I said supposed to be… we'll see what ends up happening.
Basically we wanted to save a little money by finding (from Etsy or somewhere else online) a wedding program template so we could just print out the programs ourselves. Super easy and a genius ideas, right? Wellllll, it's proving to be a little bit harder than I had anticipated. Read on to see why.
Here's my initial inspiration for our programs (found on Pinterest, of course).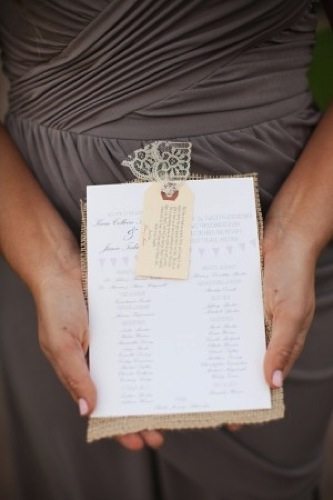 Source <– P.S. I am in LOVE with everything about this wedding (including the programs).
Aren't they adorable? I honestly wanted (still want) to make something that looks very similar to these so I searched high and low for this exact program template (just the paper piece of it as I realize I would need to add the burlap and tags myself), but I can't find it anywhere and the original blog post doesn't mention where they're from. If you happen to be reading and know where I can get something similar to this, definitely let me know. These are still at the top of my list. 😉
Since I can't seem to find them anywhere, I've been looking on Pinterest, Etsy and other sites for printable wedding program templates. Our wedding theme is rustic chic, so I want something pretty simple — one pager with a little bunting banner or even a few coral flowers. Here's what I've found so far: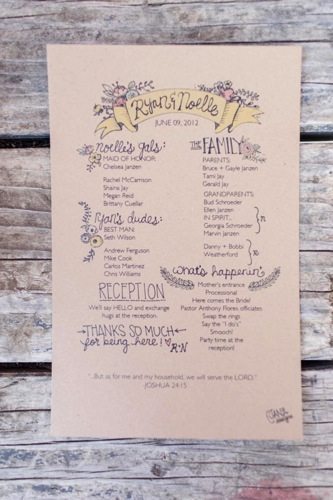 Source <– If you want to see an adorable wedding, click on this link. 🙂
This one is definitely my second favorite but in the post it says that the programs are hand-drawn so I don't think I'll be able to find a template for it. And sadly, I don't have the artistic ability to draw it myself.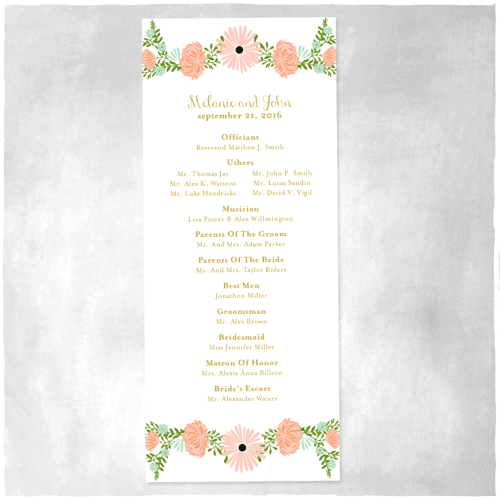 These ones are really cute and go with our wedding colors (coral and aqua) but it's not a printable template. I'd just have to order them from Smitten on Paper.
I found this one on Etsy and I really like it but it's $45.00 just for the template. If I can find a printer that will print white ink, it might make since for me to just bite the bullet and buy it?!?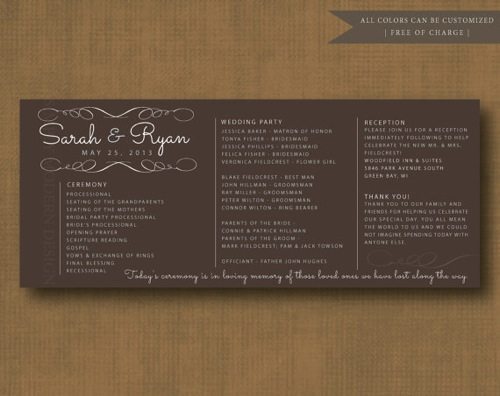 I like how simple this one is but I'd love for it to have a little bunting banner at the top instead of the border that it has.
Needless to say, I am still on my search. Who knew finding the perfect wedding programs was going to take so much time? I honestly thought it was going to be so easy. Although, maybe I'm being too picky and I just need to settle on something.
What do you all think?
 If you're married, was there any part of wedding planning that you thought was going to be super easy that turned out to be more difficult?
Did you make your own programs? If you're a designer type, is there any easy way I can make my own template? Any suggestions for me.