I woke up this morning with nothing really planned, which was nice considering we have some busy weekends ahead. We're going to a wedding in Boston next weekend and then I'm going to FitBloggin' the following weekend! I'm super pumped about both.
After hanging out at the house for a while, making breakfast (a protein pancake topped with PB2 mixed with cottage cheese), I got ready and headed to a hot yoga class at Hot House Yoga. I've been going to classes there regularly for a few weeks now and I love it!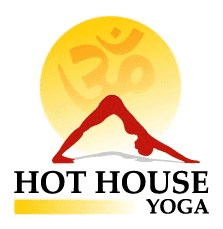 I know some people are going to think I'm crazy, but I don't really like Bikram yoga. I've done it multiple times, with different instructors but it just seems too rigid for me – I actually call it drill sergeant yoga. With that said,  I love the hot yoga classes at Hot House. Both of the classes they offer have more of the "yoga" vibe I'm used to, if that makes sense. One is sort of similar to Bikram – you do a distinct and therapeutic sequence of postures as well as breathing exercises, however they don't use the 26 pose Bikram sequence and overall the class is less boot camp, more soothing. They also offer a hot vinyasa class. This one is my favorite – it's just like a normal vinyasa class with continuous movement that allows you to flow from each posture. It's also taught with a therapeutic sequence to the postures, however the continuous movement makes the style more aerobic and challenging. I always come out of the classes at Hot House feeling like a million bucks. They're definitely challenging but also amazingly relaxing. Oh and Hot House Yoga is pretty awesome because they provide you with a towel for your yoga mat, a towel to wipe away sweat and hot showers with shampoo, conditioner and body wash + towels for this as well. The whole place is always super clean and I love the fact that the studio has cork floors. Overall, I've been very impressed with the studio, staff and teachers.
After yoga I swung by DSW to look for a new pair of shoes to go with my dress for next weekend's wedding. I found a cute pair and then headed to get some much needed lunch.
The Whole Foods salad bar is always a good choice. I did my normal routine = filled the bottom of the container with greens and topped it with a bunch of different veggies/salads including a curried tofu salad, wheat berries, peas, broccoli, hearts of palm, zucchini and tomatoes. And a Gingerberry Kombucha on the side. It was delicious and kept me full until snack time at Pearl's Cupcake Shoppe.
We're in the process of picking who will be making our wedding cake and today we had a tasting at Pearl's, a well-known bakery in Richmond. The moment we walked in I started kicking myself for not bringing my camera. The shop was adorable and the cupcakes were definitely picture worthy. Unfortunately I was a bad blogger so this instagram photo will have to do.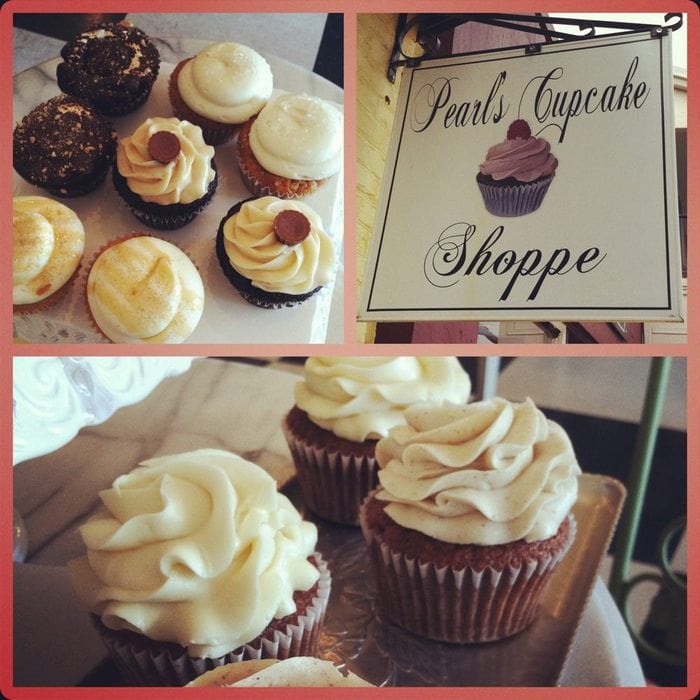 Best part about wedding planning = cake tastings. 😉
Pearl's was amazing and let us try five different flavors of our choice. There are so many unique flavors to choose from, it was a real challenge to narrow it down, but we picked:
Carrot Cake – Carrot cake with cream cheese frosting
Campfire – Graham cracker bottom with chocolate-chocolate chip cake, topped with a layer of marshmallow whip and a final topping of chocolate ganâche
Deep Dish Apple – Snicker doodle batter, apple filling and cream cheese frosting
Oatmeal Crisp – Grandma's old fashioned oatmeal cake. One version had a honey buttercream and the other had a cinnamon sugar buttercream.
Chocolate Peanut Butter – Chocolate cake with peanut butter buttercream
I'm not at all exaggerating when I say that each one was incredible – super moist, flavorful, sweet and delicious. I'm not even a big cupcake person (I've always loved ice cream more than cake) but I think Pearl's may have converted me.
Although we liked all of the flavors we tasted, the one we liked the best was the Deep Dish Apple. I've always loved apple pie and this cupcake was to-die-for! If we do go with Pearl's for our cake, I think we'll pick a couple different flavors. I'm kind of leaning towards the idea of doing "pie/cobbler" flavors for the cake with the Deep Dish Apple and a Blackberry or Peach Cobbler flavor. I think that would a fun theme for a summer wedding.
So after the cupcake eating I probably should have gone for a run or something. Luckily Sadly, it was storming out so I couldn't. I actually came home and worked on addressing these little guys…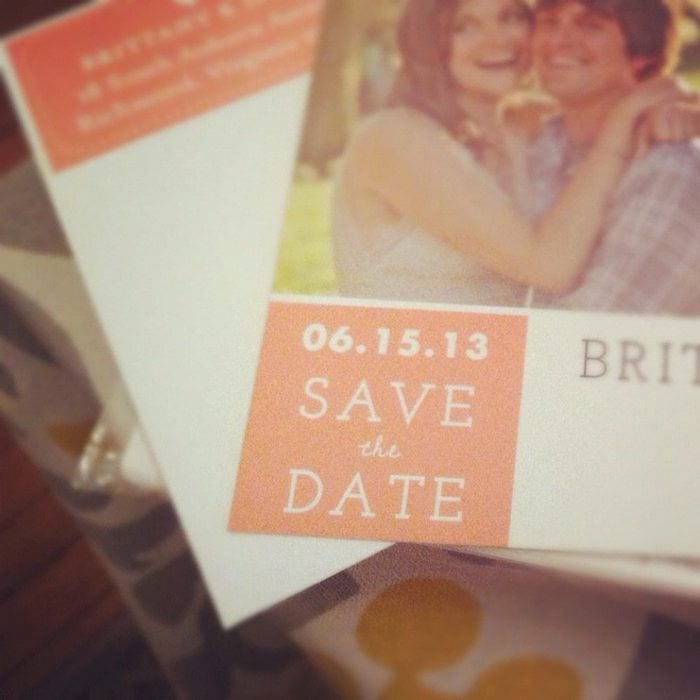 Ahhhh… save the dates are going out soon – this means it's official!!!!
Alright, time for me to go clean up my mess of a kitchen and do some laundry. Have a lovely weekend friends.