Homemade Enamelware Mug Candles
13
Published Dec 12, 2016, Updated Jul 02, 2019
How to make homemade enamelware mug candles aka the most adorable candles ever! These mini candle mugs make the perfect handmade gift for the holidays.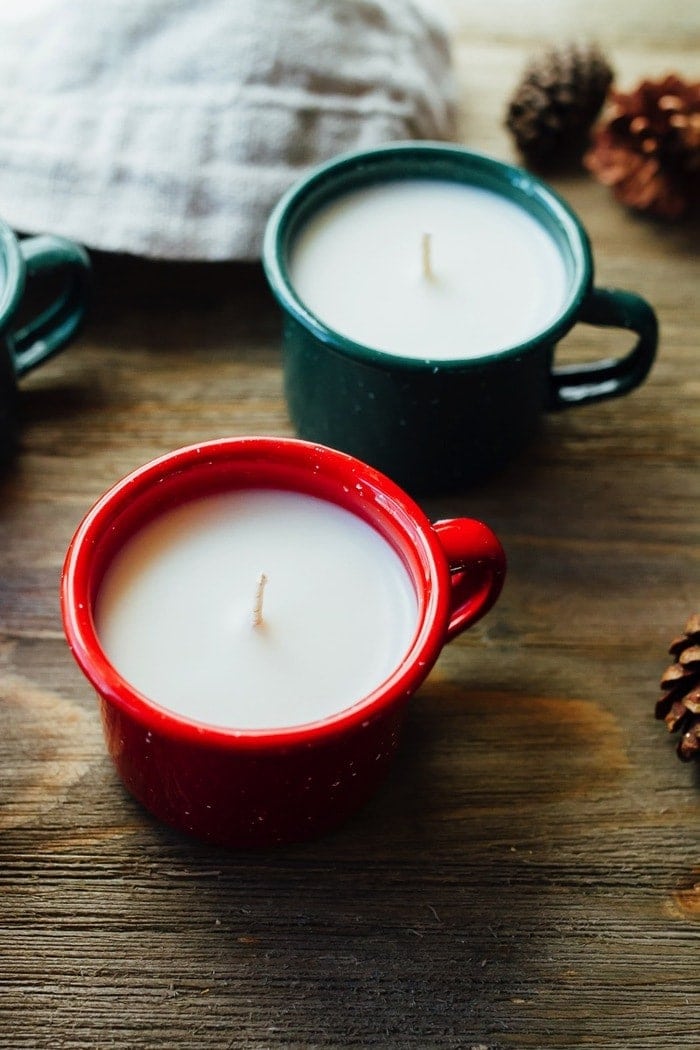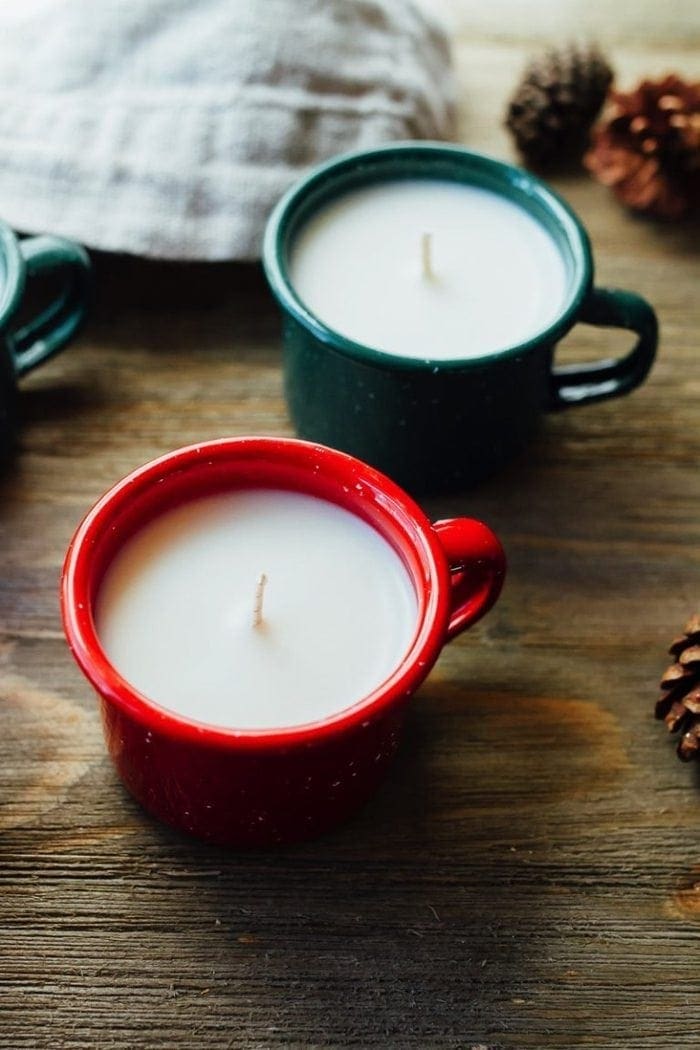 This year I've become hooked on enamelware. Maybe it's this awesome mint enamel salad bowl I bought over the summer or the fact that enamelware reminds me of camping, but I think it's so cute! I bought a few enamelware coffee cups to use around the house and then thought it would be fun to turn them into candles. While searching for additional enamelware mugs I stumbled upon these mini 4 oz mugs (in red and green) that I simply couldn't pass up. I love all things mini and mini mug candles are literally the cutest candles ever so they basically had to happen.
Maria is super crafty and has made candles many times so she showed me the ropes. We did a test batch (with lavender scented candles), liked the results and decided to create a little tutorial so you can make your own mini enamelware mug candles. We used Doterra's Holiday Joy essential oil which has orange, nutmeg, pine, cinnamon bark and vanilla. It smells heavenly and is definitely gives the candles a holiday smell, but feel free to play around with different oils and scents and make whatever type of candles you enjoy. Have fun with it! These candles make for a perfect holiday gift and are super cute as decoration as well.
Ready to get started? Here's what you need to make Homemade Enamelware Mug Candles: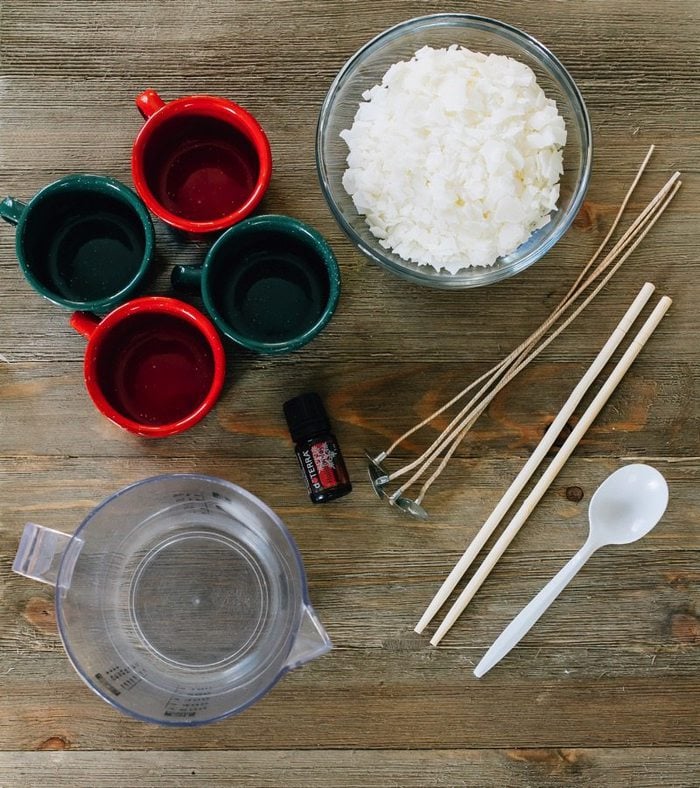 Soy wax candle flakes (I bought this 10 lb, bag on Amazon because it's cheaper than buying smaller quantities at the craft store)
Coconut oil (if needed)
Candle wick clamps (or hot glue gun)
Essential oils or ground spices
Plastic spoon for stirring (grab one next time you're at convenience store)
Chopsticks or pencils
Tape (optional)
Small pot
Glass measuring cup (I suggest finding one at a thrift store as to not get wax stuck on your cooking measuring cup)
Grab your supplies and get started:
First, you'll need your wicks, clamps (or hot glue gun for alternative securing method) and candle container(s).
If your wicks comes with a metal bottom, great! If not, you can find clamps at the craft store — or for a really easy solution, you can hot glue the wick to the bottom. Add a dab of glue to the center on the bottom of your container, and stick the wick into the glue, right side up.
Lay a chopstick or pencil across the top of your candle container and wrap the wick around it. This will keep the wick straight while the hot wax solidifies. If the wick is slipping, feel free to secure it to the chopstick a bit more with tape or pour a little hot wax into the bottom of the candle and let it harden so the wick stays in place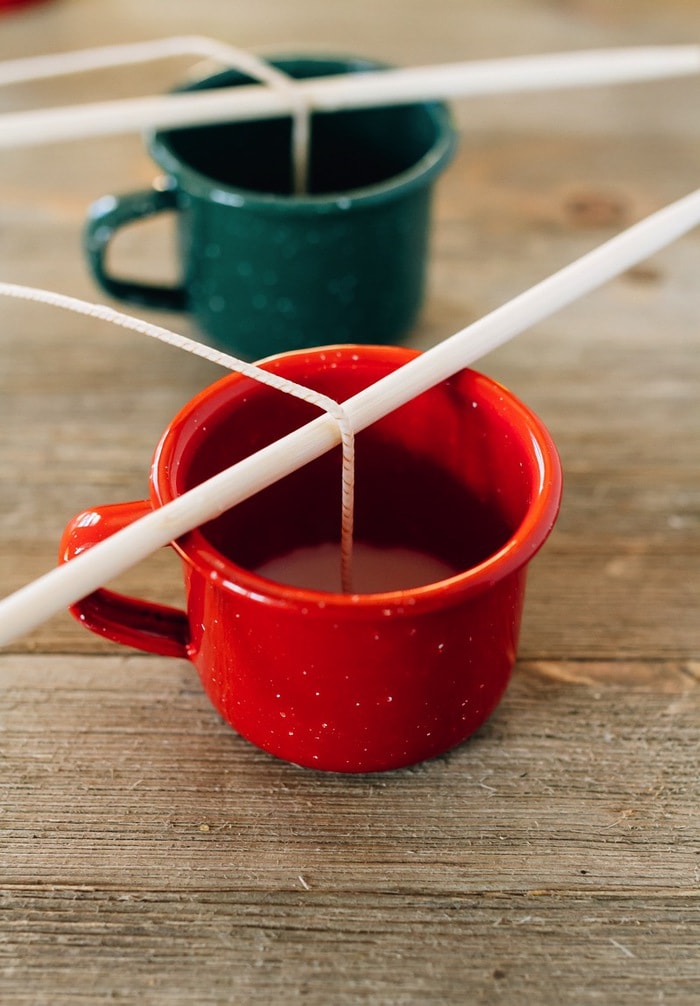 Measure your wax flakes in ounces according to how many ounces your candle containers are.  I used a small kitchen scale for this. (The mini mugs hold 4 ounces.) Next add the flakes into your glass measuring cup. Soy wax flakes on their own can make for a hard candle, so adding a spoonful of coconut oil can help the candle burn more smoothly, and it won't affect the scent of your candle. 🙂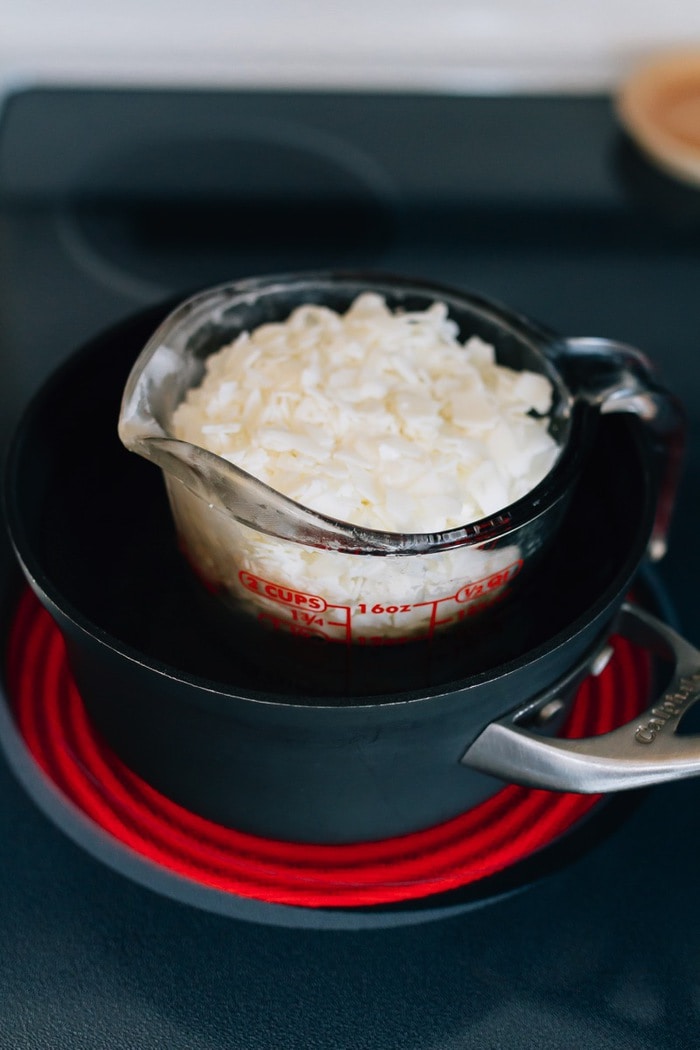 Time to make your double boiler! Fill a small pot with about 2-3 inches of water. Place your glass measuring cup with into the pot so that the water is raised up a bit around the glass.  Bring the water to a boil and keep boiling until your flakes melt down.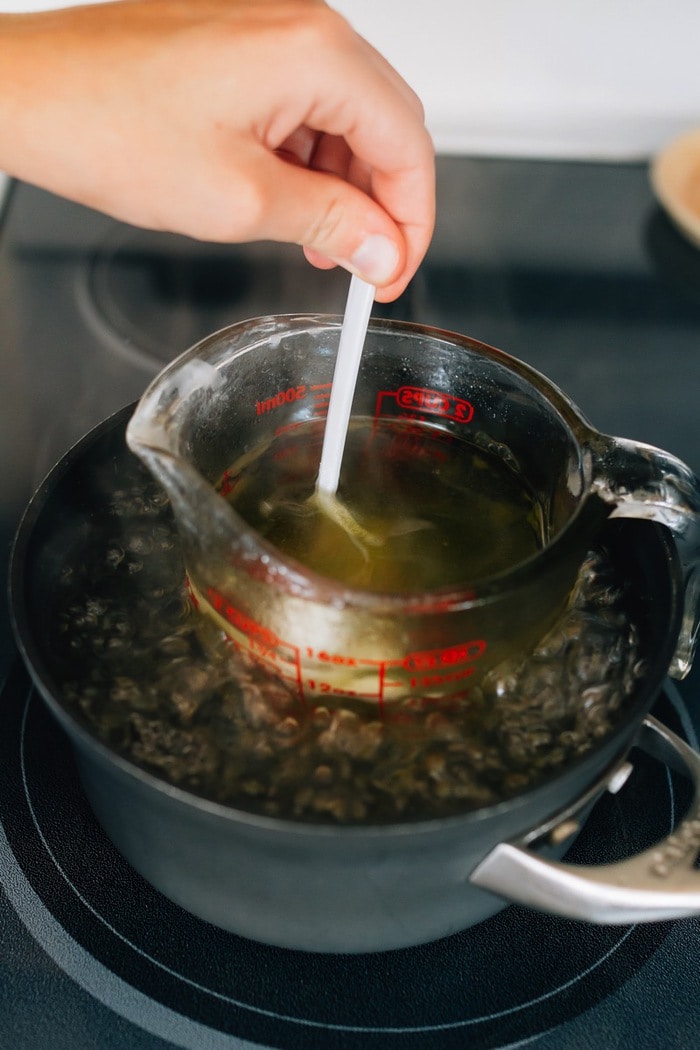 Stir with plastic spoon when needed.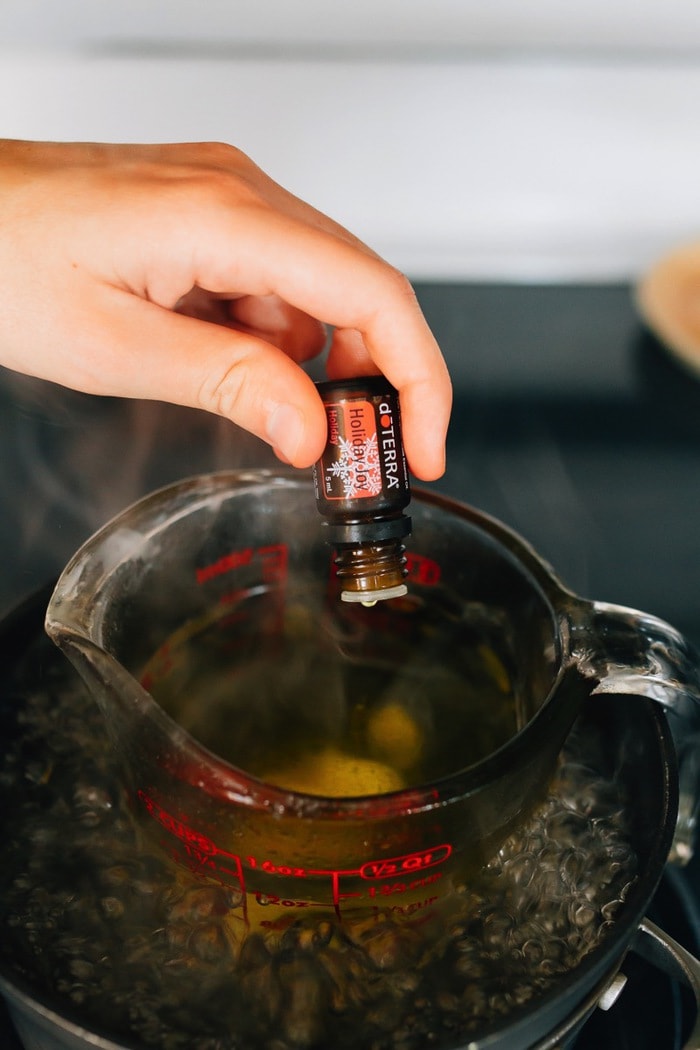 Once the wax has been melted down, stir in 20-30 drops of essential oils.  I used Doterra's Holiday Joy, but this is totally up for creative interpretation! Feel free to mix and match, add more or less. Another alternative is to add ground spices to the wax while melting for a warm candle scent (cinnamon, cloves, nutmeg).
Using an oven mitt, pour the wax into your containers.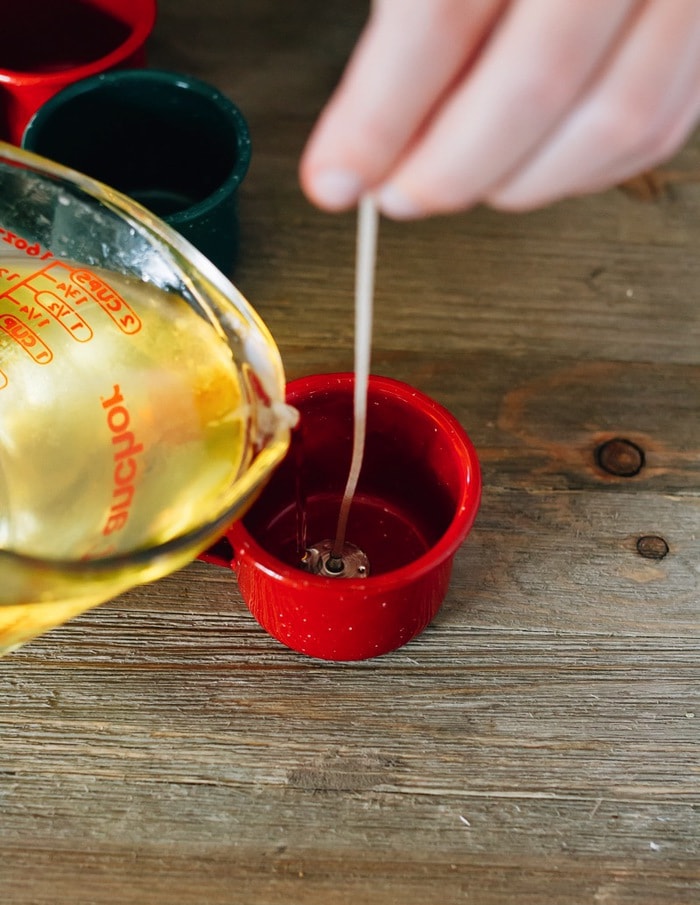 Let the wax cool and harden. Trim the wick to about half an inch.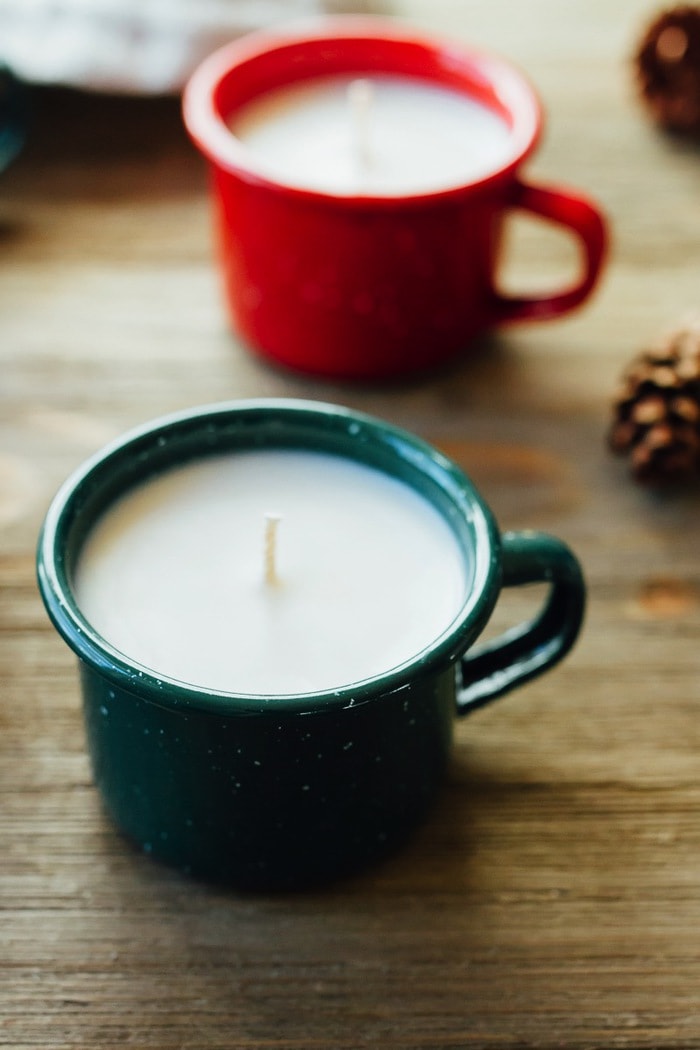 Light up your new cozy candle and enjoy or package up to give as a gift.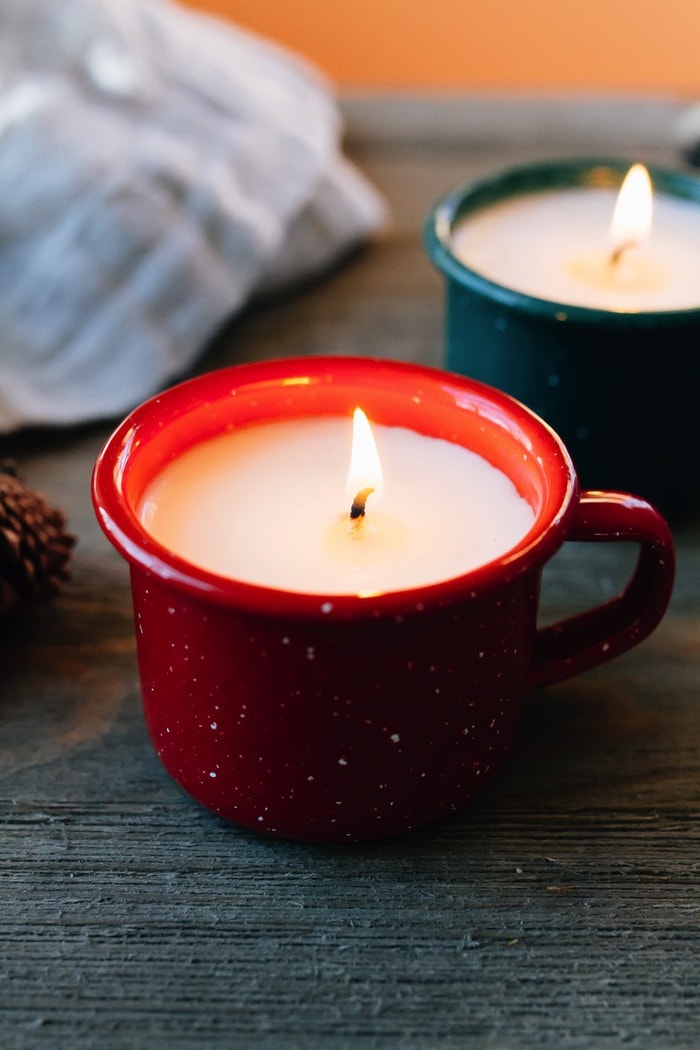 Get the supplies needed for this project: