Homemade All-Natural Face Cream
127
Published Nov 09, 2011, Updated Jun 07, 2019
I realize my series on natural products has been slacking a bit, but today I'm sharing something to make up for it – an awesome recipe for a homemade facial moisturizer that I absolutely adore. Seriously, this stuff is amazing!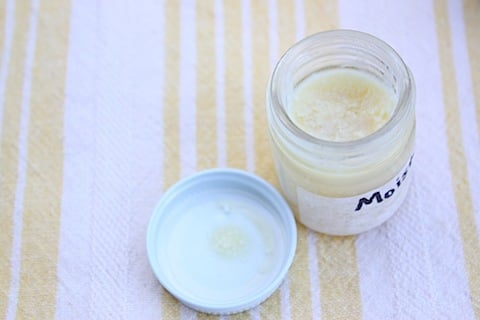 I have dry, sensitive skin so I have to be careful what products I use, particularly on my face. With this homemade cream, I've finally found something perfect for my skin type. I use it all year long but it's especially nice in the winter months since my skin tends to be more dry than normal. Although I think it would be great as a daily moisturizer, it doesn't have SPF so I stick with a sun protecting cream during the day. Currently I'm using A Perfect World SPF 25 from Origins and I'm liking it.
Since I made the switch from my previous night-time moisturizer (CeraVe) to this homemade blend, I've noticed a big difference in how smooth and soft my skin is when I wake up in the morning. It's glorious! I've also noticed that the moisturizer isn't just lovely for the face – it can be used all over the body. I put it on my hands, knees, feet, elbows and anywhere else I'm feeling dry.
The best part is that the blend is made up of only three natural ingredients, which happen to be packed full of antioxidants -perfect for protecting against free radicals and keeping your skin silky smooth! I'll also note that a little bit goes a long way. One batch tends to last me a couple months.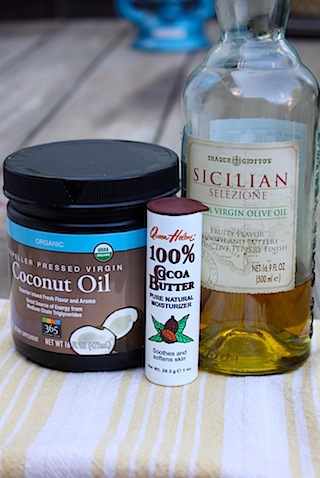 Another plus –  it smells delicious from the coconut oil and cocoa butter.
Homemade All-Natural Face Cream
Ingredients
1 tablespoon coconut oil
2½ tablespoons cocoa butter
½ tablespoon extra-virgin olive oil
Preparation
Melt coconut oil first by sticking your container/jar in a bowl of hot water.
Combine all ingredients in a small pan or double boiler and heat just until the cocoa butter melts.
Remove from heat.
Allow mixture to cool slightly, place in a small sealed container/jar and shake vigorously, let it sit for a few minutes and shake again.
Depending on the temperature, the mixture may solidify similar to how coconut oil/cocoa butter do on their own. In the winter the cream will usually be solid. You just have to use your finger to get a little bit out of the jar, rub it around in your palms or between your fingers to warm it up a bit and then apply.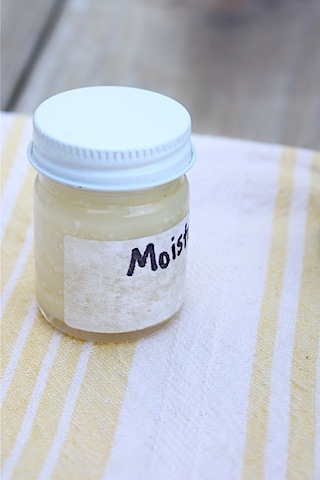 Make a batch for yourself and apply it each night after washing your face. Or make a batch for a friend – a small jar of this makes a great homemade holiday gift.
PS – I'm currently on my way to Florida for work. I can't wait for the 80° weather!!! 🙂