Austin was amazing, but it feels so good to be home!
I missed this little lady way too much.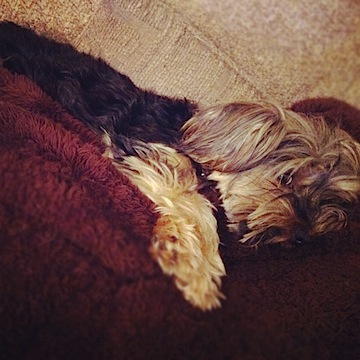 And after eating every meal out for a week, I was more than ready for a home cooked meal.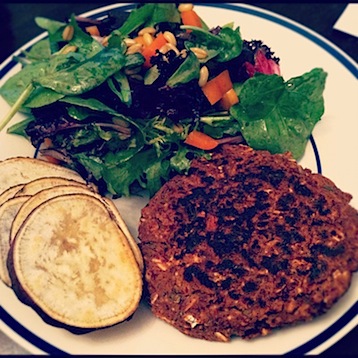 Last night we had Mediterranean Bean Burgers (recipe from Let Them Eat Vegan), baked white sweet potato rounds, and side salad with homemade balsamic dressing. This meal was simple and delicious, just the way I like it.
Keeping up with my goals for the April Challenge was extremely difficult while in Austin. I managed to get in quite a few good workouts but I had my fair share of creative cocktails and decadent meals.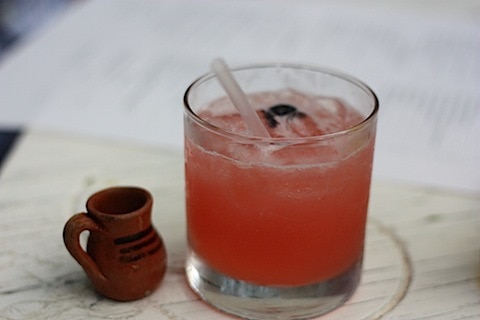 I was on vacation and it was totally worth it.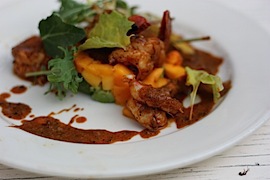 But, now it's time to get back to the challenge! The timing is actually perfect because the Tone It Up Bikini Series also starts today. I've been using the TIU nutrition plan for a while and I'm super excited about the new Beach Babe edition they just launched last week. I can't wait to try out some of the new recipes.
I went to the grocery store yesterday to stock up and got lots of my favorite healthy eating foods: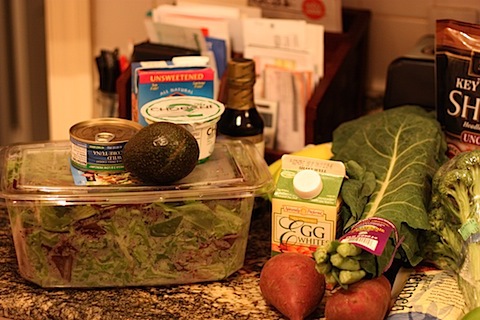 Green veggies galore (spring mix, collards, broccoli, asparagus), egg whites, three grain tempeh, bananas, an avocado, almond milk, greek yogurt, canned salmon.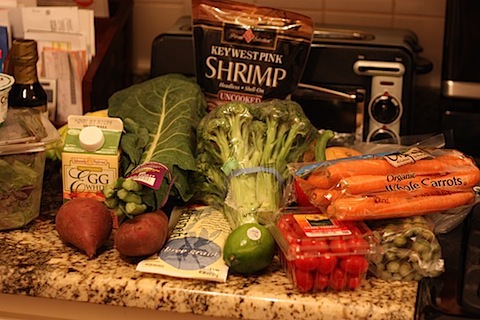 Sweet potatoes, shrimp, tomatoes, a lime, carrots, grapefruit and tamari.
I already have some staples on hand like quinoa, canned beans, frozen edamame, frozen fruit, protein powder, raw cashews and almonds, Luna Bars, etc. so I should be good to go for the week.
Happy Monday!
If you're following along with the April Challenge, how's it going for you? Any successes or challenges? Feel free to share them in the comment section. 🙂