Dear Whole Foods Market – Short Pump,
I love you dearly but I have to admit I am going to be a bit sad when I return from Austin, TX. The flagship store on Lamar & 6th is glorious! The store is over 80,000 square feet and has a bulk bin section larger than most produce sections, a plethora of mini-restaurants, a smoothie and juice bar, culinary center, and a salad/hot bar that puts every Whole Foods salad bar I've ever seen to shame.
I've already been to the store three times and we've only been in Austin four nights. To be fair, it's walking distance from our hotel and one of the visits was for a community boot camp class with Dane's Body Shop. <– Which, btw was awesome!
The thing that totally takes the cake at this particular Whole Foods…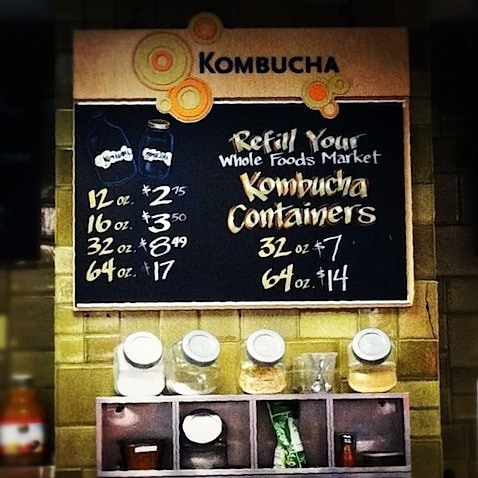 They have Buddha's Brew Kombucha on tap! I was so pumped when I saw this sign that I immediately bought a 16 oz. pineapple kombucha. Sooo tasty! If we were driving home instead of flying I would most definitely be buying a growler of kombucha to take home. Alas, that's not an option. :/ (For those of you thinking what the heck is this stuff – here's my kombucha love story.)
So, if the Whole Foods gods and goddesses are reading this right now, I have one tiny request. Please add a smoothie and juice bar (that has kombucha on tap) to the Short Pump location. Please and thank you. 🙂
xoxo
Brittany