Morning friends! I hope you had a merry little Christmas (or a lovely Thursday) yesterday. Isaac and I have been celebrating with our families over the past few days. We both have family traditions that we've combined since being together as a couple, but we've created a few of our own holiday traditions as well.
Here's a little recap (which consists mostly of food photos, of course).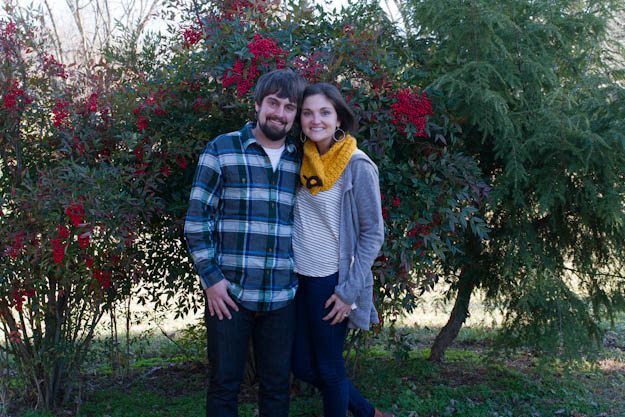 Hanukkah Celebrations
We go over to Isaac's parents' house at least one night of Hanukkah for candle lighting, latkes, dreidel playing and exchanging gifts. This year we went over on the last night, which was Wednesday.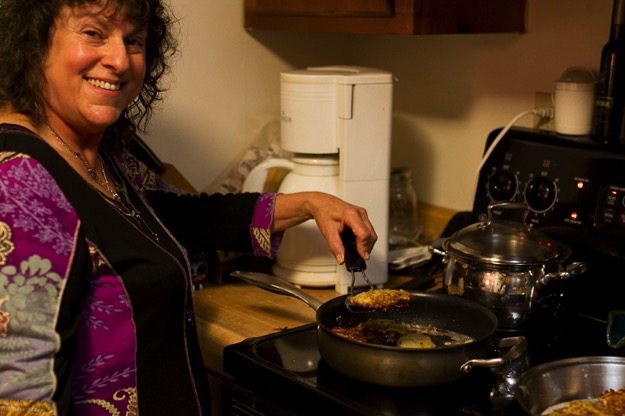 Isaac's mom is the best latke maker I know. 🙂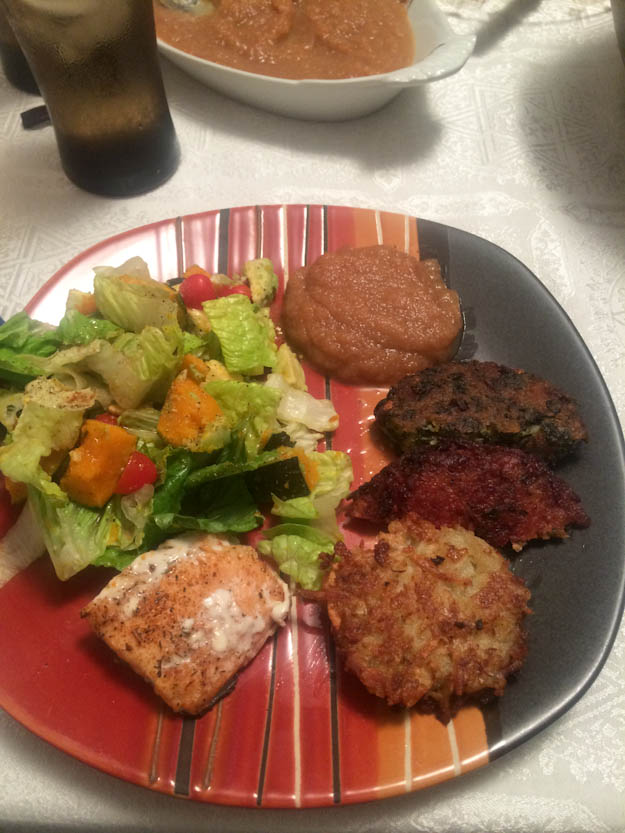 I like my latkes with apple sauce… and my salad with kabocha squash. 🙂
We hung out at Isaac's parents's house chatting, laughing and playing wii bowling until late in the evening. As you can tell, it was waaaay past Olive's bedtime. She never sleeps in your nap unless she's absolutely exhausted.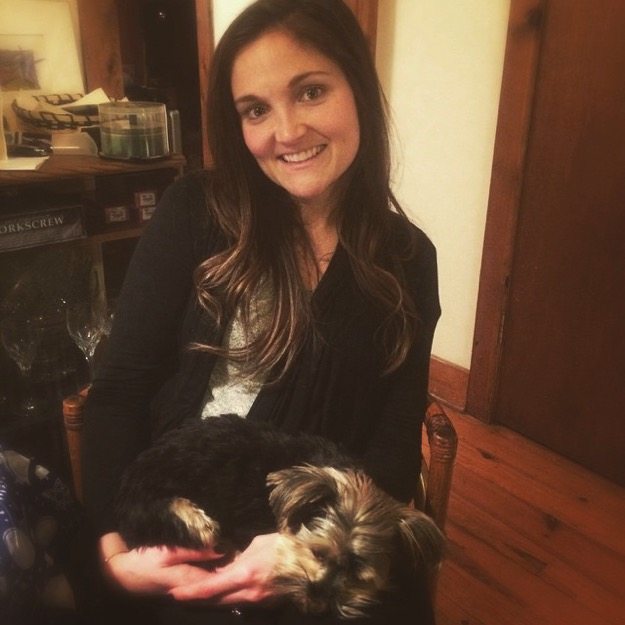 Christmas Eve
The next day was Christmas Eve. Since I knew I was taking Christmas Day as a rest day from working out I decided to double the fun and take a Pure Barre class and then a cycle class at Tidal Wheel.
I had fun jingle bell tucking with these ladies.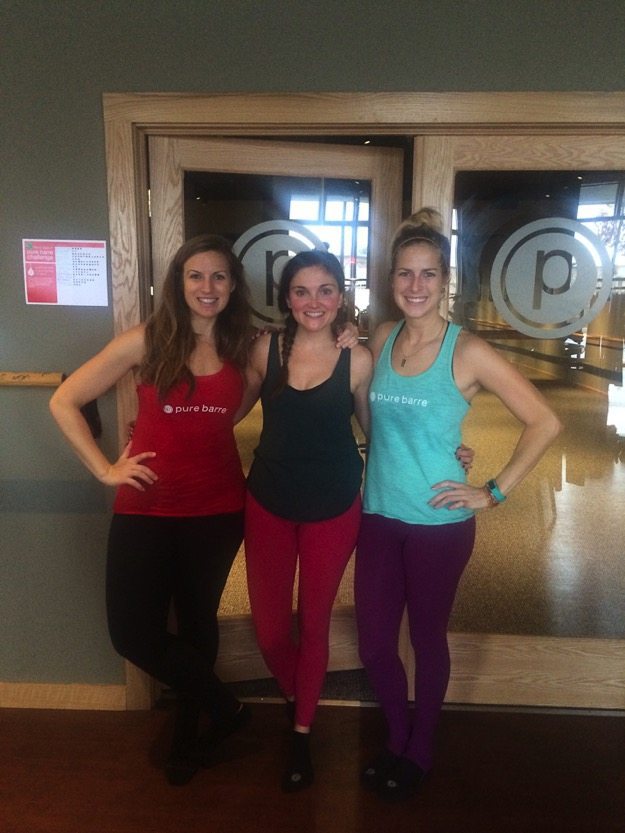 Going for Indian food for dinner on Christmas Eve is a tradition Isaac and I have been doing for about four years now. I have to say, it's quite the delicious holiday tradition. This year we went to Lehja, one of my favorite restaurants in Richmond, and it was delish, as usual.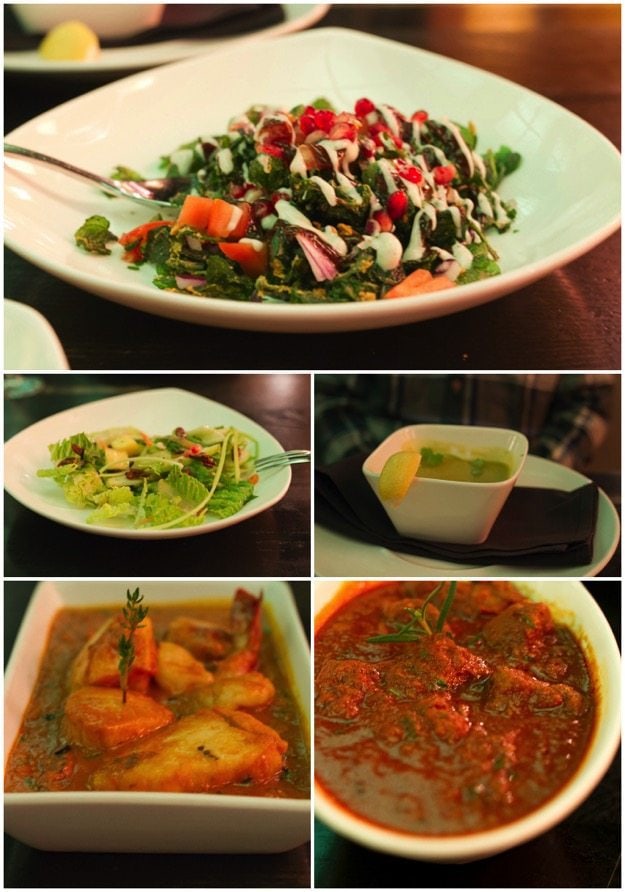 I got things started with a salad. Isaac had the soup of the day and we shared the chaat du jour. <— I can't even begin to tell you what was in the chaat, but I do know that the base was crispy spinach (almost like spinach chips) and there were tomatoes, pomegranate arils, chopped red onion and a creamy sauce. It was amazing! And for entrees, seafood kerala curry for me and goan lamb vin d' alho for Isaac. Everything was fresh, flavorful and filling. I left feeling like Santa —except instead of a belly full of jelly, my belly was full of Indian food.
That evening we came home and each picked one gift from under the tree to open. This is something my mom always let me do and I like continuing the tradition. Olive got a monkey elf from Alyssa. She started playing with it right away and within 10 minutes she had the squeaker out and stuffing everywhere. After cleaning up the mess, I put the toy up on the coffee table to keep her from demolishing it and we went upstairs for a minute.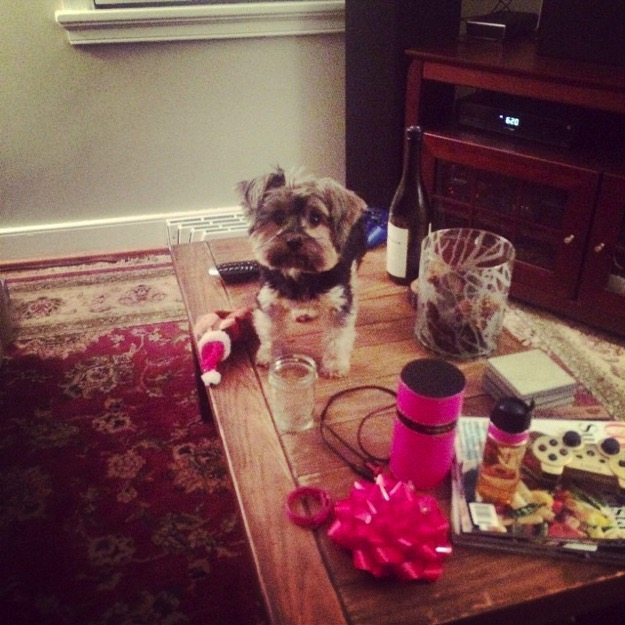 We came back down and look who had jumped over to the coffee table to get her toy?!?! Naughty girl. That guilty look on her face proves that she knows better. It's really not that far for her to jump from the couch to the coffee table but she's never done it before. We were cracking up. Apparently she really likes her new toy.
That night we watched a little Home Alone and then the The Interview (you can rent/buy it on YouTube now). I ended up falling asleep on the couch, which tends to happen when I try to watch movies at night. 🙂
Christmas Morning
Christmas morning I woke up early to get started making a batch of pumpkin bread for brunch at my Dad's house. While it was baking I had a quick snack to hold me over.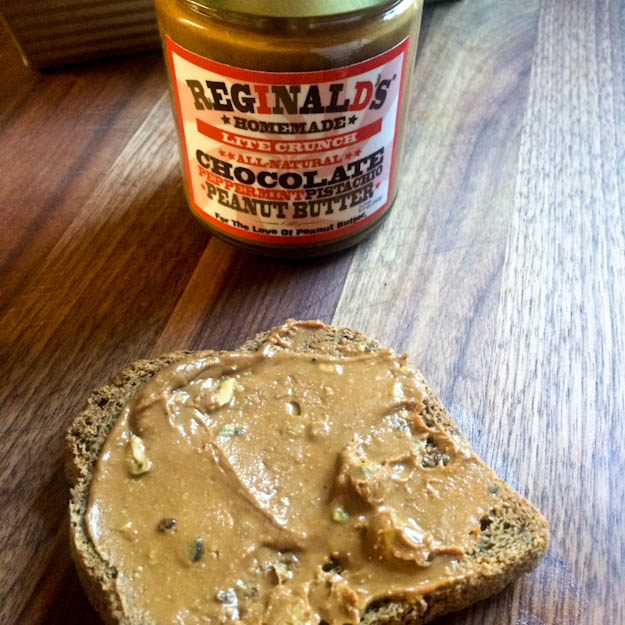 Reginald's Chocolate Pepperment Pistachio Peanut Butter seemed like just what I needed for Christmas morning. On a slice of Food for Life gluten-free toast. Yum!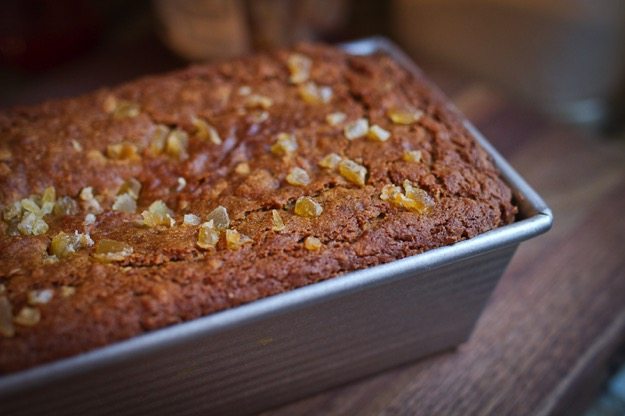 And look how pretty the pumpkin bread turned out. I followed this recipe for 1 bowl vegan gluten-free pumpkin bread from Minimalist Baker. I had been craving pumpkin bread and hadn't made any since going gluten-free. I followed the recipe exactly but added crystallized ginger pieces to the top instead of pumpkin seeds. It was delicious and definitely satisfied my craving for pumpkin bread. I loved the crispy edge pieces!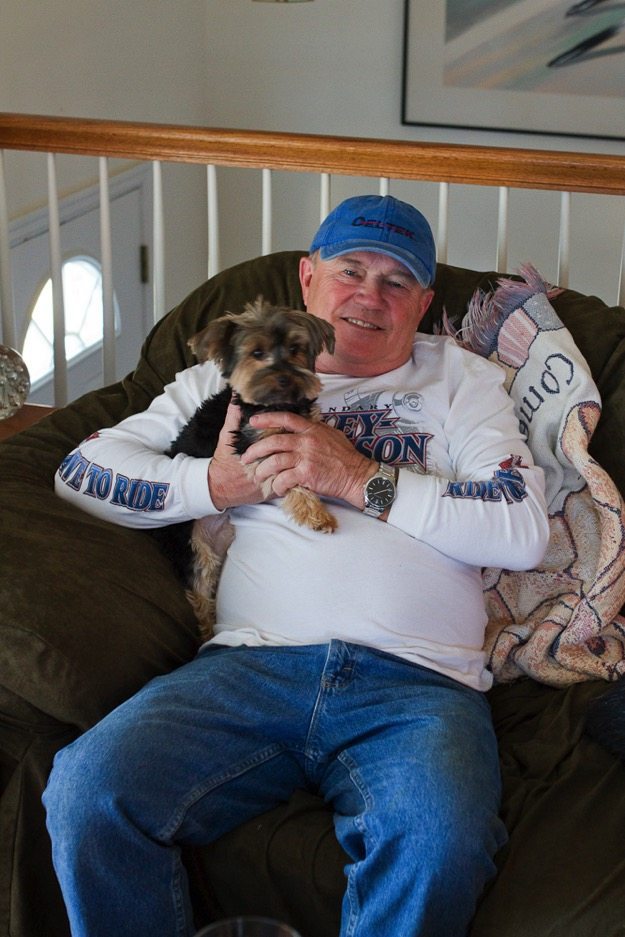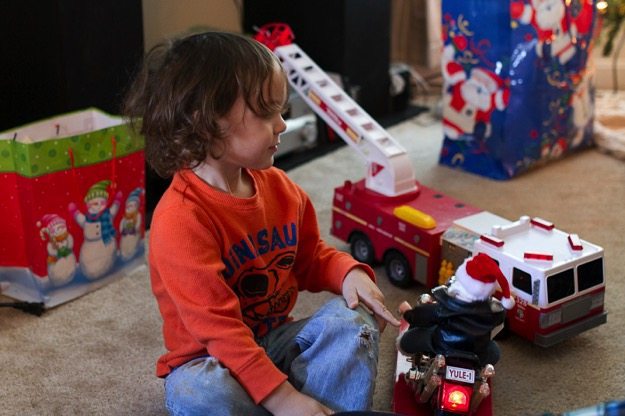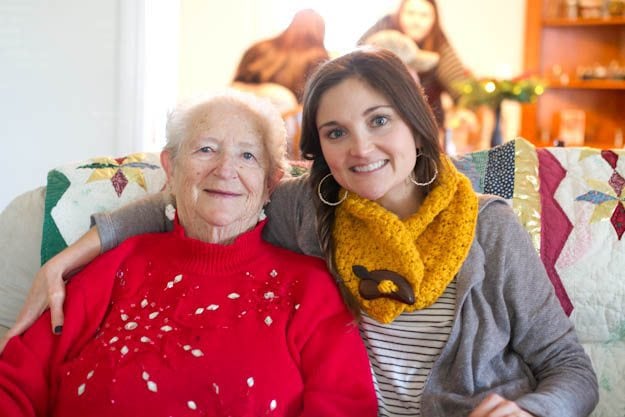 After a little brunch and a little family time, Isaac and I headed back to Richmond. It was the first sunny day we've had in a while so we met a friend for a quick game of frisbee golf. I don't play, but it was fun to get outside and stretch my legs after the long drive. Once home we ate our leftover food from Lehja for dinner and then played two rounds of Ticket to Ride, a new board game Isaac got from his mom for Hannukah. Our friend, Morgan, won both times but it was really fun. I think playing board games on Christmas night should become a new tradition.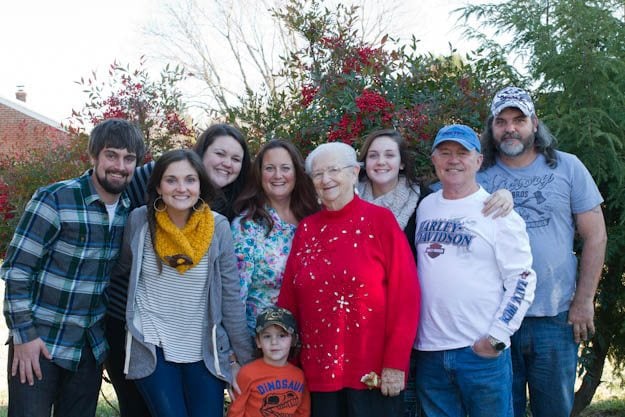 And last by not least, here's a fun Christmas family photo with my sister, her family, my dad and nanny. <3
Do you have any holiday traditions? I'd love to hear about them. 
PS — During all of our long-ish drives to visit my family and friends, Isaac and I started listening to the Serial Podcast and got hooked. We finished the twelfth episode last night. I'm not going to say anything about it because I don't want to be a spoiler, but if you haven't listened to the podcast I highly recommend it. It was really engaging and suspenseful. 
This post may include affiliate links. Thank you for your support.