Last week I posted my holiday gift guide for men and today I have a few ideas for the ladies! Many of the items are health and fitness focused and they were picked for one of two reasons. 1) I have the item and love it or 2) I think the item would make a great gift.
Hopefully this little guide is helpful either by giving you some items to add to your personal wish list or a few gift ideas for that special lady in your life. And in case you're planning to do a little last minute online shopping, just remember that the last day before Christmas to receive shipments from USPS, UPS and Fed Ex is Wednesday, December 23rd. Happy shopping!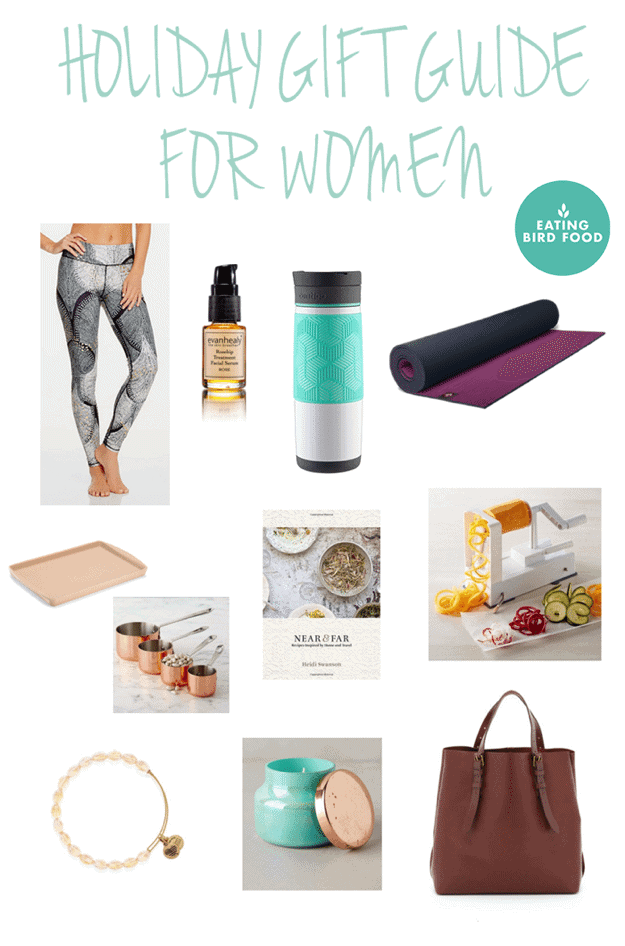 1. Workout gear — Girls who work out LOVE new workout gear. If you're not sure what size to get a gift card is always great! You can't go wrong with Lululemon, Fabletics, Beyond Yoga and Lorna Jane.  The tights seen here are the Fabletics Salar Legging in the Foiled Furry print. I have them and I'm obsessed with the pattern.
2. Beauty Products — Hand lotions, body oils, makeup, perfume… any and all of these things make lovely gifts. I'm a big fan of natural beauty products so some of my favorite brands include Tarte and Evan Healy. <— The Rosehip facial serum is amazing! This REN Moroccan Rose Body Oil is on my personal wish list.
3. A Water Bottle or Reusable Mug — A girl can never have too many travel bottles/mugs. I already talked about this Contigo Metra Travel Mug last month (see my post here). It's awesome for keeping hot drinks warm and cold drinks cool, plus it's leak proof!
4. Yoga Mat — A nice yoga mat is a great gift for the yogi in your life. Manduka makes wonderful, high-quality mats. They're a little pricey but they're thicker, more supportive and stay in place better than cheap yoga mats.
5. Baking Stones — We have two — the large bar pan and the medium round. I use them to cook any and everything. They season themselves and become "non-stick" after repeated use. I literally just store them in the oven because we use them daily.
6. New Kitchen Gadgets — If the lady you're shopping for loves to cook, a new kitchen gadget is always a fun idea. I'm swooning over all things cooper and gold at the moment. These measuring cups, moscow mule cups, serving utensils, etc.
7. A Cookbook — I love giving and receiving cookbooks. Here are some of my favs at the moment — Near & Far, Skinny Taste, Eat Drink & Be Vegan, Inpsiralized, Seriously Delish, Everyday Detox.
8. An Inspiralizer — This is one of the best gift ideas for anyone looking to eat healthier. If you're a regular reader you know I use my spiralizer all the time and I recommend getting one to all my friends, family and clients.
9. Jewelry — You can't go wrong with diamonds! Just kidding, kind of. Alex and Ani bracelets are all the rage right now. The one featured in the photo is the serenity expandable beaded bangle. I also really like Lily and Laura bracelets.
10. Candles — I'm obsessed with candles and think they make great gifts. My go-to spot for candles is Anthropologie. This Salted Caramel Nightmarket candle smells amazing if you're looking for a sweet scent. If not, Capri's Volcano is always a crowd pleaser. I also really like Rewined candles. The Spiked Cider and the Chardonnay are my favorite scents. Both are on sale at West Elm for $20 right now!
11. A Purse/Bag — I'm all about big leather totes. I have the Transport Tote from Madewell and use it all the time. It fits a ton of stuff and it's really durable. I also like this one (in the photo) and this one from ScoutMob. I'm also a big fan of Dagne Dover. I have the 15-inch tote, which works great for carrying my laptop around or as a carry-on bag for traveling.
I always find it interesting how people approach holiday shopping. Some people are finished before December even arrives while others wait until December 24th to run around like crazy and get all their gifts. Where are you at with your shopping right now? I'm about half-way through. Having Hanukkah come early this year motivated me and I got a big chunk of my shopping done early, but I still have a few items to pick up before Christmas.
PS – Some of the links above are affiliate links so I will get a little cash money if you make a purchase after clicking the link. Thank you for your support. 🙂 
This post may include affiliate links. Thank you for your support.