I know it might seem kind of strange for me to be posting a holiday gift guide for men, but most EBF readers are women, women who likely have a few men on their holiday shopping list. Also, men are hard to shop for so us ladies need all the ideas we can get. Am I right?
I put this gift guide together based on Isaac's holiday wish list this year, but also included some of his favorite gifts from the past! Hopefully it gives you some inspiration as you shop this year. And don't worry, I have a gift guide for ladies coming soon too. 🙂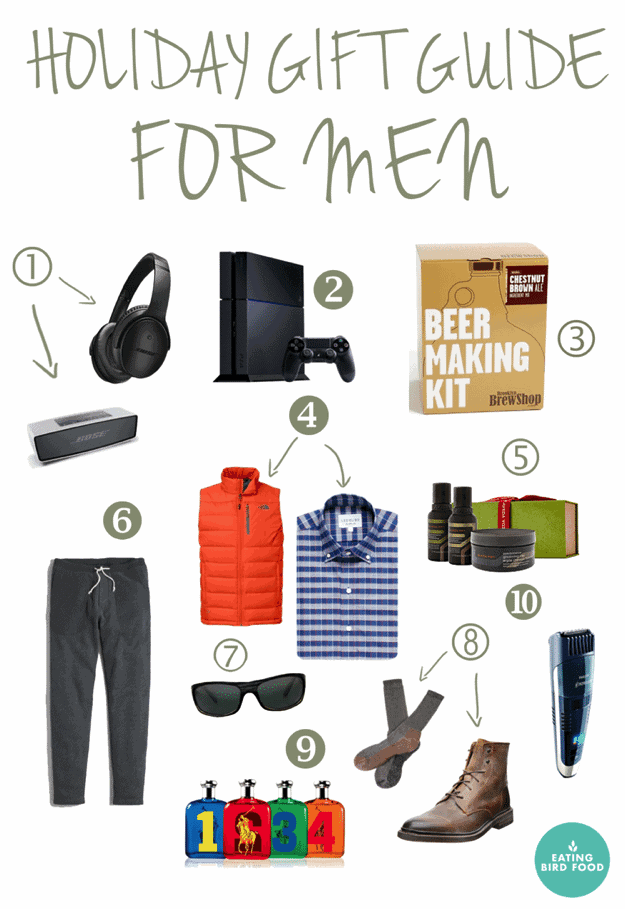 1. Devices for listening to music — A bluetooth portable speaker is one of the best gifts. We have two — a smaller Bose Soundlink II and the Bose Soundlink III. Both are great, we use the III at home and bring the II with us everywhere! We even brought it with us on to the beach when we were in Aruba. The sound quality is awesome — we used to have a Beats Pill and the Bose is better. And, if your guy travels often or listens to music at work the Bose Noise Cancelling Headphones are amazing! They're great for flying, especially when there are crying babies on board.
2. A Playstation 4 or some other game system — Right now most stores are offering bundles which come with the system and a game. If your guy already has a system, new games are a great idea as well.
3. A Beer making kit — This is a fun present for a beer-loving guy. The one featured here is definitely for beginners. If your man is already a brewer you may want to look into getting extra equipment for his home-brew setup or a brew kit like this or this. Just be sure you know what type of brewing he does. There's a big difference between all-grain brewing and brewing with malt extract. If you're unsure what to get, stop by a local home-brew store and ask for suggestions. Original Gravity is great if you're local to Richmond.
4. Nice clothes — Isaac never buys himself clothes so I always use holidays as an excuse to buy him nice things. I usually opt for button-down shirts (Ledbury is an awesome local company that makes luxury shirts for men), jackets or jeans. I also have my eye on a North Face vest. <— Hopefully Isaac doesn't read this!
5. Body care products — Things like this make perfect stocking stuffers or small gifts for Hanukkah. I like to get things like shaving cream, razors, and toothbrush heads for Isaac's stocking. Also, the men's line of Aveda products are awesome and this little travel kit with shampoo, conditioner and grooming clay would make a great gift.
6. Lounge pants — I bought Isaac a pair of Lululemon Hustle sweatpants last year and he basically lives in them when he's at home.
7. A nice pair of sunglasses — Isaac is a big fan of Maui Jims. They're well made and have an awesome warranty. Isaac has shipped his back for repair (after damaging them himself by sitting on them or dropping them) several times and they usually fix them for free or a very small fee (like $17).
8. Boots and socks — Leather boots (like these Fryes) never go out of style. And guys can always use nice socks — the SmartWool brand makes really high quality socks perfect for outdoor actives like hiking, hunting, skiing, etc.
9. Cologne — Buy a scent that you like! 😉 I'm a big fan of Polo Blue. Curve is also good. It's what Isaac wore when we first started dating so I'm pretty sure that's the reason I like it.
10. An electric razor or beard trimmer — I highly recommend this beard trimmer because it has a vacuum that sucks up all the little hairs so they're not all over the bathroom counter.
Do you have any awesome gift ideas for men that didn't make my list? Please share! 
PS – Some of the links above are affiliate links so I will get a little cash money if you make a purchase after clicking the link. Thank you for your support. 🙂