Eating Bird Food turned 3 yesterday!!
It's so hard to believe I've been blogging for 3 years now! Things have progressed over the past few years – my photos, writing and readership have all gotten significantly better and I've fell head over heels in love with blogging and all that comes with it. As a small token of my appreciation (for my lovely readers) I thought today would be the perfect day to present an awesome giveaway. But…. as it turns out there has been a hold up in the giveaway department so that will be coming later this week. Keep your eyes peeled.
To make up for it, I have some weekend highlights and a fantastic recipe to share with you.
First up, Lauren and Trevor's engagement party was a blast…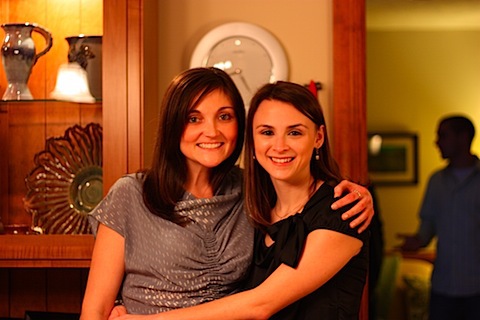 I can hardly wait for the rest of the festivities to ensue – the bachelorette party, shower and actual wedding are all coming up soon. 🙂
I also found out that my local Whole Foods expanded their bulk bin section and now has a Trail Mix Bar where you can mix and match bulk bin items and make your own trail mix. I've been searching for a make your own trail mix bar since I heard there was one at a Whole Foods in Chicago and now there's one at my WF! You honestly don't know how excited I was to see this. It's a little crazy!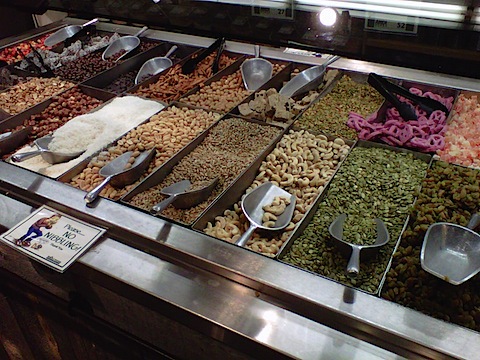 And guess what? I saved the best for last – my new favorite tempeh recipe!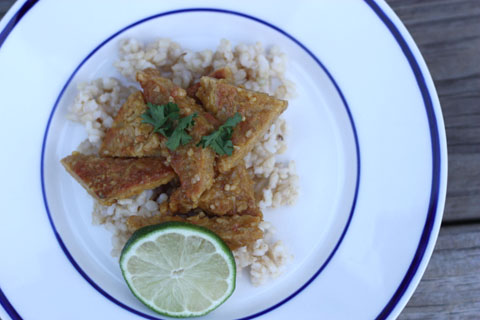 Now I've had plenty of delicious tempeh dishes out at restaurants, but to be honest, I had kind of given up on making tempeh at home (besides the Fakin' Bacon variety). Don't think I haven't tried – I've done the boiling method, where you boil/steam the tempeh for 10 minutes before marinating and cooking it to take away any bitter flavor. I've tried almost every flavor variety on the market and I've marinated for hours. All of these methods worked okay but the finished product still wasn't "restaurant good". Well last night things changed, all thanks to a recommendation from Mama Pea to try one of her favorite recipes for Orange Pan-Glazed Tempeh from 101 Cookbooks.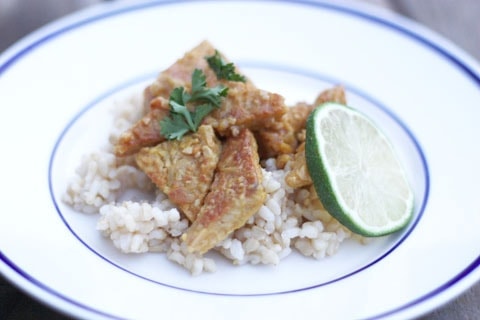 I'm so glad I gave this recipe a shot – it was really quick and easy. No steaming, boiling or marinating – just a little juicing of some oranges, a bit of chopping and some sautéing and dinner was ready in less than 30. And, it was DELICIOUS- the sauce thickened up while cooking and had a nice sweet flavor that complemented the tempeh's natural nuttiness. AND, there was no bitter aftertaste! (I will note that LightLife's Three Grain variety is the mildest tempeh I have found and it's the one I used for this recipe.)
I paired the tempeh with brown rice (pressure cooked in 20 minutes!), collard greens and a squeeze of lime. Each bite was savored and I literally day-dreamed about having the leftovers tonight for dinner. <– If that doesn't convince you that this is a good recipe, I'm not sure what will. 🙂
I'm so excited to have found this recipe. Thanks to Heidi I can now make amazing tempeh at home any night of the week! If you haven't heard of tempeh before or if you're wondering what's so great about it, check out this post and find out why it's quite the super food.
Alright, I'm off to watch the end of the CAA tournament (even though I'm bitter Mason isn't in it). Check back soon for the blogiversary giveaway!